7 Benefits of Adding a Group Scheduling Calendar on your Website
Discover seven key benefits of adding a group scheduling calendar to your brand. Learn how group calendars work to boost productivity, accountability, and revenue.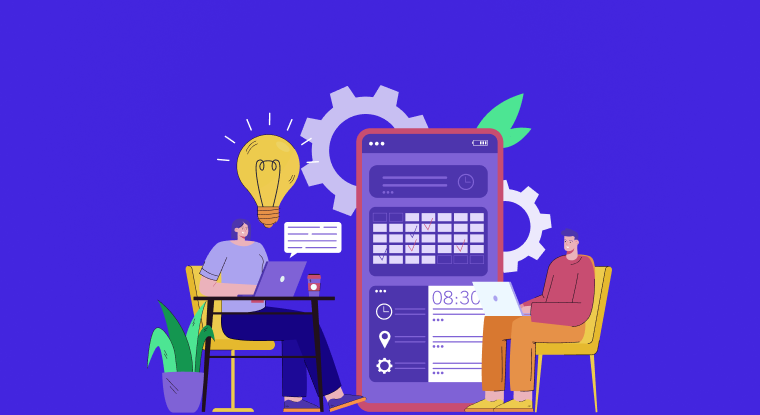 A group scheduling calendar allows you to create, manage and synchronize work calendars for all sorts of tasks, meetings, and business events. Some of the best group scheduling software even helps boost productivity and project management efforts. All things considered, group scheduling calendars help your team work faster and smarter while mitigating obstacles common to the business world.
Group scheduling calendars keep everyone on the same page. You can share information about meetings, events, and work deliveries. Your team can synchronize their agenda with co-workers so as not to lose any publication or event; to graphically inform the next activities that your company will carry out; to coordinate and request appointments, and of course, to share valuable info with colleagues, clients, and customers.
Calendar scheduling software is an excellent source of data and productivity. By analyzing insights gained from a variety of connected solutions within your business, you can better optimize projects and campaigns in the future.
Proper scheduling enables brands to tackle project management in impactful new ways. Better management of your teams projects and processes ultimately leads to more revenue, and group scheduling calendars propel your scheduling game to new heights.
Manual scheduling not only takes up more of your time, but it's also prone to a level of human error that doesn't exist within automated group scheduling calendars.
7 Benefits of Adding an Scheduling Calendar to Your Website
1. Receive an Email with the Daily Agenda
If you are an inveterate calendar user, you probably have it so full of events that it can be difficult to keep up with everything. In these cases, the most practical solution is to configure it to receive an email every morning with all the appointments scheduled for that day, and thus have your agenda ready as soon as you start the day.
2. Leverages Tasks
In addition to a calendar for your appointments and events, it also includes an integrated tasks utility you can use to write down things that are still pending.
This way, all your tasks are in one place and there's no need to make them separately, which is a good thing when you don't have much time. Apps like Schedule.cc are especially useful for leveraging important tasks and saving time.
3. Improve Customer Relationship Management
Best appointment calendar software are not only beneficial for your team, customers or clients that use these solutions leave invaluable data behind. This data is perfect for analyzing consumer or client behavior and optimizing strategies in other departments.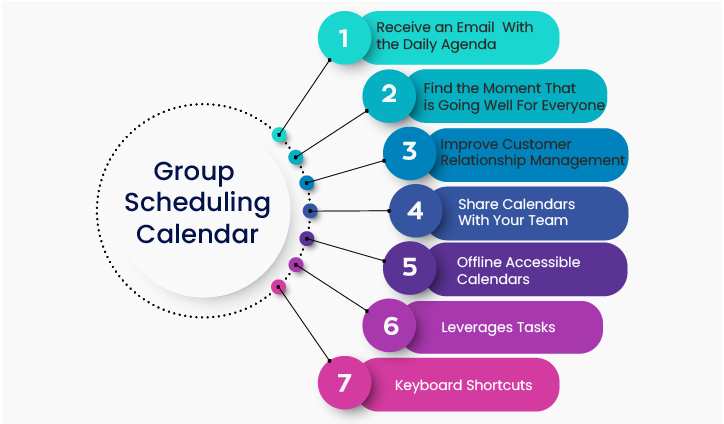 Group scheduling calendars help you connect various members of your team at times that work best for them, boosting productivity and team morale.
4. Share Calendars with Your Team
One of the great advantages of the appointment calendar is its calendar sharing feature which lets you share your calendar with your clients and team members.
"The main advantage of sharing your calendar with your team is that it makes planning projects or scheduling meetings a breeze. Even if you happen to be out of the office." (Calendar.com CEO John Rampton)
Personal calendars fall short because they don't allow team members access to a centralized group calendar. Group scheduling calendars boost productivity by displaying upcoming reminders in a centralized location. They also boost accountability by ensuring everyone on your team understands their tasks and roles throughout a project or campaign.
5. Find the Moment that Goes Well for Everyone
Whether you are trying to meet a group of friends for dinner or organizing a meeting with your team, sometimes the most difficult thing about creating an event that involves so many people is finding a time that suits everyone.
Online appointment calendars try to lend a hand with innovative features that suggest time slots for colleagues or friends that have busy schedules. Alternatively, you can manually select the best time by adding the necessary attendees for the event. Then, you'll have their calendars' insight to make it easier for you to find the right time for everyone.
6. Offline Accessible Calendars
There are occasions, especially if you are traveling or out of the office when you do not have access to the Internet. Luckily, most advanced group scheduling calendars offer offline accessibility, enabling you to stay ahead of schedule even without an internet connection.
7. Keyboard Shortcuts
A fan of keyboard shortcuts surely knows how important this feature can be, as it allows you to move through the application menus and access its main functions quickly and seamlessly.
Advanced group scheduling solutions provide data and analysis that help you optimize your projects and processes within your brand.
Final Thoughts
Scheduling tasks has numerous calendar sharing benefits beyond what we've listed here.
New studies reveal scheduling our tasks reduces stress and increases cognitive performance. #leadership#performance#destress

— Steve Gutzler (@SteveGutzler) April 25, 2017
The key is to find the best solution for your brand's unique needs and challenges. You know your brand better than anyone else, so you're probably the best person to make the call. A quick Google search returns an overwhelming number of options to choose from when it comes to group scheduling calendars. The key is to remember the features you must have as well as the features you can live without.
If you're in the market for a new group scheduling calendar, we encourage you to give Schedule.cc a try. Learn more about Schedule.cc and find out how you can take advantage of a free 30-day trial.
Schedule.cc helps you create stunning online calendar scheduling tool and booking solutions and store invaluable data for optimization. The app is part of 500apps' Infinity Suite of business productivity apps. With over 39+ apps to choose from, 500apps has a solution for just about any challenge or need you run into as a team.
Discover Why Schedule.cc Stands Out
#1
Scale your appointments using online scheduler, email signature and bots
#2
Embed calendar on website, blog, and emails to speed up appointment scheduling
#3
Engage over an HD audio, video calling and through built-in video conferencing tool, 500Conference
#4
Sync Google, Outlook, and iCal calendars & stay up-to-date
#5
Reduce no-shows with automated appointment reminders
#6
Integrate with AI chatbot, BotUp, on website and capture leads faster
#7
Automatically schedule appointments post successful payment confirmation
#8
Share schedule links in your Gmail using powerful extension
#9
Unbelievable pricing - the lowest you will ever find
#10
Everything your business needs - 50 apps, 24/5 support and 99.95% uptime
Join the SaaS Revolution
All-in-One Suite of 50 apps

Unbelievable pricing - $14.99/user

24/5 Chat, Phone and Email Support