Steps to Create a Patient Appointment Scheduling System
In order to build a highly functional scheduling system, this blog discusses patient appointment scheduling and provides a feature checklist for booking software.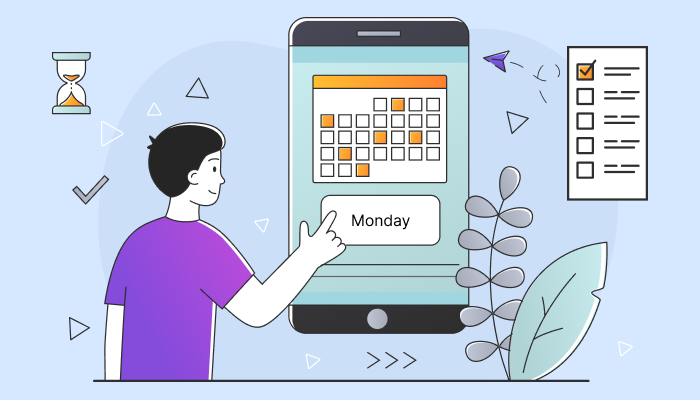 The finest scheduling apps provide their users with more than just a list of available hours for appointments, treatments, or other services. Additionally, they enable your clients to change and cancel appointments without getting in touch with you. They also make it simple for business owners and managers to do their duties, enabling you to consolidate payments, streamline communications, and control your workforce.
Features of a Patient Appointment Scheduling System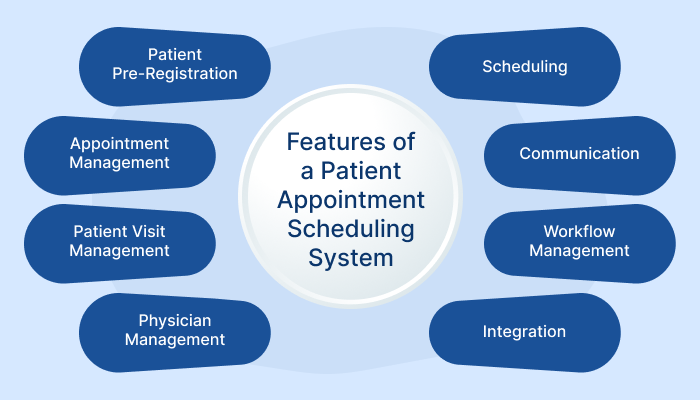 1. Patient Pre-Registration
For everyone involved in patient care, ease of use and convenience are the main goals of scheduling software. The patient appointment scheduling system may gather essential patient data before the patient ever enters the office thanks to patient pre-registration capabilities. You won't ever need to inquire about a patient's insurance status thanks to built-in eligibility checks.
2. Patient Information
You can find all the functionality you require in a patient scheduling system if you discover that your practice's needs aren't significant enough for full-fledged electronic medical record software (EMR). On the other hand, you might discover that the patient-based capabilities of your EMR's scheduling modules are inadequate, in which case an integrated platform might be the ideal remedy. Some scheduling apps for patients include the patient's medical information, acting as a tiny EMR.
3. Scheduling
The main component of medical scheduling software is this module. Through the patient portal, patients may make their own appointment requests, and when combined with physician scheduling, they can only schedule their doctor when they are available. To ensure that they never miss another appointment, patients can have automatic appointment reminders delivered to their email or phone.
With the help of color-coding and drag-and-drop features, front desk workers can quickly adjust or arrange appointments. You can even add patients to an appointment backlog and alert them when a doctor becomes available if your practice accepts walk-ins.
4. Appointment Management
The patient appointment scheduling system will support you even if you go above and beyond the basics. An extensive and user-friendly interface allows front desk workers to check up appointments for a variety of purposes. Do you need to check with a doctor? The programme has that capability. Want to make a recurring appointment and forget about it? That is also something it is capable of.
Programs for patient scheduling are available to streamline and ease the appointment procedure. With slot customization, customers can change the date, time, doctor, and other details without having to erase and recreate their appointments in the appropriate slot.
5. Communication
Healthcare is being revolutionized by the availability of direct communication with your doctor without the need for an in-person appointment. With the rise of third-party apps that promote doctor-patient communication and secure internal direct messaging systems, people are taking medical care digitally. Patient scheduling software can let your practice interact with patients in a variety of ways.
By providing appointment confirmation and automatic alerts for both approaching appointments and necessary follow-up appointments, patient scheduling software help sure patients are aware of their impending visits. Additionally, appointment descriptions allow staff and patients to view specific appointment information.
6. Patient Visit Management
The ability to manage patient visits is particularly helpful for mental health professionals who are under a lot of stress. Patients are properly invoiced for hourly copays with psychiatrists and therapy providers. To effectively manage treatment cycles for patients who are being observed psychologically, check-in, check-out, and no-show tracking are essential.
7. Workflow Management
Modules for workflow management simplify a medical practice's daily operations. Scheduling, registration, billing, and other repetitive processes are examples of these duties. Your daily operations can be made more efficient by using a workflow dashboard to monitor and coordinate these tasks at the individual and organizational levels.
8. Physician Management
In addition to managing patients, your practice must also manage the doctors who treat them. Software for scheduling patients can assist with both ends of the process. Staff may manage physician vacation time and schedules in the same portal they use to handle patient appointments, which streamlines the scheduling process and reduces the need to switch back and forth between platforms.
9. Reports and Business Intelligence
You might believe that business intelligence technologies are primarily relevant to commerce. But you'd be mistaken. Even in the healthcare industry, reporting, business analytics, and business intelligence features are becoming more common and widespread.
10. Integration
If you run a very small business, you might not require your software to integrate with many things. However, chances are that you already have an EMR, EHR, accounting software or another software system in place that would work a lot better if the information from your patient appointment scheduling system could be transferred over right away.
Increases customer satisfaction with convenient online booking Sign Up 14 Day Trial
Steps to Create a Patient Appointment Scheduling System
These are the steps to setting up a patient appointment scheduling system for your clinic.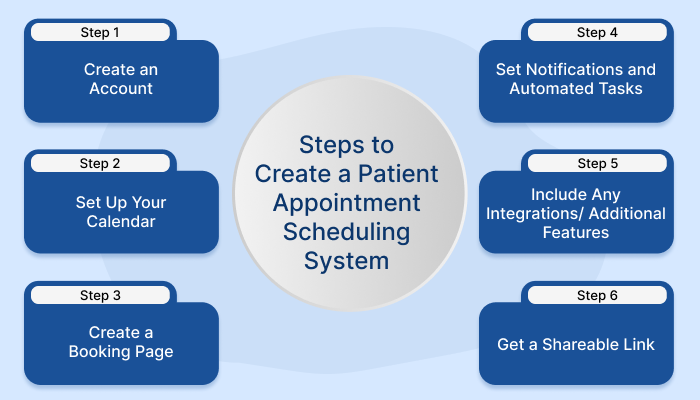 Step 1: Create an Account
Creating an account with an online booking app is the first step. Select a software programme for scheduling health professionals. Typically, you can register for free and browse the site. All you have to enter is your email address.
Step 2: Set Up Your Calendar
You set up a working calendar in this step. Choose your workdays, as well as your opening and closing times. Pick weekends, holidays, and off days. You can manually add already scheduled appointments from the calendar page. Additionally, a CSV file with an appointment calendar can be imported. This calendar page will be one you refer to frequently because it serves as a notification and reminder for appointments.
Step 3: Create a Booking Page
Create the customer intake and appointment form after that. Include the information you require, including name, email, the purpose of the appointment, and phone number. You can add the services you offer on your form and ask the customer to choose one of the possibilities. Put your logo on the appointment page as branding.
Step 4: Set Notifications and Automated Tasks
Set up automatic emails and reminders next. Email alerts are the default setting in several booking apps. When an appointment is made, they immediately let you and the patient know. If you activate them, they also send automated reminders. Setting up both SMS and email notifications is preferable. SMS is more intimate and likely to be received by the sufferer.
Step 5: Include Any Integrations/ Additional Features
Feel free to extend the booking system with new functions and integrations. Do customers have to pay the price for consultations? Integrate the intake form with a payment page. Want to improve the quality of the patient experience? Include a thank-you page with a lovely layout.
Step 6: Get a Shareable Link
Get a link that you can put on your website and one that you can paste on social media now that the patient appointment scheduling software has been set up. They are comparable to certain apps for online reservations.
Final Words
Although every practice's choice of features will be available, patient scheduling software is as different and special as the practices that utilize it. There will be a solution — or multiple solutions — that will be a suitable fit for your organization. No program can ever be the "best." Finding the ideal software solution requires first deciding which features are most important to your practice, then comparing suppliers based on those needs.
Which aspects of patient scheduling caught your attention?
Which one(s) are the most crucial to your practice?
Comment below and let us know!
Some of the advanced patient information and record-keeping capabilities of the patient scheduling platform include a patient portal. Patients can make their own appointments, view FAQs, find lab results and reorder prescriptions.
Discover Why Schedule.cc Stands Out
#1
Scale your appointments using online scheduler, email signature and bots
#2
Embed calendar on website, blog, and emails to speed up appointment scheduling
#3
Engage over an HD audio, video calling and through built-in video conferencing tool, 500Conference
#4
Sync Google, Outlook, and iCal calendars & stay up-to-date
#5
Reduce no-shows with automated appointment reminders
#6
Integrate with AI chatbot, BotUp, on website and capture leads faster
#7
Automatically schedule appointments post successful payment confirmation
#8
Share schedule links in your Gmail using powerful extension
#9
Unbelievable pricing - the lowest you will ever find
#10
Everything your business needs - 50 apps, 24/5 support and 99.95% uptime
Join the SaaS Revolution
All-in-One Suite of 50 apps

Unbelievable pricing - $14.99/user

24/5 Chat, Phone and Email Support