5 Calendar Scheduling Tool Tips to Maximize Productivity
This article contains an overview of the calendar scheduling tool, its features, advantages, and the top 5 tips to maximize the productivity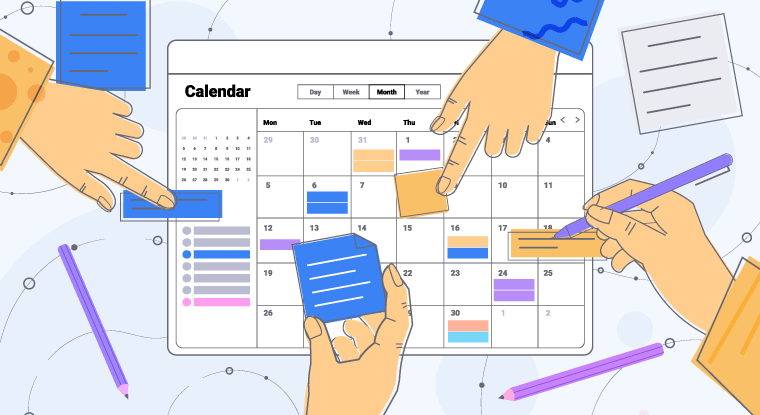 Calendar Scheduling Tool - Overview
Calendar Scheduler helps you manage your work and personal life by scheduling meetings, appointments, tasks, and events. It can help you keep track of time spent working and how long it takes you to complete tasks.
Calendar management app helps businesses look for a way to schedule their employees' work hours and track time worked per day. This software can help you create a personalized schedule, so prospects can easily choose a time from your scheduling page, reducing friction and booking more meetings. Businesses keep track of employees' hours and ensure they are paid correctly.
Calendar management can help businesses manage their daily activities. In addition, they allow employees to plan out their day, week, month, year, and even their life. This software can be used to schedule meetings, appointments, events, classes, and much more. There are many different tools available, depending on what type of business you lead.
A calendar scheduling tool is a great way to keep track of your tasks and schedule them accordingly. This allows you to better understand how busy you are at any given time throughout the day. You can use this to determine if you need to hire additional employees or work from home. A calendar schedule tool can help you manage projects as well.
Save time by automating the process of booking appointments Sign Up 14 Day Trial
Five Tips to Maximize Productivity Using A Calendar Scheduler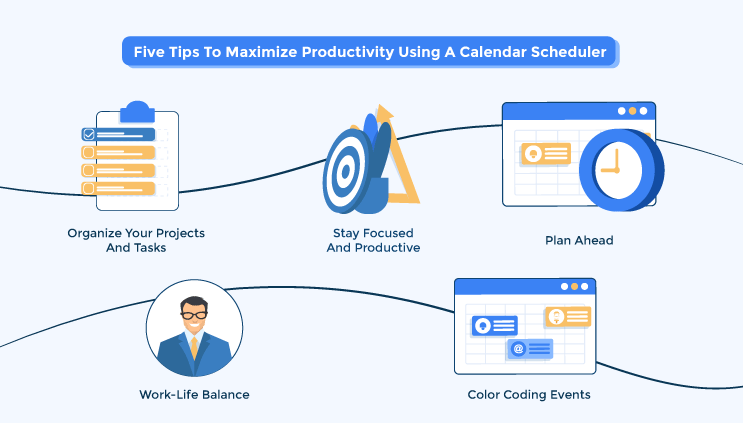 1. Organize Your Projects and Tasks
Calendar scheduling tool allows you to organize your tasks into categories based on the date they were created. This makes it easy to understand what tasks are due on what dates. With Calendar Views, you can create and manage multiple Scheduling pages, each customized for different events or availability. You can create reminders for yourself or others about upcoming deadlines.
2. Stay Focused and Productive
You can set reminder alarms when certain tasks are completed and check them off as you complete them. With a calendar scheduler, you can review your personal KPIs (Key Performance Indicators) using data tracked by your scheduling software and make adjustments to stay productive for the task ahead. With the calendar scheduling tool, you can stay focused on the project you're working on and not get distracted by other things, thus increasing productivity.
3. Plan Ahead
With this method, you create schedules for each day. You then assign tasks to employees based on their scheduled days off, vacations, birthdays, etc. You can handle planning on a daily, weekly, and monthly basis. Calendar scheduling encourages efficiency because everyone knows what their work schedule should look like.
4. Work-life Balance
You can maintain a work-life balance by scheduling appointments, meetings, events, and other tasks. Appointment booking app can help us manage information effectively, organize our time efficiently and improve our ability to remember things we need to do. That said, calendars can be used for much more than just making sure you don't forget important family events and help you finish more tasks in the same amount of time, leaving no work to take home.
5. Color Coding Events
A personalized color-coding system to help you stay organized allows you to go through your schedule at a glance. It helps you get a high-level overview of your day and week, which can enable you to prioritize work accordingly. For example, a Red color can be used to mark important events like important meetings scheduled for the day.
Advantages Of Calendar Scheduler
There are Myriad Advantages of Using a Calendar Scheduler, Some of Which Have Been Listed Below: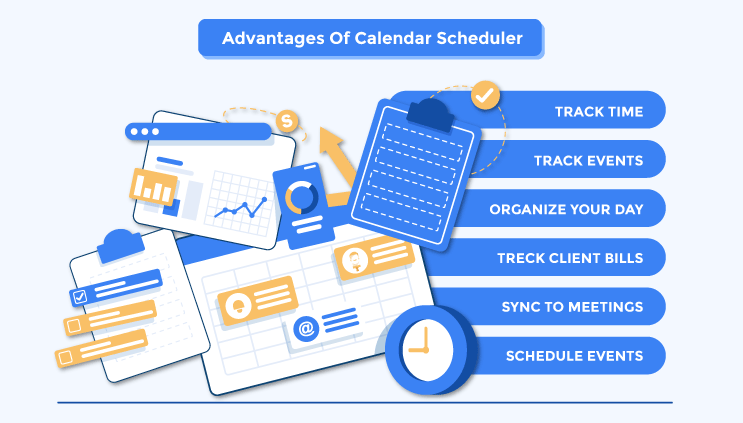 A calendar scheduling software helps you track time that has been spent working on projects. This information is valuable because it allows you to plan future work and gives you a sense of accomplishment.

Calendar Scheduling tools are typically used in businesses where employees log their time, which they could use later to bill clients for their services. These tools can give managers a good idea of how much money was spent on certain tasks.

Calendars allow you to create different types of events. You can easily add notes about each event and assign them to other people. You can even set reminders to let you know when to start or finish something.

You can make changes like edit, duplicate, or delete the scheduled meetings. If you want to change the way you organize your day, you should go through your calendar first and then adjust accordingly.

With calendars, you can easily manage who works together on specific projects. When you are busy, you may not always remember to tell someone else that you are going to be unavailable. Creating a calendar that enables Sync to meetings to include everyone's schedules can avoid these issues altogether.

Calendar scheduling tools are great for tracking events like birthdays, anniversaries, and other special days. You can create activities around those dates and invite others to attend.
Features Of Calendar Scheduling Tool
Calendar scheduling tools are software programs that help businesses manage their schedules.
They can be used to track employee time, project timelines, and other aspects of your business.
With a appointment scheduling software, you can see all upcoming events scheduled for the day.
The week view shows the week ahead and lets you select any number of days for viewing and scheduling.
Month view allows you to display the month at a glance and plan long-term appointments and events.
You can add multiple calendars to a single app by logging in on all of your devices and syncing your data. When you sync your devices, you get one complete master calendar with all your schedules sorted in one place.
You can create multiple calendars and add events to them. Events are displayed in a list format, and you can drag and drop them into different days to create an efficient plan.
A calendar scheduler has many other features like creating tasks, managing contacts, setting due dates, and more.
Summing It Up
Calendar scheduling software or can automate the planning and management of multiple activities at once. These tools allow users to create event-based plans that automatically notify them of upcoming deadlines, reminders, assignments, and other relevant data. When combined with a good calendar scheduling tool, it becomes easy to set up automatic notifications to remind you of important dates, holidays, birthdays, and other significant events throughout the year. There are various apps out there you can use to schedule and organize your daily tasks. It is advised to choose only the top scheduling software that works best for your needs.
Discover Why Schedule.cc Stands Out
#1
Scale your appointments using online scheduler, email signature and bots
#2
Embed calendar on website, blog, and emails to speed up appointment scheduling
#3
Engage over an HD audio, video calling and through built-in video conferencing tool, 500Conference
#4
Sync Google, Outlook, and iCal calendars & stay up-to-date
#5
Reduce no-shows with automated appointment reminders
#6
Integrate with AI chatbot, BotUp, on website and capture leads faster
#7
Automatically schedule appointments post successful payment confirmation
#8
Share schedule links in your Gmail using powerful extension
#9
Unbelievable pricing - the lowest you will ever find
#10
Everything your business needs - 50 apps, 24/5 support and 99.95% uptime
Join the SaaS Revolution
All-in-One Suite of 50 apps

Unbelievable pricing - $14.99/user

24/5 Chat, Phone and Email Support