Evolution of Calendar: From a Paper Dates to Online Scheduler
How long do you think we've used calendars? Well, take a trip down memory lane to see how far calendars have evolved and how they are used as appointment scheduling tools.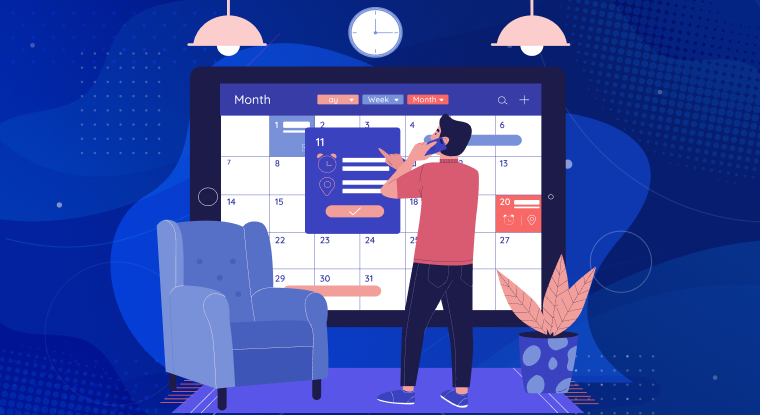 Evolution of Online Scheduler
The natural instinct of man to want to tell time led to the invention of ways to tell the passage of time asides from the day/night that represent days passing and a full moon representing a month passing. Calendars are charted descriptions of time which are used to track the passage of time and period. Multiple types of calendars have been used over time since its invention. Calendars are diagrams of time that are used to chronicle the passage of time and periods. Since its inception, various types of calendars have been utilized.
1. Ancient Times: Solar and Lunar Calendar
Aside from the day/night that represents days passing and a full moon that means a month passing, man's inherent urge to tell time led to the invention of other techniques to tell the passage of time.
The ancient Egyptians, for example, calculated the length of a year by noting where the stars were in the sky at any particular time. As a result, the Egyptians became the first civilization to utilize a solar calendar rather than a lunar calendar. The lunar calendar, which the ancient Babylonians preferred, is still used by Muslim and Jewish calendars.
2. 45 BC: Julian Calendar
Showing up of Sirius, the Dog Star for every four years has appeared to be late and this is the associated problem with the solar calendar. Padden explains, "This resulted in the calendar taking a backward slide as a lunar one would do — only at a much slower pace."
The Roman Empire corrected this mistake under Julius Caesar and Sosigenes, a renowned philosopher and astronomer. The "Julian Calendar," started on January 1, 45 B.C.Unfortunately, there was a glitch that "led to about a 10-day gap between the calendar and the real solar year."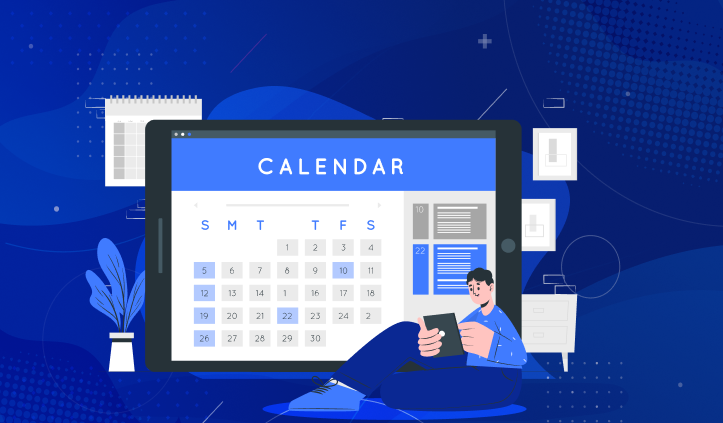 3. 16th Century - Present: Gregorian Calendar
This led to the inception of the Gregorian calendar. In 1582, Pope Gregory XIII introduced the Gregorian calendar and it has corrected this problem by considering three days of leap year for every 3,000 years. The Gregorian calendar was adopted by England in 1752 and remains the most widely used calendar in the world.
Calendars have been continuously changing phenomena in the last few millennia. We can see that the Gregorian calendar has become widespread. It provides a way for anyone as It's international. Also, it synchronizes the time with anyone located anywhere in the world. Though there are many calendars are in use, these calendars have made a religious impact than secular occasions. Gratefully, that brings us to today's calendars and their ease of use. Although some designers have become very creative, using blocks to mark dates, days, and months, most calendars are either paper or digital.
4. 20th Century – Present: Online Calendars
Today we're flooded with online calendars. There are online calendars used solely for offices and teams, families, planning trips, and calendars that schedule meetings and appointments. A few of them use the online calendars as personal diaries and manage their day-to-day tasks. Surprisingly, the possibilities are endless.
The Calendar Story: How it Evolved Over the Years?
If you're like the majority of us, you scribble an appointment reminder, add an event, or go over your calendar without giving much thought to how it all fits together. But make no mistake: the calendar's evolution as an appointment scheduling tool has taken a long time and will continue in the future. Calendar integrations with scheduling software and online schedulers is available in this days to make your organization seamless.
However, the calendar evolves in the next 10 years or maybe longer as its history of is ongoing and fascinating.
New Dawn of Calendars
The Soldier's Calendar is a crucial calendar that accurately represents how we use calendars today and our dependence on them. Upper-class men with hectic lives typically purchased those calendars to plan their time effectively. Everyone had calendars and planners by the time of the American Civil War, which they could use to keep track of their activities and organize their life. According to the Boston Globe, "union soldiers have carried their Standard Diary or their American Diary into battle".
One alteration was in the calendar's purpose. The calendar had become an indispensable tool by the turn of the twentieth century, allowing people to make better use of their time rather than wasting it or allowing it to fill up on its own. The rise of digital calendars has introduced a whole new functionality to calendars, and it appears that the paper calendar is on its way out.
Technology has propelled us into the digital age, and your calendar has evolved into your assistant and much more. We began to embrace computerized versions of the Gregorian calendar as technology developed in the late twentieth century. Until internet calendars became increasingly popular, some people relied on gadgets like Psion palmtops to track their appointments. Google Calendar was launched in 2006, followed by 30 Boxes in 2009, and Office 365 in 2011.
Amazing Features of Modern Calendars
A calendar has become a necessity as an appointment scheduling software, travel planner, manage to-do lists, and keep organized in all areas of life, thanks to the advanced volumes of information and mobility in society and business. Some awesome features include;
Using natural language to add and amend entries in your calendar is perhaps the most promising feature that online calendars currently provide. You can add or edit entries through voice in most of the calendars as tools integrated into them allow you to do the same.
Your calendar is currently set up to track everything, including the internet of things (IoT). The arrival of millennials in the corporate world has awakened business executives, particularly entrepreneurs, to the fact that our schedules must contain the business of life things (BoLT).
You can expect to receive increasingly personalized responses and experiences as technology advances. When you wake up in the morning, you can now inquire about your day's schedule with your assistant. You can ask to be notified about your commute and the weather forecast for the day. This scheduling software, online schedulers, and the calendar by extension have evolved to be indispensable.
New features are added regularly, demonstrating how quickly calendars are changing and evolving. Take, for example, Google Calendar, which was introduced in 2006. The "Reminders" feature was launched in 2015. The most recent version in 2018 added an "out of office" function that automatically declines meeting requests and replies with an automated message you create, making it a versatile appointment scheduling tool.
Frederick Phillips "Fred" Brooks Jr. An American computer architect, the software engineer, and computer scientist, best known for managing the development of IBM's System/360 family of computers had this to say about the importance of calendars, more software projects have gone awry for lack of calendar time than for all other causes combined.
AI Calendar as Appointment Scheduling Software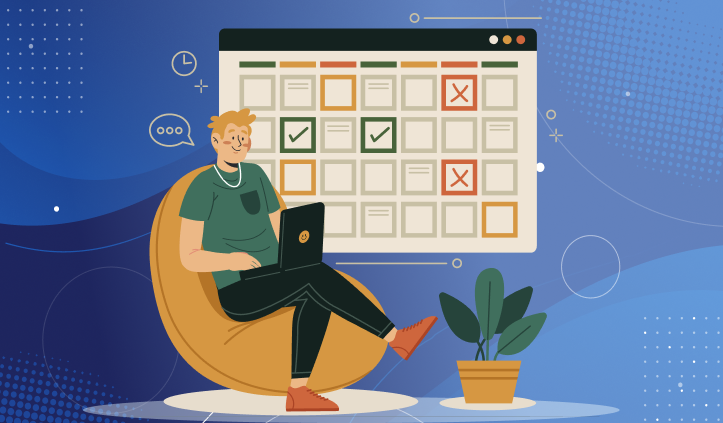 A.I. calendars are also becoming more popular, especially for their calendar scheduling software functions and for online schedulers. Although we aren't quite there yet, we are progressing in the right way. Your calendar will grow increasingly more intelligent over time as a scheduling software and will give smart suggestions on anything from how to organize your to-do lists to scheduling meetings based on machine learning analysis of preliminary data from its appointment scheduling tool.
An example is assistance provided by A.I. during meetings. Your phone's calendar can record meetings. It will then be able to recognize the participants as well as specific terms. Your calendar can then provide suggestions about when, where, and what should be the topic of discussion based on this information. Your meetings will be more productive due to the wise ideas; they will be shorter, more concise, and more focused.
Even better, starting shortly, your calendar will construct and distribute your meeting agenda for you automatically. This means that your calendar will act as an appointment scheduling tool.
Chatbots and calendars are expected to operate together for increased productivity. This is due to the smooth appointment scheduling tool's functions and how online schedulers can enhance it. Chatbots are expected to be used by 80% of organizations for consumer interactions by 2020. These chatbots cum online schedulers may then be used as appointment scheduling tools to plan meetings, reserve conference rooms, send out deadline reminders, and allow staff to schedule vacation time. In addition, if an appointment is canceled or postponed, the scheduling software will update your calendar in real-time.
Conversion of Calendars from Paper to Digital: Scheduling Software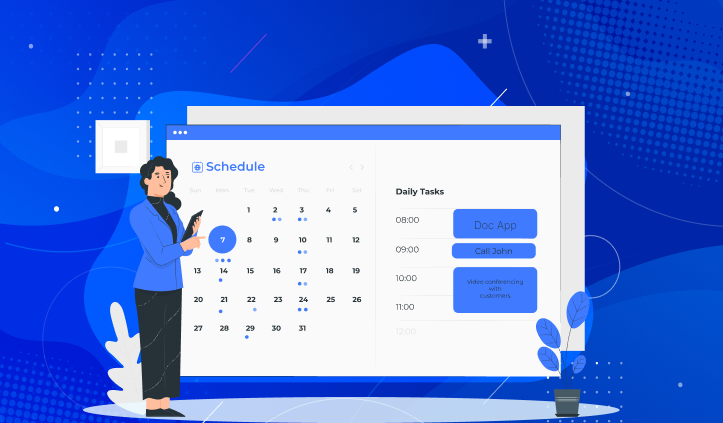 Calendars on paper have always had their drawbacks. They were initially single-use only. You had to go back to the store to buy a new one when the year ended, albeit the paper calendar can serve as a record of value. They have a slight amount of interior space. Although calendars are available in various sizes, consumers must pick between cramped writing in a mobile notepad and ample room in a difficult calendar to carry. Users can't easily share a paper calendar, which is the most crucial factor. There is just one copy available, and it is a one-of-a-kind item. When people plan an event, they must first take out their paper calendars and flip through the pages until they all locate an open spot.
All of these issues have been resolved thanks to digital calendars. A digital calendar is permanent, and customers can have their memberships automatically renewed. The only limit is the screen's size; if it's too tiny, a line will appear to indicate how many more appointments have been added. Calendars have practically become limitless and unrestrictive.
Digital calendars are basic templates that users use to create various schedules. Religious holidays, sports, games, school activities, birthdays, and whatever else an individual wishes to accomplish for work and life are examples of these schedules.
Other people's schedules can also be found in a digital calendar. Calendar sharing is possible with digital calendars, and the degree of sharing can be managed. Users might choose to share their work calendars with their colleagues with an online scheduler to make scheduling of meetings easier. A person can now show clients only when they are available without exposing what they are doing at the time. The individual can share anything with their spouses. When one of them organizes a babysitter or a restaurant reservation, it is automatically entered into the calendars of both partners.
As previously said, artificial intelligence (A.I.) has become an essential aspect of how calendars work and are used nowadays. Since the digitalization of calendars, they have evolved from a time-telling device to time-management and appointment scheduling tools. This is especially useful in today's world, as firms seek ways to streamline almost every element of their operations. A.I. calendars are taking over the job of assistants that humans once occupied, demonstrating how self-sufficient these calendars have become as online schedulers and appointment scheduling tools. Even if you're a one-person shop, it's like having an assistant!
Share Your Availability with Your Clients and Team Members using Calendar Sharing Sign Up 14 Day Trial
5 Important Functions that Calendars will Perform
1. AI Scheduling Software
Schedule meetings online intelligently with your own AI-enabled personal assistant, who remembers your preferences and utilizes them to identify the best available times.
2. Attentive Booking Agent
Your A.I. the assistant doesn't sleep or get tired. It is well-trained to react to any client email inquiries 24 hours a day, seven days a week to keep your business running. You may relax knowing that your reservations using online scheduling software are incapable and knowledgeable hands.
3. Intuitive Scheduling
Make use of the AI-assisted assistant. By sharing your online scheduler calendar, you can add a list of emails and suggest available times. Ensure that everyone is on the same page and that the meetings are a success.
4. Email Notifications
Your virtual assistant will be able to converse with your clients. It reads incoming emails and provides personalized responses in a heartbeat, all without the need for human intervention.
5. Automatic Reminder Alerts
Enhancing the user experience with scheduling software that is simple to use, effective, and AI-powered. For scheduled meetings or appointments, send alerts or reminders via email or social media channels.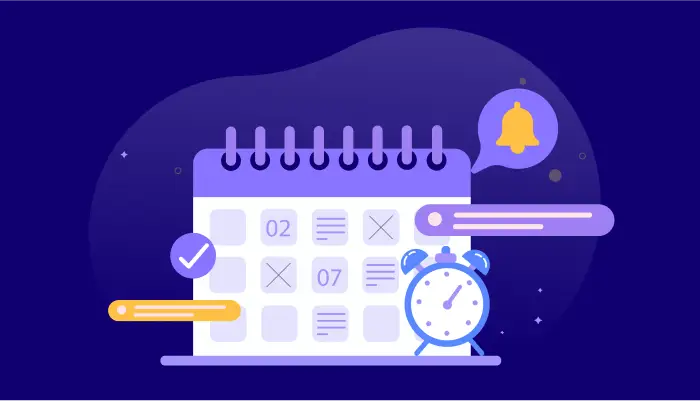 The calendar has had a long and interesting journey, from being used to just mark days and religious festivals to becoming an indispensable tool for organizing our daily lives. Online schedulers and scheduling software now work with calendars to provide online scheduling and act as appointment scheduling tools. This has made life easier for not just businesses but also families.
Discover Why Schedule.cc Stands Out
#1
Scale your appointments using online scheduler, email signature and bots
#2
Embed calendar on website, blog, and emails to speed up appointment scheduling
#3
Engage over an HD audio, video calling and through built-in video conferencing tool, 500Conference
#4
Sync Google, Outlook, and iCal calendars & stay up-to-date
#5
Reduce no-shows with automated appointment reminders
#6
Integrate with AI chatbot, BotUp, on website and capture leads faster
#7
Automatically schedule appointments post successful payment confirmation
#8
Share schedule links in your Gmail using powerful extension
#9
Unbelievable pricing - the lowest you will ever find
#10
Everything your business needs - 50 apps, 24/5 support and 99.95% uptime