How to Build a Doctor Appointment Scheduling System?
Doctor appointment scheduling system makes it simple for patients or any user to schedule an online appointment with a doctor. A system for scheduling doctor appointments solves the problem of managing and making appointments in accordance with user preferences or demands.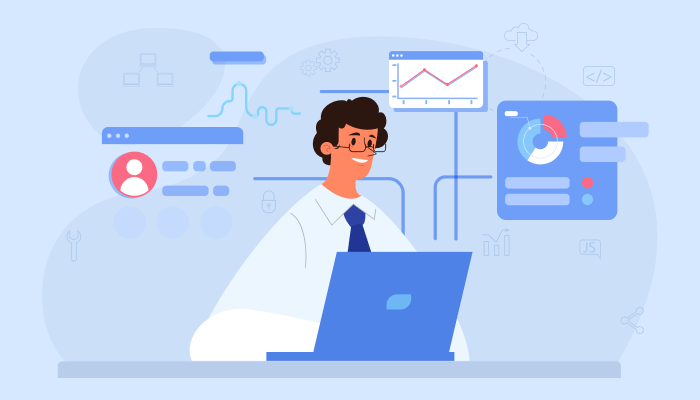 Introduction to Doctor Appointment Scheduling System
The work of manually assigning appointments for the users in accordance with their availability can occasionally become quite laborious for the compounder or doctor himself. As a result, this project provides a useful solution that allows customers to browse the many booking slots that are available and choose the ideal date and time. The reserved place will be highlighted in yellow and unavailable to others for the designated period of time. Users of this online appointment scheduling system may also cancel their reservations at any moment. The system offers the extra capability of figuring out a doctor's monthly earnings. The doctor appointment scheduling application will automatically generate a report of the total amount earned at the end of the month if the doctor simply feeds it on a regular basis with their daily profits. The programme makes use of a SQL database and Asp.net as its front end.
Software for arranging doctor appointments to streamline the patient appointment scheduling system. It does away with the need to manually plan appointments via phone or email, saving your medical staff time and enhancing the effectiveness of your clinic.
Features of Doctor Appointment Scheduling System
You must select the features you want a doctor appointment booking app to have before you decide to design one. You should think about including the following five elements in your medical appointment app.
1. Doctor profiles
Patients first communicate with potential providers through an app. Because of this, physician profiles ought to be lucid and comprehensive. Photos, core competencies, expertise, and all other information required to help the patient make a decision should be included. You can also think about adding consultation and medical expense prices.
2. Patient profiles
If a patient has a follow-up appointment or an initial appointment, the doctor should have quick access to that patient's information. And a fantastic location to keep this information is in an app. Before an appointment, it enables a doctor to access any patient information.
3. Search option
Patients can find it challenging to navigate through all those profiles if you have a large database. A search option could be useful in this situation. Patients can select the profiles based on a variety of criteria, including locations, doctor ratings, and desired therapies.
Benefits of Doctor Appointment Scheduling System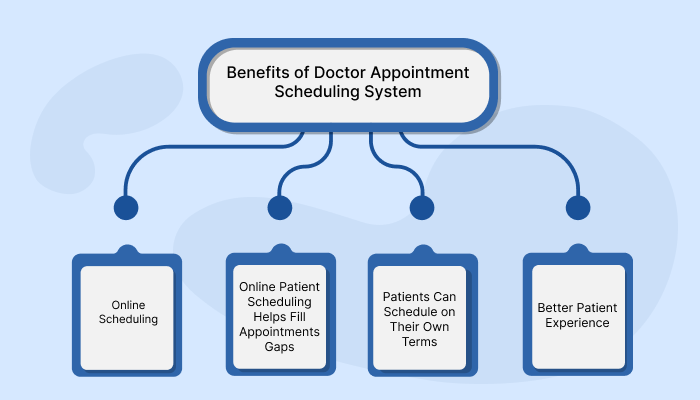 i) Online Scheduling
Online scheduling is a critical distinction that can help boost new patient acquisition and longer-term practice growth, since convenience is a major priority for today's busy healthcare consumers. Patients rank convenience as the primary factor influencing their healthcare decisions, above insurance coverage. 4 It's important to create a smooth, convenient process that leaves a positive first impression because online appointment scheduling is frequently a patient's first engagement with a healthcare professional.
ii) Online Patient Scheduling Helps Fill Appointments Gaps
Successful independent physician offices maintain a busy calendar by increasing the number of appointments. Unfortunately, patient cancellations at the last minute and no-shows make those appointments pointless, resulting in lost money and impeding the expansion of the practice.
iii) Patients Can Schedule on Their Own Terms
Traditional "office hours" have become obsolete as a result of the advent of healthcare consumerism. The employment of chatbots and round-the-clock customer assistance is commonplace in the majority of sectors. On the other hand, medical offices only accept appointment requests from 9 a.m. to 5 p.m. This access barrier is a major source of frustration for patients who manage their jobs and other obligations during the day.
iv) Better Patient Experience
Online scheduling is laying the groundwork for increased patient satisfaction before the patient ever makes their first visit. According to research, 59 percent of patients find the inconvenient office hours and holding periods frustrating when making phone appointments.
Step-by-Step Process to Build Doctor's Appointment Scheduling System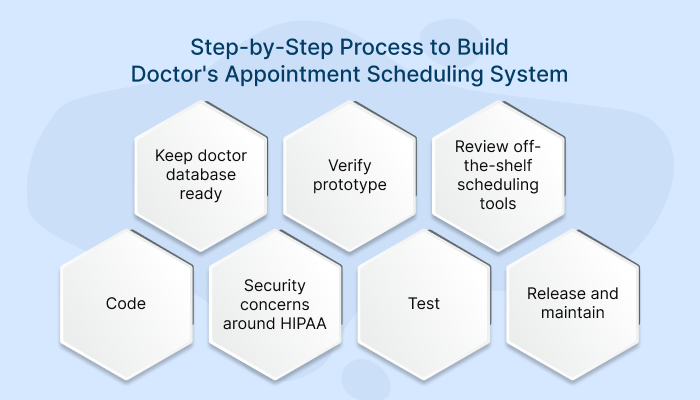 STEP 1: Keep Doctor Database Ready
If you think about it, creating a healthcare app is similar to creating an on-demand doctor app. What you provide, from the user's perspective, is a marketplace, with doctors as the product. Additionally, the user places product orders by using appointment scheduler to book doctor's appointments.
So make sure you have the product before you do anything else. Do you have a database of physicians if you are working with a particular clinic? Will it be available through APIs?
STEP 2: Verify Prototype
The creation of a prototype is the next step in the development of your doctor-on-demand app after choosing the app's data sources. You must create the aesthetics for each screen in the app and use a clickthrough prototype to confirm its functionality. At this point, a prototype tool is required.
STEP 3: Review Off-The-Shelf Scheduling Tools
The hardest part of building a doctor's scheduling app will be creating the scheduling engine. You can greatly accelerate the creation of custom mobile apps by using APIs, but keep in mind that this decision will affect the user interface. The issue with scheduling APIs and SDKs is that they don't offer a lot of freedom with a calendar's appearance and feel.
STEP 4: Code
For your appointment app to work, the tedious tasks still need to be completed. As for us, we enjoy that aspect and are skilled at making it an engaging experience for you as well. Our development team works quickly iteratively and holds regular meetings to keep the coding process completely transparent for you. In this manner, you can quickly monitor the project's development and make all the necessary decisions on time.
STEP 5: Security Concerns Around HIPAA
As you proceed with developing a medical appointment scheduling app, be careful to use a secure architecture that complies with HIPAA rules, particularly for video conferencing and messaging.
STEP 6: Test
Naturally, you can't create a doctor's appointment scheduling system without extensively testing it. In real life, each development sprint is followed by the quality assurance phase, which starts at the same time as coding. Final testing, however, comprises unit tests, stress testing, security testing, and coverage of all software functions.
STEP 7: Release and Maintain
The final stage is to publish the app so that customers may schedule an appointment with a doctor. The narrative is not over after uploading mobile apps to app stores and migrating the web dashboard to a "live" server, such as one in the AWS environment.
According to user input, you may need to update the app frequently to support new mobile OS versions and improve its functionality. As you can see, designing and developing an doctor's appointment scheduling system may be challenging, so consulting with specialists is a good idea before getting started.
Final Words
We sincerely hope that we have clarified some important factors you should take into account while choosing a medical visit. Any special inquiries are welcome; we'd be pleased to take you on this thrilling adventure. So it's time to create a medical appointment scheduling software right away!
Discover Why Schedule.cc Stands Out
#1
Scale your appointments using online scheduler, email signature and bots
#2
Embed calendar on website, blog, and emails to speed up appointment scheduling
#3
Engage over an HD audio, video calling and through built-in video conferencing tool, 500Conference
#4
Sync Google, Outlook, and iCal calendars & stay up-to-date
#5
Reduce no-shows with automated appointment reminders
#6
Integrate with AI chatbot, BotUp, on website and capture leads faster
#7
Automatically schedule appointments post successful payment confirmation
#8
Share schedule links in your Gmail using powerful extension
#9
Unbelievable pricing - the lowest you will ever find
#10
Everything your business needs - 50 apps, 24/5 support and 99.95% uptime
Join the SaaS Revolution
All-in-One Suite of 50 apps

Unbelievable pricing - $14.99/user

24/5 Chat, Phone and Email Support