Calendar Scheduling Software to Never Miss an Appointment
Calendar Scheduling software can automate every aspect of appointment scheduling, including delivering information and follow-up messages to the person who booked it.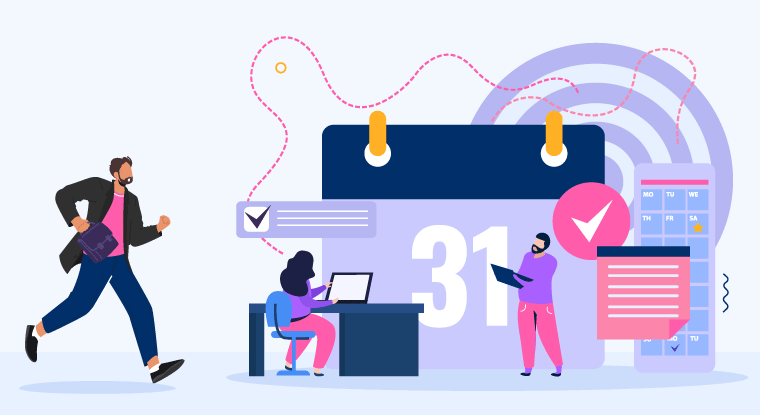 What is Calendar Scheduling Software?
Calendar scheduling software allows you to create, update, and calendar sharing with numerous users. Businesses frequently use scheduling software to plan business meetings and appointments, establish and manage personnel schedules, allocate assignments, organize work shifts, and track everything in real-time, even when working remotely.
More sophisticated tools enable you to manage employee attendance and work hours, send automated reminders for forthcoming meetings and appointments, and make educated scheduling decisions based on a worker's availability, skill sets, and present location.
Other essential features of this appointment scheduling software include automatic scheduling, time-zone synchronization, resource scheduling, and creating reports on no-shows, paid time off, etc.
Benefits Of Calendar Scheduling Software
One of the most important skills that an individual can develop is time and calendar management. Whatever industry you are in, your daily business operations must be planned and handled effectively and productively so that your client is never taken for granted. This is also an essential skill to have in your personal life, as efficient time management helps you complete all tasks scheduled for the day without procrastinating.
1. Helps Prioritize Work
One of the primary advantages of having a scheduling system in your organization is prioritizing work. In other words, a calendar scheduling software helps you prioritize more vital projects that have strict deadlines.
Keeping track of deadlines and priorities can be quite challenging if you do not use calendar scheduling software. It can also make you feel as though you are buried under a mound of work with insufficient time to do it all. As a result, your job quality may degrade, leading to client complaints and money loss.
2. Helps Combat Procrastination
Although a timetable may not fix all your procrastination issues, it can undoubtedly help. Knowing you have a certain amount of time to finish a task drives you to get started. Furthermore, because schedules assist you in developing a routine, you will ultimately perform things naturally.
3. Helps Keep Everyone on the Same Page
If you share your day plan with your assistant or colleagues, they will know when you are available and can speak with you about something essential during the scheduled time.
Furthermore, while working with people, scheduling is essential. If your team is working on a high-profile project, everyone should be aware of who is working on what and how things are developing. You don't want to leave someone in the dark or have them miss a deadline.
Additionally, online scheduling software is required when meeting with your team. You may be available to talk at a given time, but they may not be. As you don't want to bother someone working, you can share your schedule with the individual and let them choose a desired date and time to meet.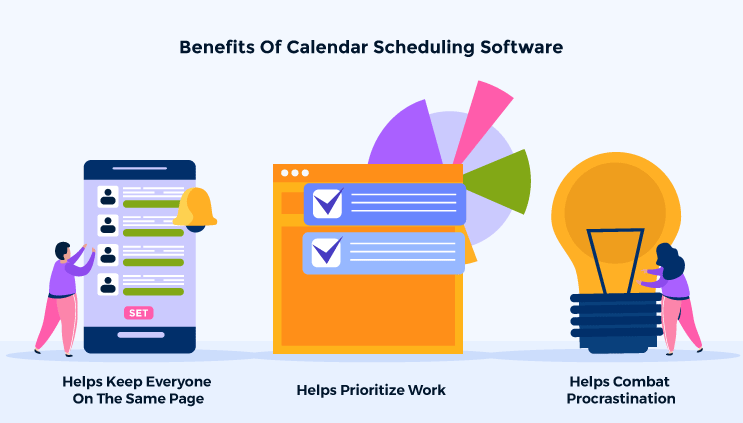 Three Ways Calendar Scheduling Software Can Help your Business
Many small companies rely on appointments and bookings to bring in clients and income. In today's technologically advanced world, you can't rely on phone calls to schedule appointments or consultations. Small companies must harness the power of technology to flourish and compete. It assorts appointments and manages business calendars using online booking and scheduling software. These tools provide several advantages to small enterprises, some of which are listed below.
1. Automates Time-consuming and Repetitive Tasks
Setting up a single appointment can take anywhere from four to ten emails to negotiate time zones, availability, and call lengths. This is naturally frustrating and time-consuming, and it becomes more problematic when you need to get on the phone with many individuals who all have different schedules.
Calendar scheduling software prevents such inconveniences. You send them a link with your availability pre-filled, and they may book at a time that works for them. As a bonus, you now control how long a meeting lasts.
2. Handles the Details and Follow-up
An appointment booking software can manage every aspect of call scheduling, including delivering the information and follow-up messages to the individual who scheduled the appointment with you.
This includes the following:
Automatically generating a unique Google Meet or Zoom link and distributing it to both parties.
Email confirmation of the appointment.
Sending a reminder to both parties before the appointment.
Payment is required at the time of appointment booking, eliminating the need to issue a separate invoice.
If the user decides to cancel or reschedule, everything occurs automatically, freeing up the space for others to take later. The information can be sent to your Google calendar, so you aren't waiting on an appointment that won't come.
3. Your Company Appears Professional
Using scheduling software demonstrates that you take your business seriously and are in high demand. Scheduling software may make a difference for small firms looking to establish themselves and create a good first impression.
One method to improve this perception is to include scheduling software on your website, allowing users to schedule appointments with you without first filling out a contact form. In fact, studies show that 68 % of patients are more inclined to pick clinics that allow them to book, alter, or cancel appointments online, according to patientpop.com.
Why schedule.cc is the Best Option?
Schedule.cc, developed by 500apps, is an effective appointment scheduling system with many features designed to improve customer connections.
It enables quick and easy appointment scheduling by scanning your available time slots and properly allocating slots to different clients. It allows clients to make meetings on the move, regardless of whether they are accessible in person. It also has AI-powered smart features that improve the process of arranging meetings and events.
Automate the Process of Scheduling and Sending Reminders to Eliminate Manaual Cost Sign Up 14 Day Trial
Important features of schedule.cc:
Increases the number of appointments generated by your website and emails.
Gets rid of back-and-forth emails.
Provides built-in conferencing.
Calendar Integrations with CRM to provide continuous scheduling.
Reduces no-shows by making appointment cancellations and rescheduling simple.
Plans one-on-one and group events.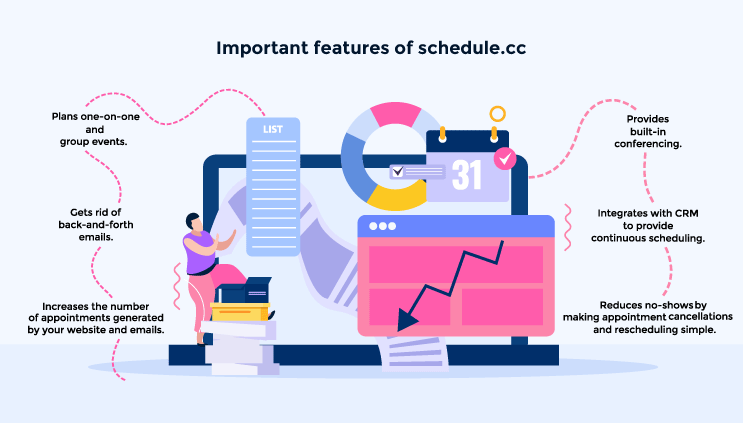 Price:
You can employ this calendar scheduling software and 38 other applications at a low price of $14.99 per month.
Summing It Up
The numerous advantages of appointment booking app may help simplify a company's scheduling by tracking the resources needed, the shifts workers work, employee credentials and certifications, finding and replacing any gaps in staff coverage, etc. Furthermore, when paired with time and attendance, organizations can analyze attendance trends, improve labor cost control, and comply with labor laws and regulations. However, with all these advantages available, choosing the best solution appears to be a requirement rather than a minor suggestion.
Discover Why Schedule.cc Stands Out
#1
Scale your appointments using online scheduler, email signature and bots
#2
Embed calendar on website, blog, and emails to speed up appointment scheduling
#3
Engage over an HD audio, video calling and through built-in video conferencing tool, 500Conference
#4
Sync Google, Outlook, and iCal calendars & stay up-to-date
#5
Reduce no-shows with automated appointment reminders
#6
Integrate with AI chatbot, BotUp, on website and capture leads faster
#7
Automatically schedule appointments post successful payment confirmation
#8
Share schedule links in your Gmail using powerful extension
#9
Unbelievable pricing - the lowest you will ever find
#10
Everything your business needs - 50 apps, 24/5 support and 99.95% uptime
Join the SaaS Revolution
All-in-One Suite of 50 apps

Unbelievable pricing - $14.99/user

24/5 Chat, Phone and Email Support