Why We Built Schedule.cc?
Why Schedule.cc? Chronicles the journey from concept to market of an excellent schedule automation app for small and midsize businesses.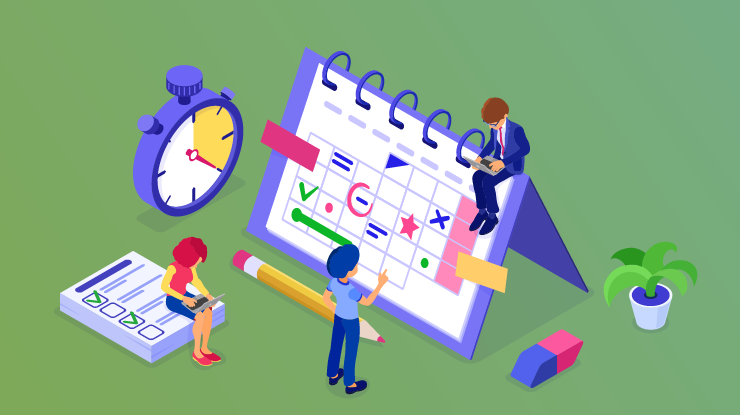 The overwhelming support we received from consumers at the release of Agile CRM, our all-in-one Customer Relationship Management (CRM) solution, blew away us. We credited all the small and medium-sized businesses that were signing up and benefiting from its comprehensive features. From the beginning, our goal has been to serve small and midsize business owners with the value they can't find anywhere else, including features and capabilities usually reserved for the Fortune 500.
Our brand has grown exponentially because of the existence of problems. Once we identified a problem in the CRM market, for instance, we saw it as an opportunity to help customers overcome some of the challenges they deal with each day. We put hundreds of people to work both locally and around the world, and we created an excellent CRM in the process.
We met with many of our customers to learn more about their individual stories and the factors that convinced them to invest in our brand. Through these meetings, we identified another opportunity; a problem area for customers, and one that we could help eliminate: scheduling.
The Problem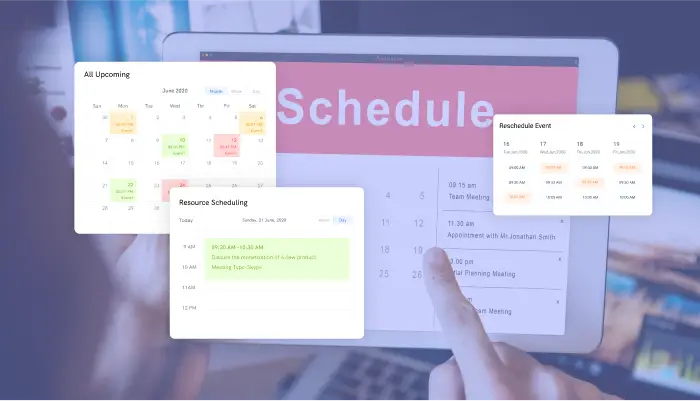 On the surface, appointment or meeting scheduling seems straightforward. After all, if there's one area in business that isn't plagued with productivity and workflow issues, it's scheduling, right?
In reality, appointment scheduling has far-reaching effects that impact various areas of a company's workflow. For starters, many B2C companies fail to grasp the importance of scheduling. As a result, the processes they implement can be counterproductive. Schedules help prepare the staff, and they ensure clients are never left out of the loop.
Of course, scheduling is often time-consuming. For instance, finding a time slot for employees from different departments to meet can be a headache. Other times, employees shuffle their tasks and show up to meetings only to realize they're not needed, or the meeting isn't relevant to their role.
So while scheduling is essential, it's hard to get it right every time. The benefits of appointment scheduling and creating set routines for your team and clients, however, make it worth the effort.
To combat these and other issues in scheduling, companies often utilize appointment scheduling system that provides a set of specialized features. Some apps are designed for specific industries, like doctors' offices or construction crews, while others focus on business size or specific functions. Apps might focus on B2C appointment setting, while others emphasize project planning and employee schedules. Different industries use schedules in different ways, and the market reflects this diversity.
When we released Agile CRM in 2013, however, the market wasn't as diverse. Because of the mysticism of Artificial Intelligence (AI) and Machine Intelligence, brands were overcharging for apps with simple features. Small and midsize business owners conscious of their budgets were out of luck. It looked like only the industry-leading brands would have access to the top software.
And so, the Problem We Identified was Two-Fold:
Schedule automation apps were underperforming
Small business owners had few options they could justify buying
The Solution
We decided to build an appointment scheduling app that would not only help small and midsize business owners but our own teams as well. We realized most providers had yet to take advantage of recent advances in AI, cloud storage, and SaaS capabilities, and we knew these advances would play a significant role in our development.
First, AI was transforming the automation space, thereby boosting productivity and efficiency. We still have yet to realize general or strong AI, which is AI on a level with human thought, but the technology was expanding rapidly even in 2013.
#ThursdayThoughts: 🦄Super useful - AI helps you Count from Photos, Automatically! pic.twitter.com/pcW6G4yRFL

— Larry Kim (@larrykim) February 11, 2021
We also had our eye on cloud storage and were especially interested in ways in which we could eliminate the need for users to store enormous caches of data in-house. Cloud storage also proved to be secure, which was (and continues to be) a selling point for companies in healthcare and other industries that dealt with sensitive data.
Finally, SaaS allowed users to access software from anywhere with an internet connection. This was especially beneficial for companies with remote employees that placed a high value on accessibility. SaaS eliminated the need for users to download and install software on each device or manually update software With a good idea of the kind of schedule management and automation solution we wanted to create for consumers, we tasked our team with researching apps that were available, and we began monitoring social media to learn how consumers felt about those apps.
"The more efficiently you set and meet appointments with clients, the more often they'll turn to you when they need the service you provide. Studies show that recurrence makes visiting your business routine for your clients, which can dramatically improve your revenue. The ultimate appointment booking and scheduling goal is to have a steady roster of regulars you can count on. With features such as automated scheduling, appointment reminders, and payment processing integration, your scheduling app will help you reach that goal."* (source)
We needed to be able to answer the question of why Schedule.cc, as it came to be known, was necessary. How would it stand out? How well would it compete? How well would it perform? We needed to define consumer expectations in order to exceed them. So we began identifying features and functions that small and midsize business owners craved in a new scheduling solution.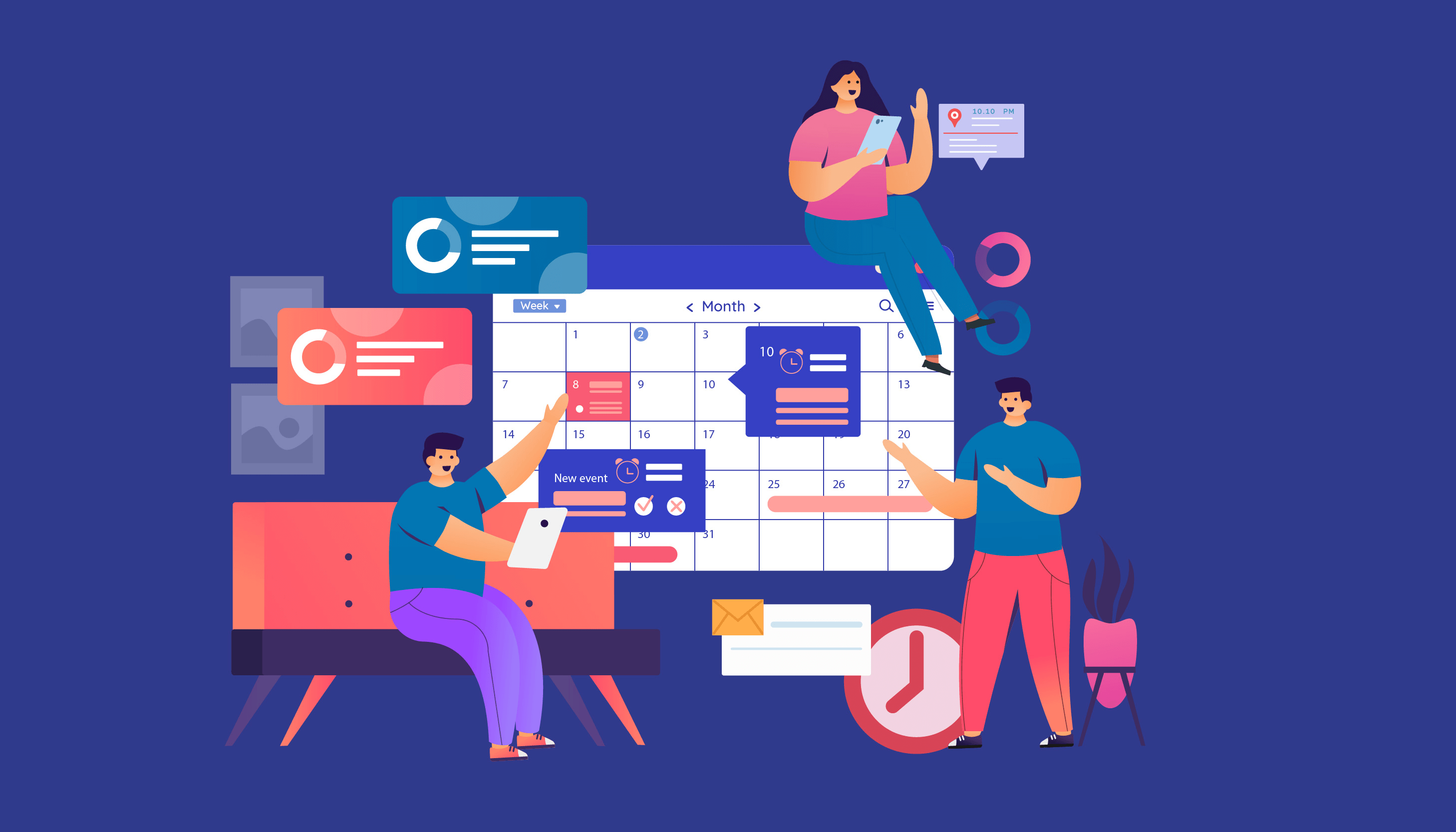 The Requirements
We used social media and surveys to discover what consumers expected out of a new scheduling solution. At the end of our research, we had identified seven features and functions that we wanted to include in Schedule.cc.
1. Let Customers Set Appointments Based on Our Availability:
In order to eliminate the annoying back-and-forth emails, we needed to provide times and durations that worked for all users and to allow invitees to choose their time.
2. Schedule for Various Event Types:
Users needed the ability to schedule client meetings, and clients to choose appointment times based on their availability.
3. Create New Events Easily:
Creating events needed to be quick and effortless. An innovative dashboard would justify the new software.
4. Resource Scheduling:
Because many businesses would be scheduling employees and other resources, Schedule.cc is needed to address their needs as well.
Boosts revenues by making it easy for customers to book appointments Sign Up 14 Day Trial
5. Calendar Views:
The dashboard needed to include an overview of the calendar, giving users a bird's-eye-view of upcoming appointments and meetings.
6. Create and Choose Email Templates:
Because owners and managers were spending so much time manually creating schedules and setting up appointments, Schedule.cc needed to include templates that allowed users to quickly create invites. Email templates would even allow them to integrate Schedule.cc into their email outreach campaigns.
7. Automated Scheduling, Notifications and Reminders:
Of course, we wanted Schedule.cc to provide the best in automation. Automation would need to be available for each element that could be scheduled. This meant automated appointment meetings, schedules, notifications, reminders, and emails.
Building & Promoting Our New Solution
Our teams dedicated long nights over countless weekends to bring Schedule.cc to life. All the research and hard work paid off, though, as we created one of the easiest, yet most powerful scheduling automation apps to date.
We hinted at the production of a new schedule management and automation app early on in the development. Current customers of Agile CRM were excited, and our marketing team did an amazing job building support and anticipation from new prospects.
Throughout the process, we were able to connect with clients and companies around the world, all of whom were struggling to increase the productivity of their workflows. We incorporated much of what we learned from these engagements into the final product.
We also spent time researching other areas of business productivity, such as Business Process Automation (BPA) and Business Process Management Software (BPM). Our goal was to make Schedule.cc as robust as possible while retaining the ease of use our products had become known for.
The Finished Product
The Schedule.cc solution is not only capable of helping teams schedule all of their meetings and appointments, but it also features AI to assist in scheduling, rescheduling, cancellations, notifications, reminders, and more.
It includes fully-functional appointment scheduling software capabilities, allowing users to set their availability and durations for each time slot and buffer times between appointments. Custom links can be sent via emails that are created with pre-built templates, enabling users to improve open rates and enhance the
User Experience of Their Scheduling Process
One-on-one, team, or group meetings can be sent using email templates with a unique link for recipients to RSVP and to set meeting times. Meeting info is viewable in Schedule.cc.
Calendar View
The game-changing AI assistant is our crowning achievement with Schedule.cc. Simply copying the AI assistant in an email triggers it to do the rest. The AI assistant can also identify emails that pertain to scheduling, triggering notifications and automatically planning events and appointments. The AI assistant can automate your scheduling, notifications, reminders, and replies as well as cancel meetings or choose new times based on everyone's availability.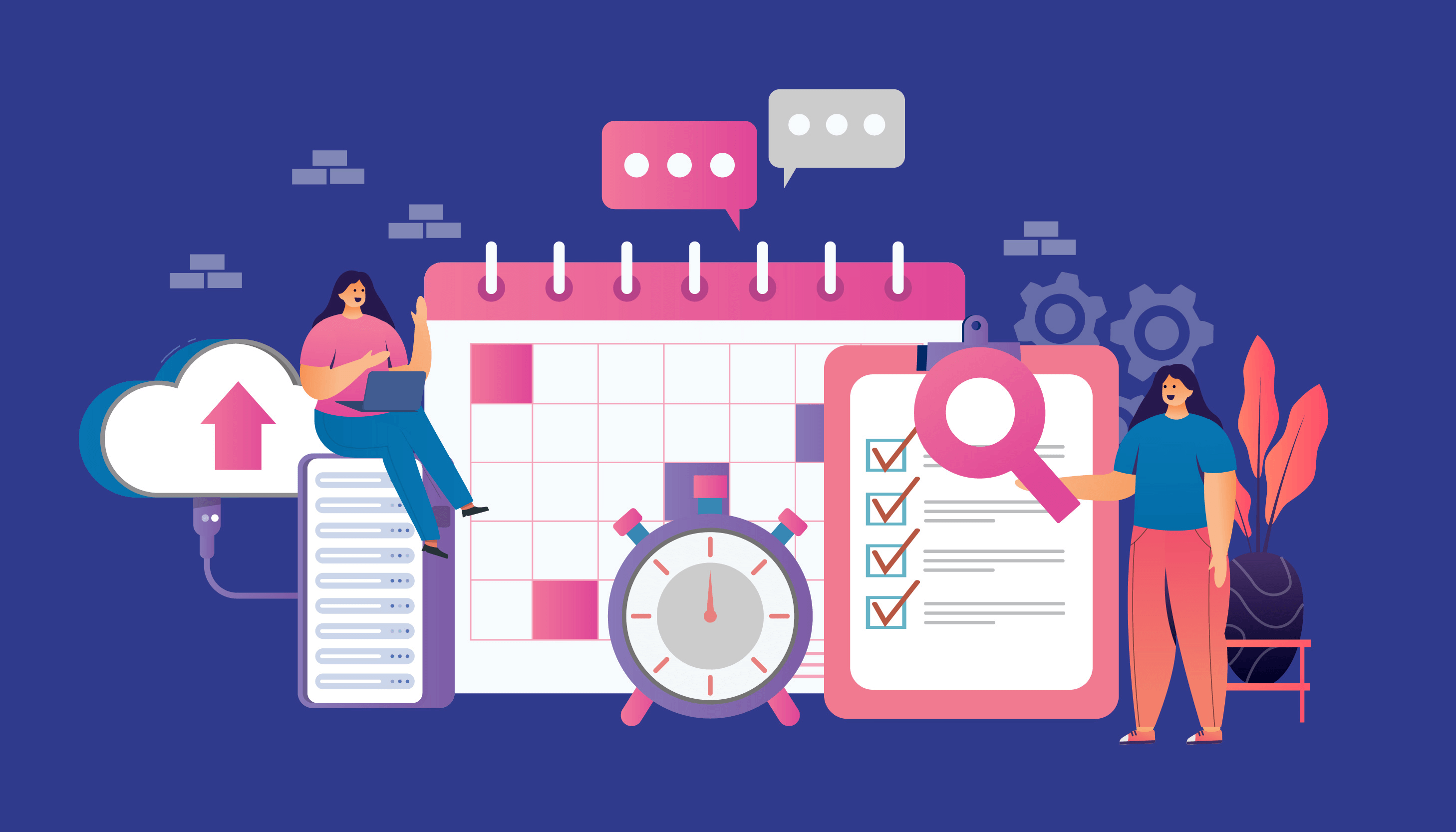 Final Words
Schedule.cc was created to serve small and midsize business owners. The market forced them to settle for less while rewarding larger brands that could afford the investment. That's why Schedule.cc is priced for "the little guy." Just as Agile CRM did well to sell itself, Schedule.cc has performed well in an ultra-competitive market. However, it's important to address the "Why?" questions that go along with any new product.
As our brand continues to grow, we strive to connect Schedule.cc with users who need it most. They're the backbone of our brand, and along with our amazing team, they're why Schedule.cc is as successful as it is.
If you're in the market for new scheduling automation software, there's a chance Schedule.cc is perfect for your brand. It integrates with a number of third-party apps, including Google Calendar, Office 365, and GoToMeeting. What's more, it integrates seamlessly into the workflow.
Of course, there's also a chance Schedule.cc is not perfect for your brand. And that's why we encourage you to join us 14 Day Trial. By taking advantage of our free trial, you'll learn more about all the features we packed into Schedule.cc, and how a simple scheduling app can change your workflow for the better.
Discover Why Schedule.cc Stands Out
#1
Scale your appointments using online scheduler, email signature and bots
#2
Embed calendar on website, blog, and emails to speed up appointment scheduling
#3
Engage over an HD audio, video calling and through built-in video conferencing tool, 500Conference
#4
Sync Google, Outlook, and iCal calendars & stay up-to-date
#5
Reduce no-shows with automated appointment reminders
#6
Integrate with AI chatbot, BotUp, on website and capture leads faster
#7
Automatically schedule appointments post successful payment confirmation
#8
Share schedule links in your Gmail using powerful extension
#9
Unbelievable pricing - the lowest you will ever find
#10
Everything your business needs - 50 apps, 24/5 support and 99.95% uptime
Join the SaaS Revolution
All-in-One Suite of 50 apps

Unbelievable pricing - $14.99/user

24/5 Chat, Phone and Email Support