15 Things to Know About Online Meetings Scheduler
Poorly planned meetings affect employee's output and its antidote lays in proper planning, which starts with meeting scheduling. While there are quite a number of appointment schedulers, be on the lookout for one that offers a seamless scheduling experience.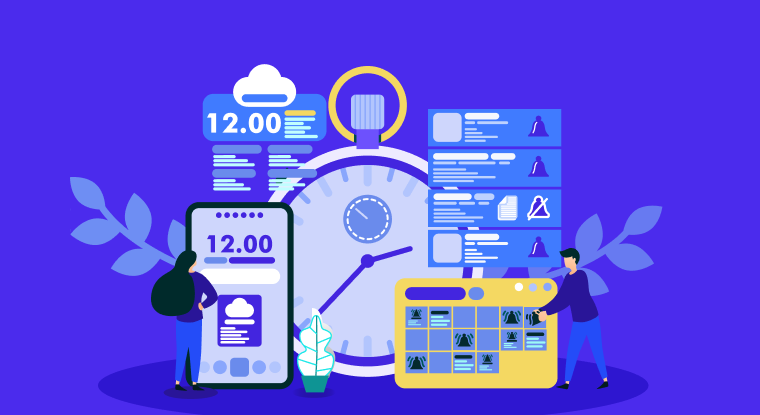 Meetings are part and parcel of running organizations. Since time immemorial, meetings have had a profound effect on the productivity of teams. Finding the most appropriate time for everyone to meet previously involved lots of back and forth that made the thought of even meeting draining especially for the creators and initiators of meetings.
Today, people are spending so much time discussing where and when to meet that the agenda of the meeting is put on the back burner. In such a scenario, the productivity of the meeting is undermined from the planning phase as employees are likely to attend the meeting when they are already exhausted from the back and forth.
It is no wonder then that one finds themselves in a long email thread that leads to nowhere. Meetings scheduler are thus a boon for organizations as they cut the long process of scheduling meetings thereby improving the productivity of meetings.
Research has shown that prior planning is key in having a successful meeting. Be that as it may be, many leaders seem not to give much thought to planning, a study by mentimeter – a meeting engagement company – shows.
Leaders do not appear to recognize the importance of giving a meeting thought prior to it occurring. Only 11 percent of Americans feel their meeting leaders almost always have a compelling plan for the meeting. 67 percent of Americans indicate that having a compelling plan for a meeting occurs at or less than 50 percent of the time, the research states.
Many attendees of bad meetings are thus likely to suffer from Meeting Recovery Syndrome (MRS) where the bad experience sticks with them long after they have left the meeting ultimately affecting their productivity and happiness at work.
Regarding MRS, the study found 55 percent of Americans report that a poorly planned meeting negatively affects their productivity and a further 54 percent find that they needed to talk to someone following a bad meeting in order to recalibrate. This makes meetings counterproductive as one of the aims of meetings is to increase productivity and efficiency at the workplace.
The antidote to poorly planned meetings thus lays in proper planning, which starts with meeting planner software.
What Makes a Great Online Meetings Scheduler?
1. It Should Have Personalized Appointment Links
For the longest time, the aspect of personalizing experiences was regarded as the future of doing things. Whether in marketing, in education, or in business, it was believed that that was the way to go. And now the future is here with us and if marketers, salespeople, educators and basically everyone is developing a personalized experience, then it goes without saying, that scheduling meetings also have to be personalized.
Chilean business consultants Jose A. Pino and Hugo A. Mora sought to find out why there was little success in electronic group calendaring systems. According to the experts, they hypothesized that the reason could be on how time meeting coordination was approached. They cited two traditional approaches; one was where individuals would input their time availability in the computer while the second was the traditional model where meeting coordinators – who are most likely to be personal assistants to executives – choose the best time for the meeting in line with the executives' availability. This second approach does not take into consideration the availability of the rest of the team and the meeting time is thus cast in stone. Woe unto you if you had other plans as you would have to either cancel them or send an apology. Pino and Mora thus propose a model in which employees' personal preferences are important.
Increase your productivity by scheduling appointments more efficiently Sign Up 14 Day Trial
And now, most appointment scheduling systems come with a feature that allows one to share unique scheduling links with prospective customers and clients. Each individual thereafter buffers time according to their preference. This eliminates the need to ask the question, 'what time works for you?' and all you need to do is to set your availability regarding days and time, save and the scheduler will handle the rest for you.
2. Can be Set up Quickly
Let's face it, we live in an instant world – instant cash, instant food, instant gaming, instant love and so much more. Why then would anyone want to complicate a process as simple as scheduling a meeting through a long, winding setup process? An appointment scheduler should cost you as little time as possible to set up as they are meant to save you time, right. It should take you five minutes tops to create your account and set up your preferences.
3. Has Extra Features Such as a Welcome Message
Scheduling meetings digitally should make your life simpler and if this includes an opportunity to build a relationship with correspondents on the get-go through a welcome message feature, then it's definitely a win. And since it takes just about five seconds to create a lasting impression; a warm and sincere message to other users will make them feel appreciated and set the right tone.
4. Is User-Friendly
Many software developers make the mistake of neglecting user friendliness when developing applications, yet good usability has been shown to increase productivity.
When it comes to planning meetings, a user-friendly app will increase return on meeting investment especially in the planning process that was discussed at the beginning of this article.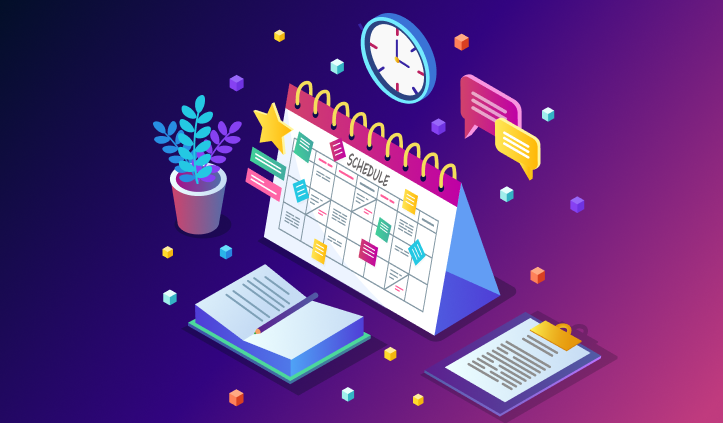 5. It is Efficient and Effective
Technology should be efficient, and this includes optimization that will support a seamless interaction with existing systems. Another characteristic of efficient technology is one that enables users to complete a task better than before without creating barriers for the user. When shopping for an app, opt for one that can integrate with other apps such as Zoom. You should be able to sync with Google calendar or Office 365, for instance, to avert double or multiple bookings in the same time slot.
6. Has Email Reminders
We live in a time where people are juggling multiple tasks and it is thus easy to forget even the most mundane things. It's so bad that people are even forgetting children in cars during a hot day with catastrophic results. It's also not uncommon to hear of parents who forget to pick their children from school only for them to be reminded by the school that they are running very late in picking their children. It is thus very easy to forget a meeting hence the need for an email reminder.
An app with a calendar integration feature allows users to send reminders to their clients. This effectively reduces no-shows, thus saving everyone time and money.
7. Gives One Control Over Time
Speaking of time, a good scheduler should put control of one's time into the users' hands, which is very empowering. Go for an app that comes with buffer times and appointment limits. This gives people and businesses the power to determine how often and how much they want meetings.
In a Forbes article titled "How to Increase the Effectiveness of your Virtual Meetings", Forbes Council Member Douglas Karr advises companies to empower employees to decline meetings to ensure that meetings are productive. "Your employees shouldn't feel compelled to attend every meeting they're invited to, especially if they don't understand why they need to attend," he writes.
Karr ends the article by urging Microsoft and Google need to enhance meeting scheduling capabilities.
Karr's article emphasizes the need of businesses to use calendaring platforms "where people can see your open windows to meet and select a convenient time." This, he writes, helps to cut the back and forth that go between attendees to pick a suitable time. Karr also recommends for individuals to block out a buffer before and after each meeting "to ensure you have time to travel or knock out requests that you can take care of immediately."
Schedule.cc CEO echoed the same sentiments during the launch of the online meetings scheduler. "Your time is valuable, and so is that of your employees, customers, and essentially anyone you conduct meetings with on a daily basis," he stated.
8. It is AI-Powered
Unless you are living under a rock, we all know that artificial intelligence has changed the rule of the game in businesses. The human-like interaction and advanced algorithms make AI not only unique but also offers better reliability and speed compared to humans. Best-in-class scheduling apps such as Schedule.cc use an AI-based assistant that cuts the incessant and annoying back and forth with clients when scheduling appointments. What's more, you can integrate the AI bot in the email, and this will allow the customer to promptly choose the best time that works for them.
Users of appointment Scheduling Software consider this AI feature as one of the most powerful elements of the appointment scheduling software as it handles automated replies for very quick appointment scheduling.
Hi team, really a comprehensive list. But, I will recommend trying https://t.co/h3qNfKwAb9 by 500apps. It is an appointment scheduling software that offers multiple features like AI-enabled replies, hassle-free scheduling and more. Try the 30-day free trial to know more:

— Andy Brown (@MbrownAndy) October 19, 2020
9. Allows for Online Self-Scheduling
This might seem like an obvious feature, but its importance cannot be overstated. A good app should allow users to book their appointments and make reservations on the go, which brings us to the next point.
10. Device Compatibility and Easy Access
You should access your appointment scheduler on both your mobile phone and desktop at any time of the day; this allows for full-time access and tasks scheduling.
11. Easy to Use Interface
The strength of User Interface Design determines the success of any platform. A user interface will make people want to interact more with the platform they are using, and the same concept also applies to scheduling apps. Simple things such as the shape of a button can determine whether or not a user will know how to complete a certain task hence the app should have a highly intuitive design and be easy on the eye. The color schemes and overall design should be appealing and organized.
12. Allows for Appointment Scheduling for All Meeting Types
A good appointment scheduler should allow for multiple and group bookings. Each of the existing appointment schedules has its strengths when it comes to booking meetings.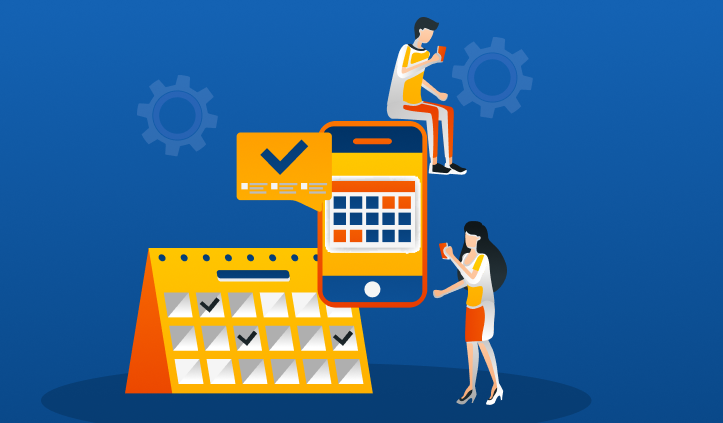 After sending a link to the people you need to meet with, a robust online meetings scheduler should sync the confirmed appointments and then create an event on everyone's calendar.
13. Allows for Payment Processing
As mentioned earlier, a great remote meetings scheduler should enable extensive integration with other apps. As such, the app should be integrated with a number of payment options that allow for easy booking and easy payment processing.
14. Is Secure and Affordable
In this age of data mining, it's an instinct for people to want to protect their identity. An effective online meetings scheduler should thus guarantee the privacy of the conversations. Go for an app that guarantees a reliable privacy policy. And since the scheduler is used by businesses who are most likely looking at keeping costs down and thereby maximize on profits, the app should be affordable.
15. Allows for Employee Scheduling
An ideal scheduling software should have a provision for users to include the employee schedule. This helps in creating, processing, and automating the schedule.
Conclusion
Appointments, whether internal or external, are part and parcel of businesses and employees have to find time to attend to these matters without dropping the ball. This is the reason the world is moving away from the traditional way of using phone tags, emails, and even diaries to schedule appointments, calls, interviews, and whatnot. An efficient appointment scheduling solution that takes into account the dynamics of the workplace is thus what employees and business executives need to keep pace with the fast-moving world.
Discover Why Schedule.cc Stands Out
#1
Scale your appointments using online scheduler, email signature and bots
#2
Embed calendar on website, blog, and emails to speed up appointment scheduling
#3
Engage over an HD audio, video calling and through built-in video conferencing tool, 500Conference
#4
Sync Google, Outlook, and iCal calendars & stay up-to-date
#5
Reduce no-shows with automated appointment reminders
#6
Integrate with AI chatbot, BotUp, on website and capture leads faster
#7
Automatically schedule appointments post successful payment confirmation
#8
Share schedule links in your Gmail using powerful extension
#9
Unbelievable pricing - the lowest you will ever find
#10
Everything your business needs - 50 apps, 24/5 support and 99.95% uptime
Join the SaaS Revolution
All-in-One Suite of 50 apps

Unbelievable pricing - $14.99/user

24/5 Chat, Phone and Email Support