Tips for Hassle-Free Event Scheduling
Planning and scheduling are quite important for you, and make time for your professional and personal tasks.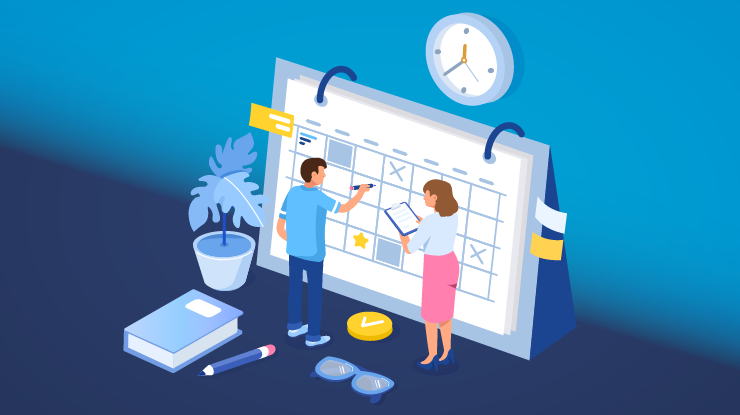 One of the widely used event scheduling software - Schedule.cc is highly recommended for managing the schedules of your events. Whether you want to schedule some festive promotional event or looking for a month-end sale, you can manage all the details meticulously with event schedule software.
What is Event Scheduling?
Scheduling event is the kind of process of finding a preferable time for any events. Events can be anything from meetings, conferences, trips, software milestones, etc. For any event to be successful and completed promptly, it is crucial to schedule events. Usually, it is the most critical part of the event planning that is usually carried out at the beginning stage.
Importance of Scheduling Events
No doubt, as apparently it is that event scheduling is the art of planning all your activities, including the upcoming events such as meetings or gatherings, to achieve your set goals and objectives in the time you are available. Additionally, when you schedule events effectively, it would help you to achieve a lot of things including,
Work steadily toward your personal goals and professional milestones.
Make sure you get enough time for essential activities.
Understand what you can accomplish with your limited time.
Add contingency time for unexpected events.
Restrict to take more than you can handle.
Have enough time for your family and friends, exercise and hobbies.
Achieve a balance between world and life.
Time is the only resource that you can't buy, and then also we often take it for granted and waste it rather than use it for our dreams to come true. An excellent event scheduler helps you think about what you are looking to achieve in a day, a week, or a month. Moreover, it keeps you on track to accomplish your goals. And one of the effective tools to schedule events is Schedule.cc. So let's see how this tool can help you effectively manage and schedule your events for more time on hand. One of the best software for scheduling appointments, Schedule.cc helps you schedule all the events and help you march ahead ferociously. This user-friendly tool with an intuitive scheduling user interface helps schedule your meetings without hassles. It is designed to support your book meetings in just a few steps, along with offering an excellent customer experience.
So, Let's Unveil the Key Features of Schedule.cc
1. Event Reminders
Automatically sends events reminders every time your event is scheduled to help you not miss any important event.
2. Appointment Scheduling Software
Want to schedule appointments or meetings? Use the feature for scheduling appointments effectively. It helps to schedule meetings with multiple people and streamline all the upcoming events.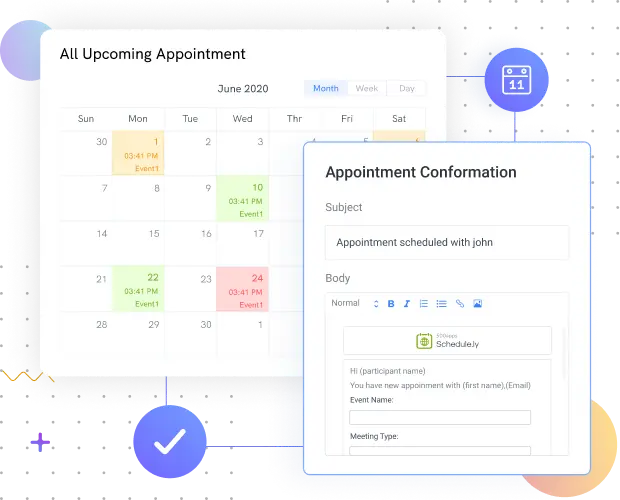 3. Event Booking Software
Any event, not just your meetings, whether business party or trip, with event scheduling software, it is easy to schedule. It allows you to send meeting timings to the group before scheduling to see everyone is available. It also automatically includes buffer time before scheduling any event.
4. Detailed Report
Cut down all the time spent analyzing, with reports in visual formats that contain all the information. Hence, it allows you to manage your time effectively and your meetings.
5. Group Scheduling
Whether you want to schedule group meetings or individual meetings, easily schedule it sharing your calendars, and manage your meetings with effective group scheduling calendar functionality of Schedule.cc.
6. Availability Managing
This feature allows you to have an overview of your entire schedule and enables you to set your preferred timings and accordingly book/schedule meetings at times that work best for you and your schedule.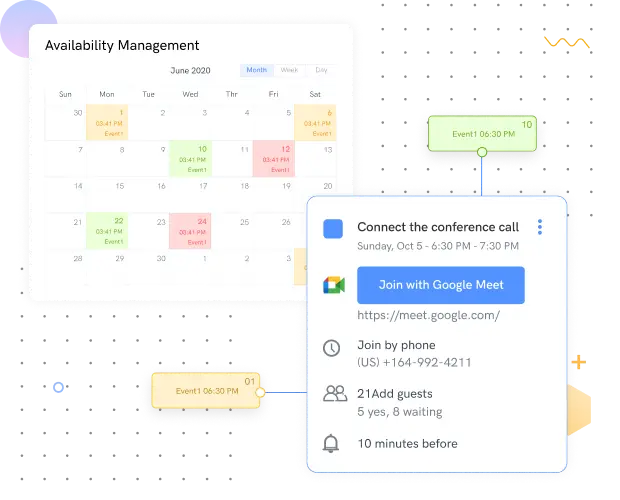 7. Portal for Clients
With the client portal functionality of Schedule, it is easier for you to send your clients with your proposed meeting times and let them know your availability time. So, you can see who is available before scheduling your next meeting.
8. Customized Fields
You don't have to be stuck in with the rigid framework of features and functionality because Schedule gives you all the freedom to customize the tools and features in Schedule as you want them to work for you. For example, you can easily personalize your meetings scheduler to work for you according to your evolving needs.
Don't miss any meetings, appointments, meet-ups, or business catch-ups with real-time notifications of Schedule.cc. It helps you to stay ahead of time without losing any events. Also, you can easily automate your calendar, text reminders, or more in time.
10. Website Integrations
Integrating Schedule.cc to your website allows your clients to select the time and get appointments easily as they are created automatically through Schedule.cc calendar. Moreover, you can also allow invitees to schedule a time from the available time period pasted into an email.
11. Calendar Managing
The Calendar Managing feature allows you to manage all your upcoming events and scheduled meetings without any hassles. You can plan all your private events around your scheduled calendar and manage the meetings without being late. Furthermore, by sharing the Calendar, you can remove the misery of informing your clients as they will be informed about the scheduled meetings or about changes in meeting in case any changes are there.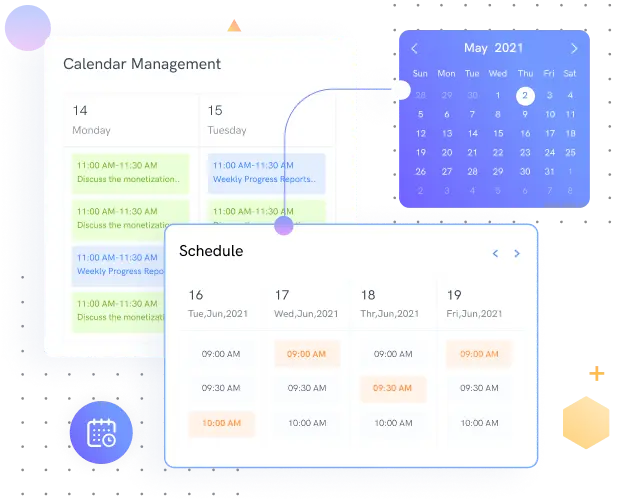 12. Multiple Locations
No matter in what part of the world you stay or where your clients' locations are, Schedule.cc with multiple location functionality allows you to set appointments or meetings as preferable to their or your timezone. In addition, it allows handling meetings for multi-location and keeping track of everything on one dashboard to avoid missing the targeted appointments.
13. Email Integrations
You don't have to work scheduling the meetings back and forth. Rather, get back to your important tasks as the Email Integrations feature automatically book events and meetings, so everyone is prepared on time.
Along with these key features, Schedule.cc encompasses a range of features like email links, Chrome extension, client portal, Embeds, Calendar Sync, and more. The efficient and result-oriented features and functionality of Schedule.cc helps you to have more time in hand and complete all your tasks on hand.
How to Use Schedule.cc to Manage Your Events?
Using schedule.cc - a popular event scheduling tool is quite easier. Just integrate it into your website or download the app and use it in your system. To start using the software, you can follow the steps.
Go to the Event booking feature of Appointment Scheduling Software and manage your time accordingly.
With the Event Management feature, make a list of tasks to be accomplished for an event.
Leveraging the feature of Scheduling events of the tool Schedule, easily Schedule each task or event according to its priority.
Detailed reports from Schedule help you analyze your work and activities performed in a day and enables you to make a schedule for the next day.
Success of Event Planning
Planning and scheduling are quite important for you, and make time for your professional and personal tasks. Time balance is quite important to complete any event or project. And to achieve this, scheduling is very important. By scheduling your events across the day through the available time, you can easily manage your tasks and succeed. So, why are you waiting to miss an event or meeting? Just get your Schedule.cc - appointment scheduling software and lead your day!
Discover Why Schedule.cc Stands Out
#1
Scale your appointments using online scheduler, email signature and bots
#2
Embed calendar on website, blog, and emails to speed up appointment scheduling
#3
Engage over an HD audio, video calling and through built-in video conferencing tool, 500Conference
#4
Sync Google, Outlook, and iCal calendars & stay up-to-date
#5
Reduce no-shows with automated appointment reminders
#6
Integrate with AI chatbot, BotUp, on website and capture leads faster
#7
Automatically schedule appointments post successful payment confirmation
#8
Share schedule links in your Gmail using powerful extension
#9
Unbelievable pricing - the lowest you will ever find
#10
Everything your business needs - 50 apps, 24/5 support and 99.95% uptime
Join the SaaS Revolution
All-in-One Suite of 50 apps

Unbelievable pricing - $14.99/user

24/5 Chat, Phone and Email Support