As a business entrepreneur, one of the most important things to master is the art of time management. Regardless of what industry you are in, your daily activities in business must be planned and managed in an effective and productive way, such that your client, that is, the "King" of your business, never ends up being taken for granted.
Especially if your business relies on the strong client and customer relationships, you absolutely need a seamless system to manage them, more so in the B2B industry.
Unfortunately, it is something that a lot of companies overlook. For instance, studies have revealed that businesses often focus more on marketing and outreach, rather than on something as simple as scheduling appointments for customers, in eCommerce. This is perhaps one of the biggest mistakes that a company can make, as an ineffective contact process or an inaccessible Appointment scheduling system can totally render a marketing campaign useless.
If a customer is unable to contact you easily, rest assured, it is a lost sale. For the same reason, businesses that neglect appointment scheduling facilities for their clients will inevitably suffer a huge loss of revenue.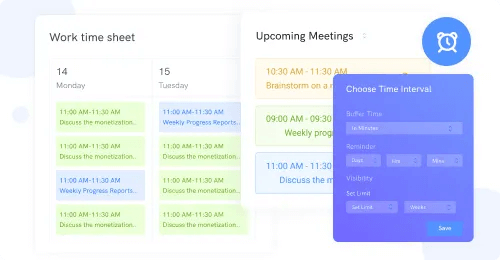 Some companies rely on inefficient appointment booking systems as well, where a lot of resources end up being wasted on unnecessary tasks and admin work. In addition, statistics suggest that managers on average waste about 26 minutes in a day just commuting between work and home. Clearly, a lot of time is being wasted, which takes away from productive business hours. And a lot of opportunities are lost because of improper management of customer and client time.
This is where a proper automated appointment scheduling system can do wonders for you.
Schedule.cc is one such efficient appointment scheduling system that comes with a ton of features to enhance client relationships. It facilitates the quick and easy booking of appointments, by scanning your available time slots and by allotting slots to different clients effectively. It enables clients to book appointments on the go, irrespective of whether you're available at work or not. It also comes with AI-based smart features that further enhance the process of booking meetings and events.
Apart from these, appointment scheduling systems come with a host of other benefits as well.
Here are 10 amazing benefits of scheduling appointments for your business
10 Benefits of Appointment Scheduling
1. Easy to Use and Incorporate into your Routine
One of the most obvious benefit of scheduling appointments is that it is very easy to use and incorporate into your business routine. A manual appointment booking system involves slow and repetitive processes of taking customer calls, determining available time slots for meetings, collecting customer data, entering the data into the system etc. Not only does this involve a lot of time wastage, but it also makes room for more manual errors, which can sometimes cost you your relationship with the client.
An automated appointment scheduling system on the other hand effectively does all the above-mentioned admin work for you at the click of a button. This makes it easy for you to incorporate it into your business routine, without affecting any of your other activities.
Schedule.cc comes with a super easy-to-use appointment and event scheduler that allows you to send calendar links to your clients once they book appointments. It takes care of all the steps involved in a manual data entry system, and books meetings according to available time slots detected by its AI-powered assistant, thereby handling the entire process in a matter of minutes.
Share your personalized calendar links with clients and let them decide the perfect time for scheduling appointments Sign Up 14-day Trial
2. Helps Develop a Strong Relationship with your Clients
Renowned and successful business entrepreneurs preach one main thing when it comes to gaining the competitive edge – developing a strong relationship with clients. And to do that you need to talk to them, build their trust and sustain it.
An appointment scheduling system allows you to open new windows to nurture client bonds. By making it easy for your customers to contact you, it builds their trust and gives you more opportunities to personalize your marketing efforts and sustain their loyalty.
In fact, statistics reveal that customers are most likely to trust a company that makes it easy for them to reach out to people in the company.
In addition, seamless appointment scheduling further strengthens the idea that business with your company may be smooth, which improves your chances of partnering with the client.
Andrew Sobel, author and CEO of Andrew Sobel Advisors Inc. further talks about the importance of building trusted client relationships here.
3. 24-hour Service Ensures that No Chance for a Aale is Missed
Your clients or customers can browse your website and feel the need to talk to you at any time in a day. Some of your prospects may be in different time zones from yours as well. This means that a major part of appointment scheduling and lead generation can happen outside of your business hours. And this is precisely why a 24 hour appointment scheduling system is inevitable for your company, lest you stand to lose a good margin of business, just because you weren't available in your office. An automated service rep can help cater to the varied conveniences of your clients, which ensures that you don't miss a single chance to make a sale. A client that wants to contact you after browsing your website or your social media pages is a prospective lead, and by all means, you must jump at every chance to nurture it.
Schedule.cc features a 24 hour AI based booking assistant that makes it possible for clients in any part of the world to book an appointment with you, precisely when they need to. Round-the-clock availability enhances your chances of gaining leads and improving prospective sales. It also features time zone detection, by which it makes sure that meetings don't overlap with business hours or other meetings.
4. Reduces No-show Rates in Client Meetings
Client no-shows are quite a menace when it comes to appointment scheduling and lead nurturing. In manual scheduling, a company often spends a lot of time and resources talking to the clients, setting appointments and entering data, only to end up being canceled or ignored. And one of the main reasons for client no-shows is forgetfulness.
An automated appointment scheduling system comes with reminders and alerts features that help make sure that the meeting is not forgotten. For example, Schedule.cc comes with automated reminders and email alerts that help reach out to the client through multiple channels and ensure that the meeting is confirmed.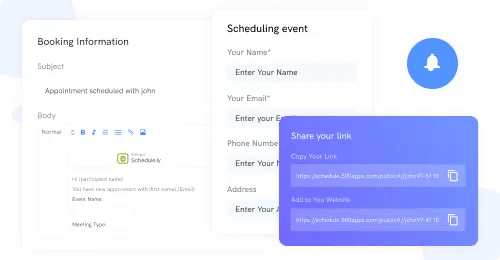 Additionally, it also enables appointment scheduling at the click of a button, which makes it easy for the clients to book a meeting with you, without the hassles of filling out a contact form or waiting in a queue, which may otherwise cause the client to abandon your website and pursue a competitor.
5. Improves Google Ranking
According to recent findings, location based "near me" searches on Google have seen a substantial increase over the past few years. In fact, location based searches have been found to constitute a major portion of all search traffic for companies. And this is a major reason why companies have started taking measures to improve their local presence, in efforts to show up for local customers.
Now there are a number of ways in which you can improve your local presence, and one of the most effective ways is to use a good quality appointment scheduling system. You can integrate your solution with a service offered by Google known as Reserve with Google (RwG), which allows searches to detect your company. By this, your prospective clients will be able to see your company on "near me" searches and also book an appointment with you directly from Google Search. This will not only improve your Google ranking but also boost quality local traffic that actually have a need for what you are offering.
6. Saves Time, Money and Resources Spent on Admin Work
As mentioned before, an automated Appointment scheduling software completely eliminates the need for you to recruit separate admin staff to take care of client call bookings and data entry. It also helps save valuable time spent on redundant tasks like taking initial calls, collecting info, entering the data into your database and sending emails.
Schedule.cc features an AI-powered assistant that helps quickly book meetings based on your availability. It makes it possible for you to contain hours' worth of time into a single button.
Multi-channel Appointment Scheduling offers a built-in conferencing app Sign Up FREE for 10 users
7. Less Room for Manual Errors in Scheduling
Manual appointment scheduling, needless to say, leads to a lot of errors arising from human involvement. And some of these errors can be so grave that they can cause the client to become irate or annoyed, ruining your chances of partnership. For example, errors in meeting times that interfere with your business hours, errors in client details leading them to feel undervalued and neglected etc.
Automated appointment scheduling effectively reduces the window for manual errors like these and saves your company from the loss of avoidable mistakes.
8. Integration Across All Online Marketing Channels for Client Convenience
Prospective clients may be driven in from any of your online marketing channels, whether it is Google search or social media or email marketing. An appointment scheduling system helps integrate bookings across all of your channels and makes it easier for your clients to book with you, whenever and wherever they feel the need to. Once again, it focuses on client convenience above anything else, and works on improving trust as well. Schedule.cc comes with email alerts and Google calendar integrations that allow clients to book a meeting via email as well.
9. Offers Important Insights About your Business for Improvement
Appointment scheduling systems offer invaluable insights about your business and your availability that you can take advantage of to make improvements. It allows you to link your calendar and customize it with available time slots, by which your system can book appointments for clients based on your availability. It also offers AI based analytics about email reach and other insightful info about your business, all of which can help you take action in case of shortcomings and improve in future.
Schedule.cc features an AI based assistant that enables intuitive scheduling, where it detects related words and phrases in client emails and blocks available meeting times and conference rooms based on the client's response threads on email.
10. Better Planned and Organized Meetings for Business Success
It is an established fact that time management is the single most important attribute to have for a company. And an appointment scheduling system helps you immensely in this respect. It allows you to schedule meetings and appointments in a more organized way by detecting available time slots from your customized calendar. It thereby helps you set business hours, meeting hours and break hours separately and allows you to plan your day more productively. In effect, it leads to better management of clients and business in general.
Bottom Line
With all of these benefits, an appointment scheduling app is clearly something that is inevitable in today's business. Features like calendar integration, 24 hour availability and smart analytics are indeed essential for businesses to increase leads and conversions, which is precisely why tools like Schedule.cc are gaining popularity. By all means, you must install an appointment scheduling system as well and gain the competitive edge to stay in business.