Benefits of Online Scheduling Software & How it Manages your Schedule
Making appointments is a tedious and time-consuming process. You can streamline operations and grow your business with this centralized scheduling solution.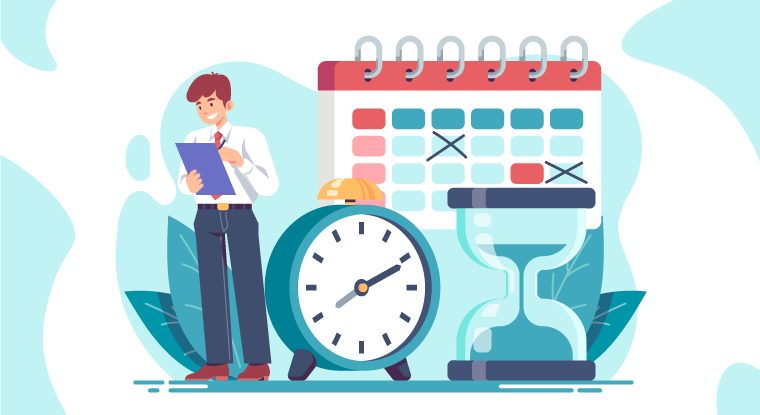 What is Online Scheduling Software?
The digital-focused landscape has enhanced people's affinity to lead a technology-driven life. With this, embracing online scheduling software for your business is a powerful way to mark a good impression among your clients and master the art of time management.
Scheduling appointments is a very tedious and time-consuming task. Relying on this centralized scheduling solution aids in streamlining operations, and you get more time to focus on growing your business.
Online scheduling software is a business solution that enables you to improve your efficiency in scheduling appointments with clients and helps you track and manage them. It also allows your customers to schedule, cancel or reschedule theirs using SMS, mobile apps, websites, voice calls, or social media channels.
The Software has the Following Features
Remote Queuing – Customers can queue their schedules remotely from anywhere, with the freedom to update them until the time of appointment.

Segmentation – You can identify and segregate the clients into different categories before arrival and prepare the staff accordingly.

Multi-service – You can easily allocate the right staff for handling customer queries and monitoring multiple service queues simultaneously.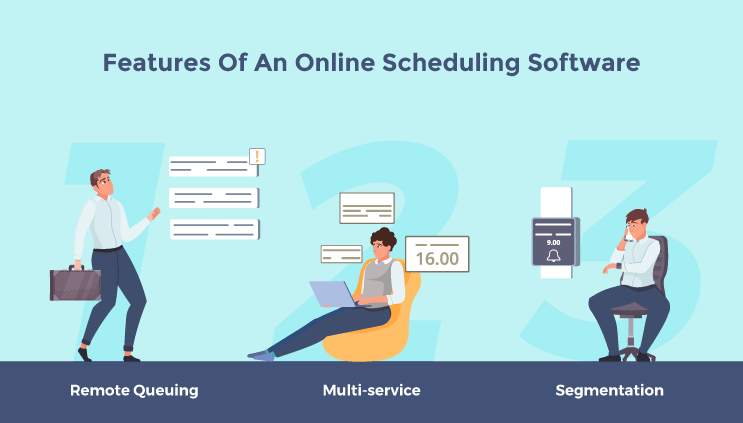 Uses of Online Scheduling Software?
The global market size of appointment scheduling software is predicted to reach $546.31 million by 2026. Irrespective of your business size, whether it's a small shop or a well-established firm, employing online scheduling software brings you a host of benefits and takes your business to the next level.
Listed below are some businesses that can take advantage of online scheduling software to improve their customer service by simplifying the process of booking appointments.
Education and training institutes
Fitness centers
Professional service providers
Healthcare providers
Maintenance and repairs companies
Recruiting agencies
Salons and spas
Benefits of Online Scheduling Software
A business can claim to be successful if it strives to make its clients happy at the end of the day. If you are wondering how online scheduling app can have a significant positive impact on your business outcomes, here we have examined the top benefits of the system.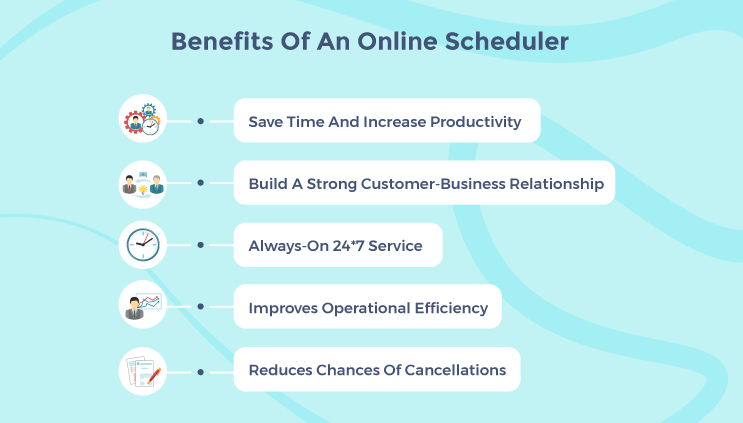 1. Save Time and Increase Productivity
Spending time on booking appointments manually can prevent the best talents in the industry from applying their skills at the right place and time. Hence, by using online scheduling software to automate this process, you can save their time by allowing them to contribute to more important tasks, resulting in the growth of your business.
2. Build a Strong Customer-business Relationship
Online scheduling software lets customers access your services anytime and helps them save their precious time. Moreover, an online scheduler can allow them to book an appointment at the last minute. With such flexible and customizable features, you can enhance your customer's satisfaction, cultivating a greater customer-brand relationship.
Increases customer satisfaction with convenient online booking Sign Up 14 Day Trial
3. Always-on 24/7 Service
Employing staff to take calls and set up appointments is not always convenient since there are many challenges in proceeding with the task during working hours. However, by implementing an online scheduling tool in your business, a software can be available in your stead twenty-four hours a day, seven days a week, resulting in more potential customers and better branding.
4. Improves Operational Efficiency
Businesses operate across numerous locations with several employees in multiple time zones. Integrating online appointment scheduling can scale your appointment strategy, ensuring operational efficiency by streamlining the entire scheduling process. This creates a win-win situation for customers and employees.
5. Reduces Chances Of Cancellations
When a customer decides not to show up or cancel the appointment at the last minute, it negatively impacts your business. Here, incorporating online schedule software in your system can ultimately decrease the rate of cancellations by sending reminders to ensure they don't forget the appointment. It also lets the customers reschedule their appointments with ease while keeping you in the loop, thus allowing you to adjust your schedule accordingly.
Importance Of Online Scheduling Software for Business
The adage 'Time is Money' could never be more accurate. Online scheduling software uses a straightforward process that requires fewer resources and decreases the risk of miscommunication and errors, ensuring the clients are convenient to get in touch with. With the help of an online scheduling system, businesses can certainly achieve their key goals by improving punctuality and ensuring that you have more time to plan and prepare for upcoming appointments.
As businesses are adapting to keep up with the expectations of customers, online schedulers have become the go-to tool for many enterprises. This remote appointment model also offers plentiful opportunities for your business to meet the demands of the clients and allows the customers to interact with you on their convenient terms. With such a seamless blend of features, partnering with an online scheduler increases your brand presence and ranks it higher on local searches.
Here's how an online scheduler helps your business in countless ways.
Improve booking flexibility for customers
Gain valuable insight into your business
Promote customer reviews
Enables safe and faster payments
Client-Friendly Reminders
Reduces Communication Gap
In today's digital world, customers crave not only omnichannel experience but also prefer unique and personalized experiences. Hence, online scheduling software has become an essential strategy for businesses to transform how they connect with their customers. It means you are giving them control of their own experience with your service, empowering them to do business with you in the long term.
Conclusion
Online Scheduling is an integral part of many business strategies and has been a key component across industries for years. As businesses are continuously evolving to meet their customer expectations, online scheduling software is advancing its functionalities to monitor your progress efficiently and propel your business in the right direction at the right pace.
500 apps' appointment scheduling software - schedule.cc is a dynamic and professional online scheduling software that ensures to provide your clients with a remarkable appointment planning experience. The minimalistic user interface allows the customers to seamlessly connect with your brand at all times in convenient ways through emails or live chat support. With this tool, brands can strengthen their relationships with customers, increasing customer loyalty and a higher conversion rate, thus resulting in significant revenue growth.
Discover Why Schedule.cc Stands Out
#1
Scale your appointments using online scheduler, email signature and bots
#2
Embed calendar on website, blog, and emails to speed up appointment scheduling
#3
Engage over an HD audio, video calling and through built-in video conferencing tool, 500Conference
#4
Sync Google, Outlook, and iCal calendars & stay up-to-date
#5
Reduce no-shows with automated appointment reminders
#6
Integrate with AI chatbot, BotUp, on website and capture leads faster
#7
Automatically schedule appointments post successful payment confirmation
#8
Share schedule links in your Gmail using powerful extension
#9
Unbelievable pricing - the lowest you will ever find
#10
Everything your business needs - 50 apps, 24/5 support and 99.95% uptime
Join the SaaS Revolution
All-in-One Suite of 50 apps

Unbelievable pricing - $14.99/user

24/5 Chat, Phone and Email Support