Schedule Smarter — The Best Online Scheduling Software
This article explains to you the advantages and importance of the best online scheduling software and which businesses use them.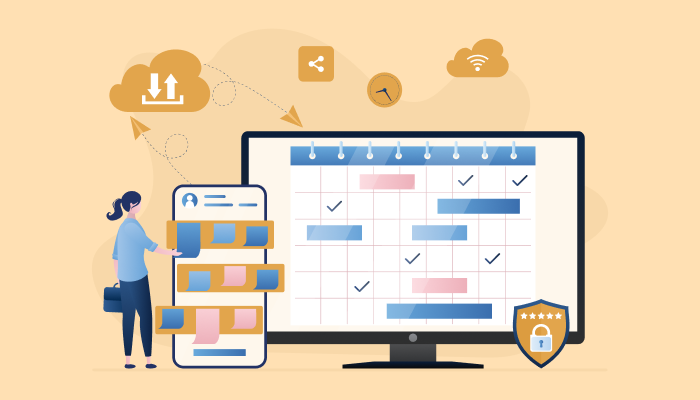 Online scheduling software is a tool or solution that enables organizations or specialists to improve efficiency in booking and scheduling appointments. The software is also called appointment booking software or online booking software. Most organizations use online scheduling software to automate significant scheduling tasks. The system can help arrange appointments and meetings for businesses with clients and customers. Here are the features of the software that you must know.
Appointment Reminders
Calendar Integration
Revenue Processing
Payment Processing
Mobile Compatibility
Customer Management
Employee Management
So, online scheduling software helps manage and update multiple scheduling tasks and improves an organization's efficiency and productivity.
Feartures of a Best Online Scheduling Software
Since All businesses rely on clients and customer appointments, they must ensure they are accessible to everyone. Online scheduling software is the best way to ensure scheduled meetings and appointments.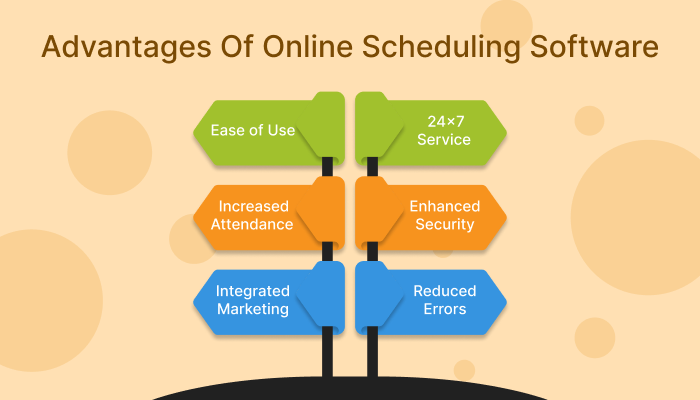 We will discuss the features of a best online scheduling software below.
1. Ease of Use
The traditional appointment-making process is excruciatingly slow and may lead to errors and miscommunications. The old process means organizations must hire staff to schedule meetings and appointments that may increase costs. However, online scheduling software removes the hassle by allowing an easy appointment scheduling process within minutes.
2. 24x7 Service
Online scheduling software enables businesses to become more available to their clients and customers. There may be a chance that the clients may not have time to make appointments during office hours. So, they may prefer scheduling appointments or meetings during non-business hours. The software can give the clients 24x7 access to the appointment system of businesses.
3. Increased Attendance
The best part about online scheduling software is that it helps reduce no-shows by sending out appointment or meeting reminders. The software also integrates the appointments with the client or customer content calendars. The process helps prevent clients from missing appointments and meetings.
4. Enhanced Security
Online appointment scheduling makes appointment systems more secure than traditional approaches. Earlier, administrators tracked appointments in centralized databases that weren't well protected and left the data with risks. However, scheduling software uses cloud systems that are more secure than self-managed systems to store information and schedule safe appointments.
5. Integrated Marketing
Online businesses face the challenges of fixing appointments with visitors and prospective customers. Moreover, the absence of a CTA in the marketing materials may make the business organization lose out on significant deals. It is where online scheduling software comes in handy. The software lets the clients and customers see your services and availability from outreach materials. It helps include a booking link to your website or email so that the clients and customers can check out your services in a non-committed way.
6. Reduced Errors
Online scheduling software cuts out on errors that humans may conduct during appointment booking systems. Making mistakes with customer contact details can have significant consequences like missed appointments or deals. The appointment scheduling software does not make such mistakes and enables you to maintain a database that includes the contact details of your highest valued clients and customers. You can use the same database later to start outreach campaigns to enhance your business.
Importance Of Online Scheduling Software for Businesses
Online scheduling software helps streamline appointment and meeting processes to enhance business productivity. The software can impact your business outcomes if implemented correctly.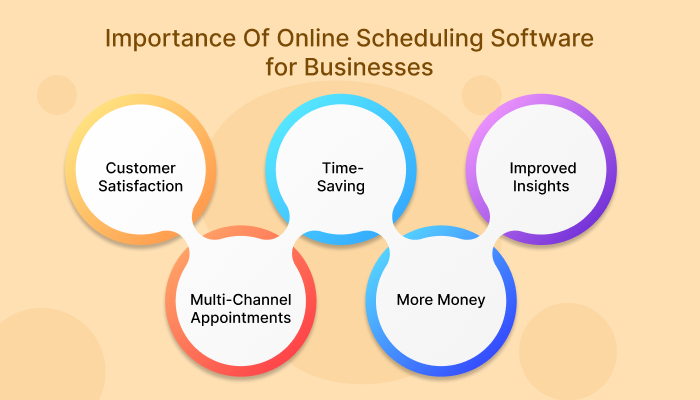 The following points will explain the significance of online scheduling software for businesses.
1. Customer Satisfaction
The scheduling software makes business services accessible to all clients and customers at all times. The software offers quality service and gives customers control over appointments and meetings. The clients and customers can search and book appointments at their convenience, which is important as 40% of all appointments are made after business hours. This results in higher customer satisfaction and also increases retention and customer lifetime values for businesses.
2. Time-Saving
Event scheduler allows businesses to identify gaps in their workflow systems. The business organizations can allow walk-ins and designate time for internal meetings if they find time between scheduled appointments. The software also helps your customer service staff save time that they would have spent handling calls or managing schedules.
3. Improved Insights
If your business has the correct data, it can make informed decisions about marketing strategies. Business organizations can find significant answers to questions like 'which is the busiest day' or 'what is the most popular service' through online scheduling software solutions. Most software also provides booking analytics and data to extract significant insights for business strategies. Knowing the busiest employee or client hours can help businesses design schedules accordingly.
4. Multi-Channel Appointments
Most online scheduling software works well on mobile and desktop screens. So, clients and customers can book appointments and meetings regardless of the device. The software's availability on all devices allows clients and businesses to keep an eye on their calendars and not miss important meetings.
5. More Money
Businesses can also use scheduling software to create financial reporting schedules and do not have to analyze everything based on employee incomes. From bill payments and sales tax to shipping tax and revenue, the software provides long-term advanced scheduling tools and services to help businesses optimize cash flows by planning financial transactions and credit terms.
Which Business Uses Online Scheduling Software?
Time is priceless for organizations, their teams, and customers. Every business must ensure that the team members never miss out on scheduled deadlines and appointments. Most clients and customers also prefer scheduling online appointments and meetings. So, appointment scheduling app can work wonders for businesses that rely on meeting schedules to strike deals with their clients and customers. Now, the question is – which business uses online scheduling software? We have curated a list of the businesses that use online scheduling software for their meetings and appointments.
Restaurants And Bars
Caterers And Event Planners
Medical Clinics
Calls Centers
Consultancies
Non-Governmental Organizations (NGOs)
Shipping And Retail
Salons And Spas
Educational Services Like Schools and Colleges
Home Services
Increases customer satisfaction with convenient online booking Sign Up 14 Day Trial
Summing it Up
Online scheduling software makes the booking system flexible and easy for business organizations, clients, and customers. Everyone can schedule meetings and appointments with the click of a button and ensure that all members attend them without fail. If you are looking for an efficient appointment scheduling software for your business, Schedule.cc by 500apps is your answer. The software helps generate appointments from emails and websites. It also provides built-in video conferencing and CRM integration facilities for the users. You can use Schedule.cc for your business to reduce no-shows during meetings and reschedule appointments, thus fulfilling all your scheduling needs. Visit the 500apps website today for more details!
Discover Why Schedule.cc Stands Out
#1
Scale your appointments using online scheduler, email signature and bots
#2
Embed calendar on website, blog, and emails to speed up appointment scheduling
#3
Engage over an HD audio, video calling and through built-in video conferencing tool, 500Conference
#4
Sync Google, Outlook, and iCal calendars & stay up-to-date
#5
Reduce no-shows with automated appointment reminders
#6
Integrate with AI chatbot, BotUp, on website and capture leads faster
#7
Automatically schedule appointments post successful payment confirmation
#8
Share schedule links in your Gmail using powerful extension
#9
Unbelievable pricing - the lowest you will ever find
#10
Everything your business needs - 50 apps, 24/5 support and 99.95% uptime
Join the SaaS Revolution
All-in-One Suite of 50 apps

Unbelievable pricing - $14.99/user

24/5 Chat, Phone and Email Support