Top 10 Compelling Online Appointment Scheduling Apps
Using up-to-date online schedulers to handle business scheduling needs, such as event and appointment scheduling and meeting planning, is one example.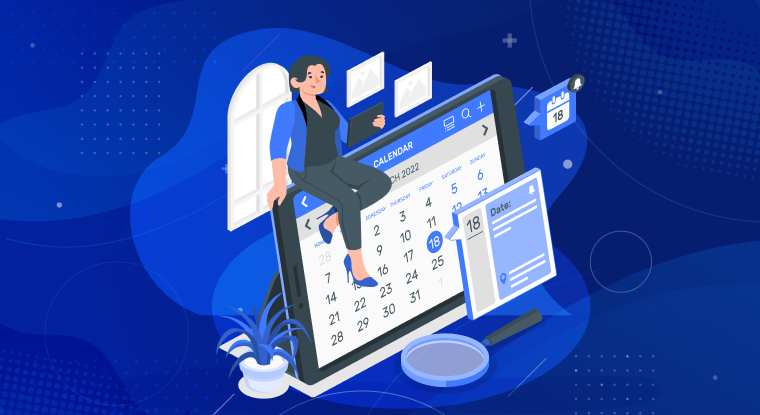 Running a business successfully is definitely not an easy job, and this is common knowledge to anyone, whether they run a business or not. There are many aspects and tasks that come with the job. These are more than just the commonly known ones like employing and managing staff, attaining and maintaining good product and service quality, and ensuring you have excellent customer service. Some of these not-so-popular duties that come with a business include creating work schedules, managing customer booking, emergency booking, product inventory, etc.
When you take into notice the huge changes that the covid-19 pandemic had on the work system all over the world, you realize that the complexity and difficulty of these tasks have increased ten-fold. To ease up the burden of these tasks, many businesses have turned to technology to automate these processes.
A key example is using appointment scheduling app to handle the scheduling needs of businesses such as appointment and event scheduling and planning of meetings. This quote by Peter Turla highlights how using online schedulers to execute your plans and make schedules are beneficial to your business.
"A plan is, a schedule is when. It takes both a plan and a schedule to get things done."
Benefits of Using Online Appointment Scheduling App
It makes your booking and scheduling processes faster. This is because the time spent calling and arranging appointments and meetings with staff is replaced with a simple online process.

It reduces the occurrence of errors and miscommunication in your scheduling and booking. The manual method makes it possible for errors to occur in the information being shared, which can harm your business.

Using an online meetings scheduler frees up your time and availability for your clients. It means that your booking system can run 24/7, allowing your clients to schedule appointments no matter the time. Research has shown that over 35% of clients make appointments before and after business hours, so if your business is available for scheduling 24/7, it's a bonus for you.

An online scheduler can help you send reminders to your clients about their appointments. It can also integrate with their online calendars so that they have a constant and periodic reminder. A study by the American Congress of Rehabilitation Medicine showed that the amount of missed appointments reduced by 39% when they got text reminders.

Integrating an online scheduler into your business is also a great way to market your products and services. This lets them see what your company does through links that you can send via email or social media. It is a great way for your potential customers to check out your business without making any commitment, and this, in turn, might persuade them to patronize you.
4 Important Features to look for in an Online Scheduler
Here are four important features that you should look out for in your options for an online scheduler. We used these features to curate the best scheduling systems that can impact your business:
1. Automated Emails and Messages: An important feature that you should look out for when picking an online scheduling system is automated messages that can be sent to clients and employees to confirm their appointment or meeting, send reminders or respond to inquiries.
Sync Your Calendar with Popular Third Party Apps with Just 1 Click Sign Up 14 Day Trial
2. Affordable Pricing: Many budget-friendly scheduling apps can provide you with top-notch features that satisfy your business's scheduling needs. You should pick one that offers sustainable long-term plans and can scale with the growth of your business.
3. Multiple Access Points: It is important that you keep an eye out for a scheduler that allows your clients to access the scheduling page through several access points such as links in your website, links sent to their email, and social media platforms such as Twitter, Instagram, etc. It makes the process of scheduling an appointment more attractive to potential clients.
4. Integration with Third-Party Apps: If your online scheduler can integrate with the calendar app on your client's phone or laptop, it can help to send periodic reminders of the appointment or meeting reminders if it is for your staff.
With so many benefit of appointments scheduling apps, you must be eager to get one and integrate it into your business, but it's not so simple. There are hundreds of online schedulers available in the market, each with various features and prices. You have to pick carefully so that you get one that satisfies all your scheduling and booking needs. To help you, we have curated the top ten online scheduling software below and made our top pick and special recommendation as number one.
Top 10 Online Appointment Scheduling Apps
1. Schedule.cc: Schedule.cc is an online appointment scheduling system that offers you the most powerful scheduling tools for your business. It incorporates top-notch features and provides quality services to satisfy all your booking and scheduling needs. It uses an AI-powered tool to personalize the customer's experience in making bookings and sends confirmation via email. It also automates the company's scheduling system by setting the business's availability, adding buffers in between several appointments, sharing links to the calendar, arranging individual and group meetings, and many more.
Schedule.cc also gives you access to a complete view of your scheduled appointments and meetings and generates unique URLs for each type of event. The interface of this online scheduler is very easy to use for you and your clients and can make your scheduling process as short as 2-3 minutes.
The best part about Schedule.cc is the pricing. It is a part of the 500apps business suite, so when you pay for this app, you get all 38 other apps and tools that are perfect for taking your business to the next level. It offers all its features free for ten users and then requires a subscription of $14.99 for each additional user. With its amazing features and budget-friendly pricing, you can definitely see why we chose this app as our top spot.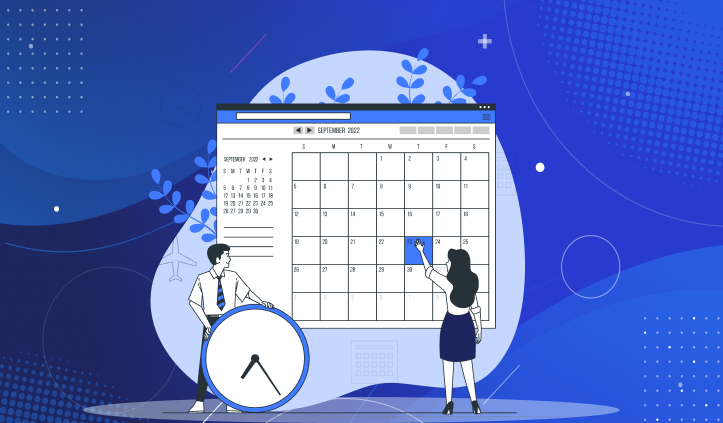 2. Acuity Scheduling: This is a very good online scheduler for businesses that want to customize their scheduling processes. It allows your customers to choose recurring appointments, look at your products and services, and make payments. It also provides various options upon scheduling, such as adding services and products to a previous booking, rescheduling or canceling appointments, etc.
You can also put limitations on how much short notice your clients can book an appointment in. Acuity integrates with your website via an easy embed option or a direct link and has a mobile app to let you monitor your schedule from any device and a client app that your customers can use to make bookings. It is very good to help your booking and scheduling operate easier and faster and offers free access with limited features and paid plans that start from $10 per month.
3. Calendar: Calendar is an AI-enabled online scheduler that provides booking and time management services for individuals and businesses. It can integrate with your calendar and that of your customers to send reminders and notices. It also allows you to customize your appointment calendar and share it with clients and employees.
It also offers you a virtual assistant that learns the operation of your schedule and, with time, takes over meeting planning, sending of invitations and reminders, etc. With this online scheduler, you get access to transcripts of your meetings and analytics of your business' time management and customer interaction. It offers a free basic program and then has paid plans that start from $6 per month for three calendars.
4. Square Appointments: This online scheduler offers a variety of features such as unlimited appointments, CRM software, various booking options, and third-party app integration. However, its free plan limits access to all its features to one user only. Square Appointments has a modern user interface that is simple, attractive, and easy to use.
It offers mobile apps for a variety of devices, gives you access to its cloud-based calendar software that allows clients to set up specific appointments, and integrates with a variety of third-party apps such as the clients' calendar. In addition, this software allows you to send automated notices and reminders to your clients, integrates payment processes for your goods and services, and allows you to share links to your websites and various social media.
5. HubSpot: This online scheduler allows you to set up a detailed scheduling process for your business. With HubSpot, you and your customers can sync your personal and business calendar and have reminders sent periodically to you. For your business, you can set your availability periods and customize your scheduler so that customers can choose between the specific times.
It allows you to attach the link to the online scheduler in an email, embed it on your website, or post on social media. It also allows you to integrate your scheduler with CRM software to have records of appointments and clients.
6. SimplyBook: This is an online scheduler that is great for businesses that have foreign clients. It offers a wide variety of languages and integrates with many international payment systems for clients worldwide. It has a very simple and easy-to-use interface that provides a variety of features for different kinds of businesses.
Give Clients the Option of Rescheduling and Cancellation to Reduce No-shows Sign Up 14 Day Trial
This app also integrates with social media so that clients can access your scheduling page through strategically placed links. With the option of a dashboard and activity reports, you can monitor appointments made, employee progress, see reviews, and the reminders sent to clients.
With SimplyBook.me as your online scheduler, you can customize your scheduling process and make it automated for ease of use. It also has a free plan with limited access and paid versions that begin from $10 per month.
7. 10to8: 10to8 is a simple and easy-to-use online scheduler that provides a very effective scheduling system for your business and clients. It provides a calendar with a simple navigation pane, customization features, meeting coordination, embedding into your website, custom links for social media sites, payment systems, etc.
It also integrates with third-party apps such as your personal and business calendar, CRM software. It provides an automated SMS and email system so that you can send reminders to clients and employees, maintain future communication, and have a database of appointments and customers.
With the presence of communication features, 10to8 is a great scheduling apps for businesses that want a personalized experience for their customers. It offers a free version and a month trial for users who wish to upgrade or try the paid version, starting at $12 per month.
8. Bookafy: Bookafy is an online scheduler that provides great features for any business. It offers features such as payments systems, group bookings, calendars, third-party app integration, mobile app, two-way synchronization, website embedding, custom links for social media, and more.
It also allows you to manage the appointments made, send reminders to clients about upcoming bookings, ask for product and service reviews, offer customer service support, and the option of video conferencing with clients and employees. You can access Bookafy through their basic free plan that offers you access to some features and unlimited appointments, or try their paid plans that start from $7 for a single user per month.
9. Calendly: Calendly is an effective online scheduler that integrates your calendar, provides appointment booking services, sends reminders and notifications via email, and creates custom event links. You can also set up group meetings and access administrative features to manage and monitor the appointments made by clients, view employee performance reports, and access metrics of your business performance.
With the free version of Calendly, you only have limited access to these features, but with a paid version that starts from $8 per user for a month, you can have full access to all the premium services that Calendly has to offer your business.
10. Doodle: Doodle offers a variety of features to assist your business, such as the suggestion of meeting dates, sending of invitations for appointments, third-party app integration, customization features, sending of reminders, etc. You also have access to a dashboard where you can monitor and manage the appointments made.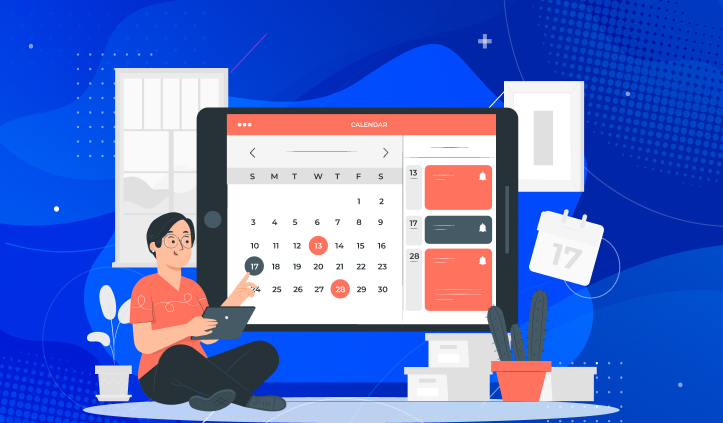 It offers a free version that provides limited access to the features of the scheduler, but this version is impaired with ads and has limitations on usage. However, the paid version works much better and allows full access to all the premium features for the best service for your business. The pricing starts from $7 for one user per month to $44.75 for five users per month.
Conclusion
"I'm not big on to-do lists. Instead, I use e-mail and desktop folders and my online calendar. So when I walk up to my desk, I can focus on the e-mails I've flagged and check the folders that are monitoring particular projects and particular blogs."
This quote by Bill Gates, co-founder of Microsoft, highlights how useful an online scheduler can be in providing your business with a structured calendar that makes your work easier and more effective.
Many online scheduling apps provide excellent service, and it is understandably difficult to pick one. But with our comprehensive top ten list, the decision is made easier for you. You even get the special recommendation of schedule.cc by 500apps, which is the total package for your business.
Regardless of the size and nature of your business, appointment scheduling software can satisfy all your needs regarding appointments scheduling, arranging meetings, and providing better service to your clients.
Discover Why Schedule.cc Stands Out
#1
Scale your appointments using online scheduler, email signature and bots
#2
Embed calendar on website, blog, and emails to speed up appointment scheduling
#3
Engage over an HD audio, video calling and through built-in video conferencing tool, 500Conference
#4
Sync Google, Outlook, and iCal calendars & stay up-to-date
#5
Reduce no-shows with automated appointment reminders
#6
Integrate with AI chatbot, BotUp, on website and capture leads faster
#7
Automatically schedule appointments post successful payment confirmation
#8
Share schedule links in your Gmail using powerful extension
#9
Unbelievable pricing - the lowest you will ever find
#10
Everything your business needs - 50 apps, 24/5 support and 99.95% uptime
Join the SaaS Revolution
All-in-One Suite of 50 apps

Unbelievable pricing - $14.99/user

24/5 Chat, Phone and Email Support