Top 5 Online Scheduling Software for Business Growth
Companies and professionals can schedule appointments using online calendars using online scheduling software.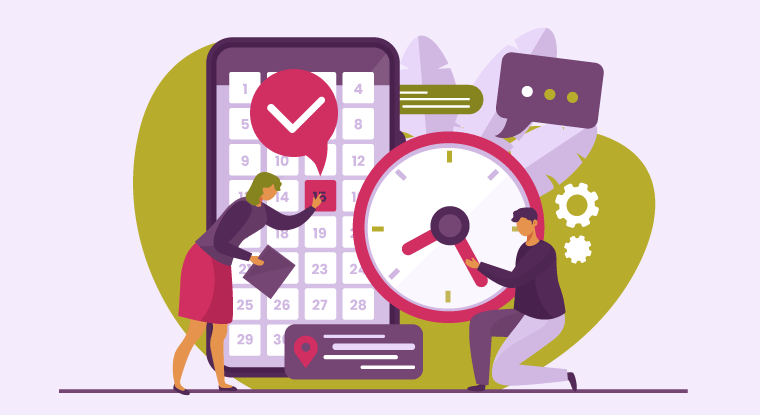 What is Online Scheduling Software?
Online Scheduler is a web-based application that provides appointment-based services 24 hours a day, seven days a week. This system is meant for a wide range of companies where a scheduling system is required to arrange appointments. One of the essential applications of online scheduling software is that it automates the process of meeting and event scheduling, saving time and effort, all while increasing customer satisfaction. Let us carefully consider the system's importance to enterprises.
5 Online Scheduling Software for Business Growth
1. Schedule.cc
Schedule.cc allows entrepreneurs to list and manage appointments, events, and other meetings in a simplified manner. The AI-integrated software empowers businesses to schedule, reschedule, track, and plan their appointments with a single click. The auto-sync calendar function makes event monitoring and reminders a breeze. The web-embedded feature helps convert potential clients to customers by increasing customer efficiency. Furthermore, sharing the event URL with members right away and keeping an eye out for confirmations has never been so easy. Schedule.cc facilitates sending customized reminder emails and texts to clients as well. Schedule.cc has specialized features to assist you in attracting new clients, nurturing existing ones, and managing your business like a pro. In addition, the user interface is simple enough for non-technical users to adapt.
Free: 0 $
(Cloud)Monthly: 14.99$
(Cloud)Yearly: 9.99$
Hosted: On Request
Appointment scheduling tool saves businesses time and money by staying in touch with your customers better Sign Up 14 Day Trial
2. Zoho Bookings
Zoho Bookings synchronizes your calendars and allows clients to self-schedule and pay for appointments. The user interface prevents multiple bookings, no-shows, never-ending emails, and late payments. Like other online scheduling software, it also supports a calendar sync feature that manages complicated team schedules. Zoho allows you to add buffer intervals to your schedule to allow for preparation time before and after each appointment. Furthermore, it enables you to add cancellation and rescheduling time limitations while discouraging cancellations by asking customers for a deposit or partial payment.
Price:
Free: 0 $
Basic(Monthly subscription): ₹ 480 per month
Standard( Monthly subscription):₹ 720 per month
Basic(Yearly subscription): ₹ 360 per month
Standard( Yearly subscription):₹ 540 per month
3. Acuity Scheduling
Acuity Scheduling helps organize schedules by updating calendars with reschedules, cancellations, and new appointments. It stores and organizes customer information and allows clients to complete intake forms. This online scheduling software sends branded and personalized confirmations to its clients. In addition, the software auto-sends follow-ups and reminders. Acuity scheduling is integrated with payment channels that allow online acceptance of payments through the app itself.
Price:
Emerging(monthly subscription): $ 15 per month
Growing(monthly subscription): $ 25 per month
Powerhouse(monthly subscription): $ 50 per month
Emerging(Yearly subscription): $ 14 per month
Growing (Yearly subscription): $ 23 per month
Powerhouse (Yearly subscription): $ 45 per month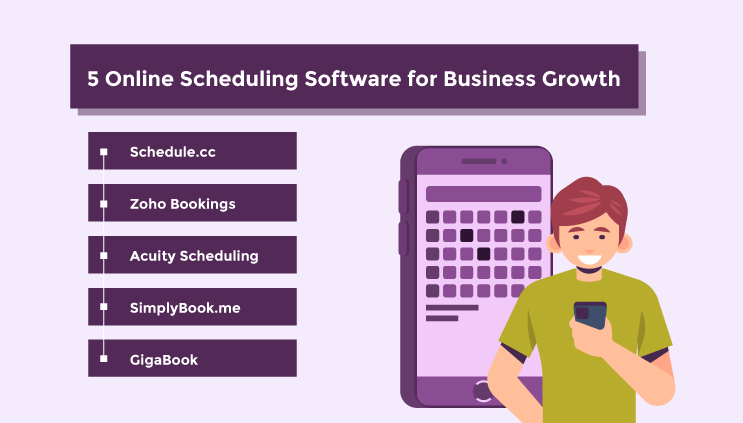 4. SimplyBook.me
SimplyBook.me is a very user-friendly online scheduling software that takes reservations from multiple sources. SimplyBook provides real-time omnichannel scheduling tools as well as 24-hour control over all your bookings. SimplyBook is a scheduling tool for service-based businesses, and it includes a professional website with a booking system and a slew of other useful marketing tools.
SimplyBook.me has many specialized features and offers bundle packages. This can assist your business by offering many services and goods in one package, in which your clients receive excellent services while also receiving a bonus in the shape of extra services or products at a lower cost. It also supports 32 languages and integrates with over a dozen payment processing systems, making it a fantastic choice for multinational enterprises.
Price:
Free: 0 $
Basic (monthly subscription): $ 9.9 per month
Standard (monthly subscription) : $ 29.9 per month
Premium(monthly subscription): $ 59.9 per month
Basic(Yearly subscription): $ 8.25 per month
Standard( Yearly subscription): $ 24.9 per month
Premium( Yearly subscription): $ 49.9 per month
5. GigaBook
GigaBook is a highly configurable application aid that offers a central scheduling dashboard that shows you the status of your appointments and allows you to switch between daily, weekly, and monthly views. Other features offered include embedding a booking page widget on your website, to-do lists, projects, sending email and SMS alerts about appointments, creating invoices, collecting payments, and easy sync with Google Calendar, Office 365, or Outlook. GigaBook can be accessed from any device, including a laptop, a mobile phone, or a tablet.
Price:
Solo Account(monthly subscription): $ 15(per month)
Add Staff Resource (monthly subscription): $ 8(per month)
Solo Account(Yearly subscription): $ 12(per month)
Add Staff Resource(Yearly subscription): $ 7(per month)
Importance of Online Scheduling Software in Businesses
In today's technologically advanced world, it is a waste of time to rely on phone calls to schedule appointments, meetings, or consultations. Small companies must harness the power of technology to flourish and compete. As outlined below, appointment booking app can be of tremendous importance to your enterprise.
They optimize the client experience.

They boost organizational efficiency.

They eliminate human errors.

They enable cross-channel appointment booking.

They allow for coordinated marketing.

They provide increased security.

They collect useful information and insights.

They provide round-the-clock customer service.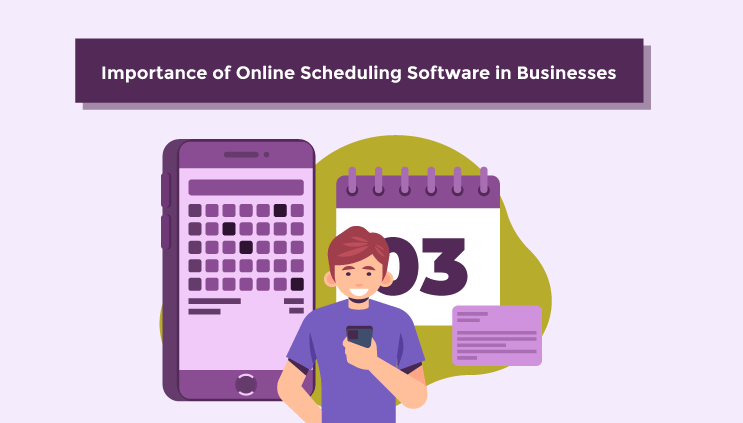 Features of Online Scheduling Software
Online Scheduling Software enables companies and professionals to schedule appointments using an online calendar. Appointment scheduling, often known as appointment booking software or online booking software, is often used as a marketing tool by several enterprises. Scheduling software is intended to lead clients from call-to-actions in advertisements or landing sites to the actual booking of appointments. Some of the robust features offered by online Scheduling Software, such as Schedule.cc, include:
The online scheduling apps allows for seamless scheduling, rescheduling, and canceling of appointments.

Calendar integrations that allow you to track events and plan meetings beforehand.

Capabilities to be embedded on websites to enable one-click appointment scheduling.

Online Scheduling Software provides appointments and meeting reports by day, date, and category.

It's easy to create custom fields to collect detailed and relevant information when your customer books an appointment through the software.

Multi-location scheduling capabilities that let you book group events even when customers are located at diverse locations.

These applications can organize and carry out events using various channels such as face-to-face, online video conferencing, and phone conversations.
Summing It Up
In this age of technological advancements and digitalization, scheduling appointments through traditional methods like phone calls and back-and-forth emails are slowly becoming irrelevant. Instead, robust appointment scheduling software provides a one-stop solution for all your scheduling needs with the help of their intuitive features that automate the entire process, allowing organizations to invest their resources in more productive business endeavors.
One such online scheduling software is Schedule.cc. With schedule.cc, there is no need to make several calls, exchange voicemails, or reply to emails to plan and reschedule appointments. The ability to display all of your services in one location can drastically reduce the number of informational calls from your consumers, saving you a significant amount of time. Download Schedule.cc today to avail these amazing features and streamline your appointment scheduling process while ensuring client satisfaction.
Discover Why Schedule.cc Stands Out
#1
Scale your appointments using online scheduler, email signature and bots
#2
Embed calendar on website, blog, and emails to speed up appointment scheduling
#3
Engage over an HD audio, video calling and through built-in video conferencing tool, 500Conference
#4
Sync Google, Outlook, and iCal calendars & stay up-to-date
#5
Reduce no-shows with automated appointment reminders
#6
Integrate with AI chatbot, BotUp, on website and capture leads faster
#7
Automatically schedule appointments post successful payment confirmation
#8
Share schedule links in your Gmail using powerful extension
#9
Unbelievable pricing - the lowest you will ever find
#10
Everything your business needs - 50 apps, 24/5 support and 99.95% uptime
Join the SaaS Revolution
All-in-One Suite of 50 apps

Unbelievable pricing - $14.99/user

24/5 Chat, Phone and Email Support