Seamless Integrations of Online Scheduler - Explore Now
You always want to be kept updated on your plans and schedules. Well, the great thing is that your online scheduler can be integrated with a lot of other applications. Here's why it's great.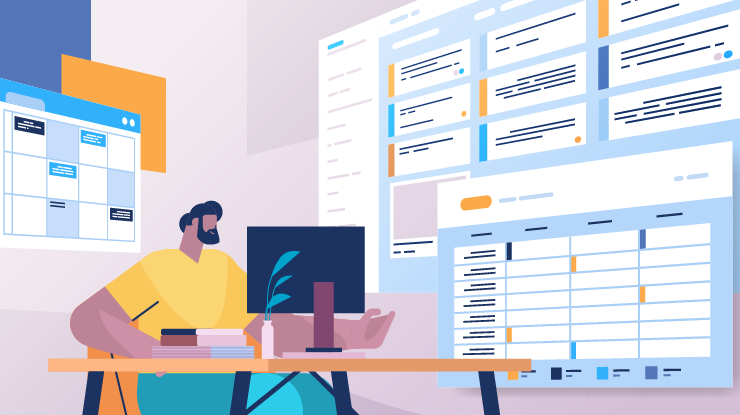 The notion of Software as a Service, or SaaS, drives scheduling software and online schedulers. The usage of a cloud-based application or software is referred to as Saas. The usage of online email services like Gmail, video streaming services like Netflix, online word processors, and online scheduling software like Schedule.cc are all instances of SaaS in operation. Businesses of all sizes benefit from SaaS, and these benefits will be explored in the context of online schedulers and scheduling software as SaaS.
What is Online Scheduler, and Why is it Useful?
Online scheduler is a type of software that helps companies and professionals to manage their appointments and reservations. Individuals and organizations in various sectors benefit from online schedulers and scheduling software because it allows them to manage and track their own and employees' time, build and maintain staff schedules, allocate workers to shifts or assignments, and track everything in real-time.
Use scheduling software and online schedulers if you want to increase job efficiency, cut expenses, or plan all of your resources with just one application to get the most out of your organization.
Adopting online scheduler may provide several advantages to businesses. Managing customer work orders during peak hours may be difficult for service personnel. They risk double-booking service requests if they don't have the proper software in place. Easy scheduling, single-touch rescheduling, and the ability to confirm service orders with consumers are all possible with online schedulers.
When a company's staff is dispersed over numerous places, conveying employment schedules to employees. Online schedulers collect data in one place and update it in real-time, allowing everyone to see up-to-date information and sending automated notifications in the event of schedule overlap.
Online schedulers promote transparency by producing optimum schedules automatically. When possible, the program also fosters responsibility by allowing staff to choose their shifts. Need of Online scheduling software as a SaaS benefit from linking to an online service for comprehensive database and online account synchronization.
Reasons Why you Need Online Schedulers and Scheduling Software
1. Helps in making a hierarchy of tasks:
An online scheduler can assist you in prioritizing your assignments. This allows you to concentrate on the most critical activities or those with a deadline approaching. Manually keeping track of them may be tedious, and it also raises the possibility of making mistakes.
scheduling apps can assist with prioritizing by allowing you to view the broad picture and track progress on all tasks simultaneously. This allows you to prioritize projects based on your business requirements.
According to Stephen Covey,
""The trick is not to prioritize what's on your calendar, but to plan your priorities.""
2. Aids workforce management:
An online scheduler can assist you in optimizing staff shift plans to improve cost management and efficiency. Overstaffing and understaffing are no longer a concern thanks to this well-organized schedule.
This type of appointment booking software also keeps track of and makes use of preliminary data for each employee. This helps you to manage your workforce more efficiently by raising or lowering worker numbers as needed. You may save money by reducing the amount of labor required.
3. Enhances teamwork:
Using an online scheduler has several advantages, one of which is that it keeps everyone on the same page. As a manager, you may define standard project rules and allocate shifts to all of your staff, outlining their duties. You may also keep an eye on their development. The team members can work together easily since they know who is responsible for what and who to call in the event of a conflict.
If any team members are confused about the procedure or deadline, they may refer to the scheduled timetable instead of speaking with the management. There is minimal space for dispute or confusion among the team now that everything is written down in one location. Also, the online scheduler's ability to be synchronized with an online system makes it more universal in its availability to all parties its services are relevant to. This means online schedulers help give all team members equal access to the synchronized database.
4. Aids time management:
The value of online schedulers and regular planning extends beyond increased productivity. It is also very important for time management.
Manually keeping to-do lists and assigning tasks to other staff might take a long time. Scheduling allows you to keep track of all of these details in one convenient location. It may display the tasks on your to-do list. It can help you manage the progress of ongoing projects, allocate tasks to various staff quickly, and keep track of project deadlines.
You may save a lot of time by selecting the finest online scheduler for your company. You may put the time saved into more productive tasks, resulting in increased income. So, by saving time, you save money!
5. Improves productivity and efficiency:
Online scheduling apps assist you in keeping track of everything - from staffing to arranging appointments, assigning duties to tracking deadlines, tracking progress to managing your workforce, and much more. Everything is right at your fingertips. Having all of your important information in one place, where you can access it anytime and from any location, is of tremendous value to your company.
Employees are aware of what they are responsible for and when they must accomplish the assignment. Using online schedulers, managers can keep track of progress and approaching deadlines and adjust the timetable as needed. It benefits employees at all levels of the organization, boosting their productivity and efficiency.
6. Helps in assessing progress made:
It's easy to get caught up in the day-to-day operations of your company. Long-term vision, strategic planning, and progress evaluation, on the other hand, are what will drive your company in the correct direction and at the appropriate speed. The business analysis feature of most online schedulers may help you track your progress and discover areas where your company may be lagging.
You may track your bookings, users, and other essential data, as well as assess customer happiness and staff performance, correlate employee performance to overall business success and keep track of your bookings, users, and other relevant metrics. Having these company performance indicators and statistics at your fingertips can assist you in making smart business decisions.
Ways of Integrating Online Schedulers
1. Email
You may boost your productivity by pre-planning and scheduling your emails with automated email scheduling and online schedulers. You can save time and prevent losing out on engagement opportunities by using email scheduling. The finest email scheduling software helps you connect effectively with your email list while maintaining a healthy relationship. Integrating an online scheduler will make the process easier and less stressful, whether you want to expand your email marketing plan or want a more structured approach to sending emails.
While Schedule.cc has email capability, you may extend it by sending notifications to your own Gmail account or email providers. Use the emails you get to add new events to your calendar. Emails may be converted to SMS, Slack messages, and a variety of other formats.
2. Google Sheets
Providing your team with effective and simple-to-use communication tools reduces friction and helps your project flourish. Thanks to the online scheduler's integration with your other tools, communication, collaboration, asset storage, and sharing are all completely accessible to the whole project group. This will guarantee that everyone gets timely access to the resources they require.
Add events and resources to a Google spreadsheet directly. Keep a detailed record of all modifications you make. When a new row in your Google spreadsheet is added, you may add events to your schedule.
3. Task Managers
One of the advantages of utilizing a scheduling system in your organization is that you may prioritize activities. This helps you to prioritize activities that are more critical or have strict deadlines. You must keep track of deadlines and priorities on your own if you do not use an online scheduler software solution. When you're busy, this isn't always simple, and things might go overlooked.
It can also make you feel buried behind a mound of work with insufficient time to do it all. As a result, the quality of your job may decrease, resulting in client complaints and income loss. If you plan a task or event with Event scheduling software, you may add it to your task management app. Receive notes, assignments, and events and add them as a new event to your schedule.
4. Calendar Tools
Online schedulers are intended to assist you in staying on top of all you need to accomplish using calendar integrations. Why not keep track of your appointments and lists online rather than waste time writing and rewriting them on a notepad?
Online scheduler software instantly displays what's on your to-do list for each day, as well as what's coming up soon. You may also shift tasks to various days or even different employees. This allows you to spend more time doing things rather than creating lists and preparing. As events are added, send and receive events and appointments with other calendar and planning applications in real-time.
5. Contact and Information Sharing
As a company owner, you undoubtedly have a lot on your plate, and your schedule may alter while you're not at work. That problem may be alleviated by using an online scheduler in your company.
The ability to organize and track tasks on the move is one of the most appealing aspects of online scheduler software. Apps may be downloaded and installed on your smartphone, allowing you to make adjustments in real-time as needed. You may add new resources from Schedule it as contacts and leads in several programs, including Office 365, Salesforce, and Google Contacts. As you add new contacts to your other tools, create new resources in Schedule.cc.
6. Text Messages
Texting is one of the most simple and handy methods of communication available today. As a result, it's a foregone conclusion that integrating online schedulers with text messaging systems will make it easier for teams to communicate about appointments and activities.
It's quite simple to schedule SMS messages. Online schedulers provide a variety of adjustable choices for sending SMS to a single individual or a large number of contacts at once. You may also plan SMS blasts to send regularly in instances when you need to send notifications regularly. Many SMS providers can send you notifications through text messages or SMS to your phone. In your Schedule.cc accounts, convert incoming text messages into new tasks and events.
7. Chat and Communication
Chat connection allows you to have messages transferred automatically to your project management software and then saved in the system, where they may be linked to tasks, projects, or folders. Furthermore, notifications regarding events such as new tasks, status changes, and date changes may be provided directly into group conversations from your program. Online schedulers gather this information and help in sharing needed and good communication among team members and employees. To obtain alerts, maintain track of updates, and receive notifications for any changes in your schedules, use your favorite communication platforms like Slack and HipChat. Create new events and tasks in Schedule it by adding messages to your communication tools.
To Wrap Up
What are you waiting for now that you know how important online schedulers are for your business? Choose an online scheduler to handle all of these tedious duties while you focus on the essential things.
Take a look at what we have for you before you start looking for one! Appointment scheduling software may serve as a one-stop-shop for all of your company's needs! It provides a superior appointment management system for your company, saving you hours of administrative labor.
You may also use Schedule.cc to streamline your day-to-day company operations, take payments, decrease no-shows, manage workers and client databases, and attract new customers, among other things. Schedule.cc by 500apps will also assist you in providing tailored customer experiences and create real-time reports to keep track of your business's progress.
Discover Why Schedule.cc Stands Out
#1
Scale your appointments using online scheduler, email signature and bots
#2
Embed calendar on website, blog, and emails to speed up appointment scheduling
#3
Engage over an HD audio, video calling and through built-in video conferencing tool, 500Conference
#4
Sync Google, Outlook, and iCal calendars & stay up-to-date
#5
Reduce no-shows with automated appointment reminders
#6
Integrate with AI chatbot, BotUp, on website and capture leads faster
#7
Automatically schedule appointments post successful payment confirmation
#8
Share schedule links in your Gmail using powerful extension
#9
Unbelievable pricing - the lowest you will ever find
#10
Everything your business needs - 50 apps, 24/5 support and 99.95% uptime
Join the SaaS Revolution
All-in-One Suite of 50 apps

Unbelievable pricing - $14.99/user

24/5 Chat, Phone and Email Support