Online Appointment Booking - Ultimate Guide for Beginners
This article briefs on the needs and features of Online Appointment Booking and also lists the top 4 Online Appointment Booking software.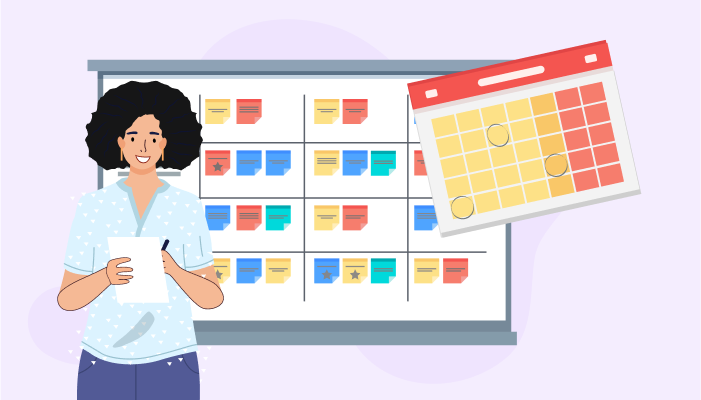 Online appointment booking provides a portal for customers to book appointments online and enables businesses to manage and track the appointments. The system enables business organizations to schedule appointments, print forms and schedules, view calendars, enforce scheduling rules, and customize schedules. The appointment scheduling system also provides additional features like automated emails, notifications, online payment services, calendar integrations, and custom profiles. Multiple businesses utilize online appointment scheduling systems and software to integrate with content management systems, email software, calendar software, and website builders. Online appointment booking is the best business tool that allows users to book, schedule, reschedule, and cancel appointments through web interfaces.
Features of Online Appointment Booking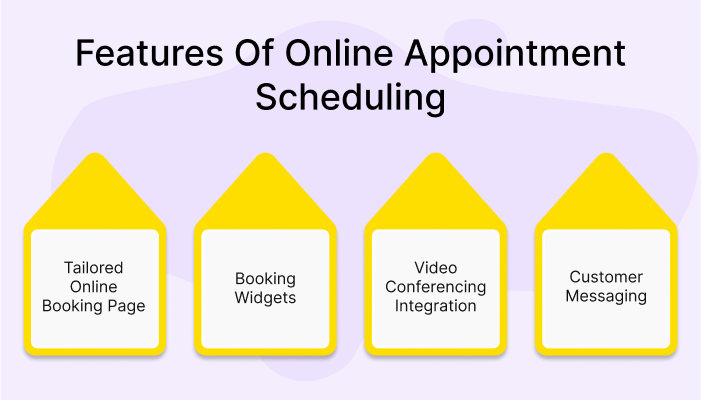 Businesses can use an efficient online appointment booking software instead of manually booking appointments to enrich customer experiences. The software helps organizations and specialists improve efficiency in booking and scheduling appointments. It allows users to set up online booking pages, create group services, automate staff and customer messages, and provide calendar view and sync options. Here are the features of online appointment booking.
1. Tailored Online Booking Page
An online booking page acts as a virtual shop-front for businesses. The customers can see information, prices, and services on this page. Online appointment booking software provides customizable online booking pages that the customers can click through and decide on the time that works best for them. The process also helps save time and money for businesses and customers.
2. Booking Widgets
Online appointment scheduling provides multiple booking widgets like weekly apps, HTML code, free CMS plugins, etc., that can get added to websites for a better booking experience. Users can add 'book now' buttons to website pages, email signatures, etc., and link the booking pages to websites and social media profiles. The process allows customers to book with the website easily.
3. Video Conferencing Integration
Digital meetings are a key part of online appointment scheduling software and systems. The software enables virtual appointments and direct integrations with multiple video conferencing tools to coordinate bookings and meeting links. The software further allows users to automatically send out online meeting links when a customer books schedules and saves the team from additional work.
4. Customer Messaging
Online appointment booking software includes reminders and customer messaging features to ensure that the users won't forget their appointments. The users can also cancel and reschedule bookings and give the clients sufficient time to re-allocate slots at their convenience. The software includes personalized confirmation sources like SMS and emails for a better communication experience.
Top 4 Online Appointment Booking Software
The best online appointment booking software can schedule and re-schedule requests, short-notice cancellations, take payments, and integrate with technological systems. With a lot of options being available in the market, it is obvious for businesses to get confused about the best software that suits their requirements. We have curated the top 4 online appointment booking software below.
1. Schedule.cc
Schedule.cc is an efficient online appointment scheduling software that allows you to generate multiple appointments from multiple emails and websites. The software from 500Apps is enabled with features like built-in video conferencing for a better booking experience. Here are the features of Schedule.cc. It integrates with CRM for uninterrupted booking experiences. It helps reduce no-shows by enabling rescheduling and cancellation of appointments. It includes multiple tools for an efficient appointment booking experience. It helps eliminate the possibilities of back-and-forth emails. It offers insights and day-wise reports of booking appointments. Pricing: $14 .99/month
Increases customer satisfaction with convenient online booking Sign Up 14 Day Trial
2. Appointy
Appointy offers you the easiest way to automate booking and scheduling and enhance your business. The software allows better appointment management that helps reduce hours of admin work. Here are the features of Appointy. It has a powerful user interface that is easy to use. It helps eliminate back-and-forth emails and calls. It assists in automating daily tasks and improves staff productivity. It helps deliver personalized experiences and understand customers. Pricing: Growth: $19 .99/month Professional: $49 .99/month Enterprise: $79 .99/month
3. Calendly
Calendly is a reliable online appointment booking software to schedule meetings efficiently and professionally. The software helps eliminate back-and-forth emails so that the teams can concentrate on priority work. Here are the features of Calendly. It conducts tasks depending on availability preferences. It helps you share your link with guests and embed it on your website. It enables you to book events for multiple attendees. It helps schedule your team's calendars for multiple events. Pricing: Essentials: $8/month Professional: $12/month Teams: $16/month
4. GenBook
Genbook is the best online solution that provides the best online appointment booking experience. The software helps build a better business experience by providing multiple tools and services for booking appointments. Here are the features of GenBook. It prevents unnecessary stress by enabling online scheduling. It has a smart calendar that is easy to manage and control business. It allows you to create, manage, and optimize business schedules with a single click. It offers insights into daily, weekly, monthly, and annual operations. Pricing: Not Available
Need For Online Appointment Booking in 2022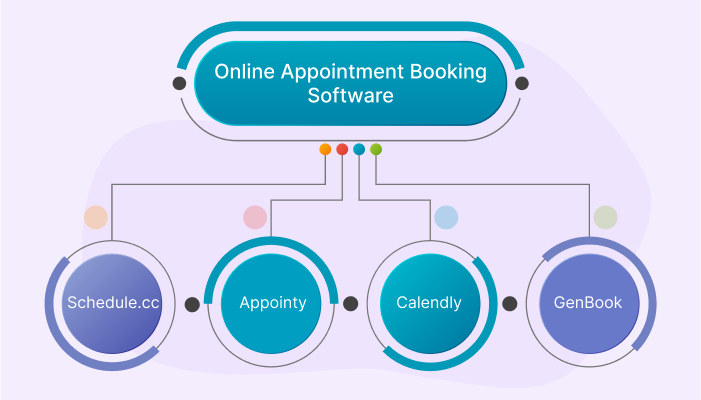 You require an online appointment booking software that is professional, dynamic, and meets the requirements of current times. The software has witnessed multiple changes in the past few years and altered itself depending on user needs. Appointment booking software in present times enables cancellations, rescheduling requests, payments, and other CRM and technological integrations. The software further prevents over-bookings and double-bookings and gives users the flexibility to block times when services may be unavailable. The best part about the latest software is that users can reschedule or cancel appointments without having to contact the other parties. The software provides additional features like flexibility, calendar syncing, payment processing, third-party tool integration, and professional presentation.
Summing It Up
Online appointment booking software includes 24x7 bookings, payments, reminders, customer management, etc. The software helps teams save time on coordinating appointments manually and concentrate on other priority tasks. You will find multiple online appointment booking software in the market. Schedule.cc is an efficient software that enables reliable booking experiences for users. The software helps users generate multiple appointments from websites and emails. You can say goodbye to no-shows and back-and-forth emails by implementing Schedule.cc into your system. The software also allows CRM integration with other apps and services for a better user experience.
Discover Why Schedule.cc Stands Out
#1
Scale your appointments using online scheduler, email signature and bots
#2
Embed calendar on website, blog, and emails to speed up appointment scheduling
#3
Engage over an HD audio, video calling and through built-in video conferencing tool, 500Conference
#4
Sync Google, Outlook, and iCal calendars & stay up-to-date
#5
Reduce no-shows with automated appointment reminders
#6
Integrate with AI chatbot, BotUp, on website and capture leads faster
#7
Automatically schedule appointments post successful payment confirmation
#8
Share schedule links in your Gmail using powerful extension
#9
Unbelievable pricing - the lowest you will ever find
#10
Everything your business needs - 50 apps, 24/5 support and 99.95% uptime
Join the SaaS Revolution
All-in-One Suite of 50 apps

Unbelievable pricing - $14.99/user

24/5 Chat, Phone and Email Support