Reasons why Spas & Salons Need Appointment Scheduling System
This article explains 5 reasons to use an appointment scheduling system for spas and salons and its features.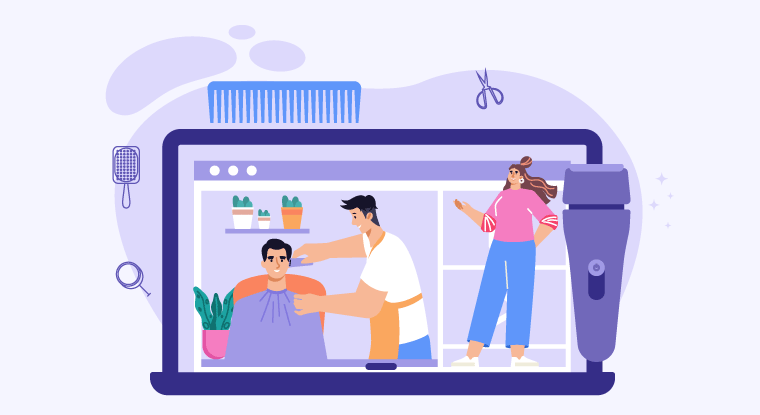 Appointments can be scheduled in many ways. Some customers do it by phone, while others send in an email. These modes may not always be easy to manage for the business. For example, unnecessary email coordination leads to only about 20% of emails being opened. Appointment scheduling apps and booking software assist in automating the process of scheduling meetings with potential and existing clients without relying on email responses to determine a good time.
Appointment scheduling software solutions are tools that help professionals and businesses better manage appointment and booking schedules. This software is also referred to as online scheduling software and online booking software.
5 Reasons Why Spa and Salon Business Needs an Appointment Scheduling System
Online scheduling offers several benefits over the traditional phone call to book an appointment. They are: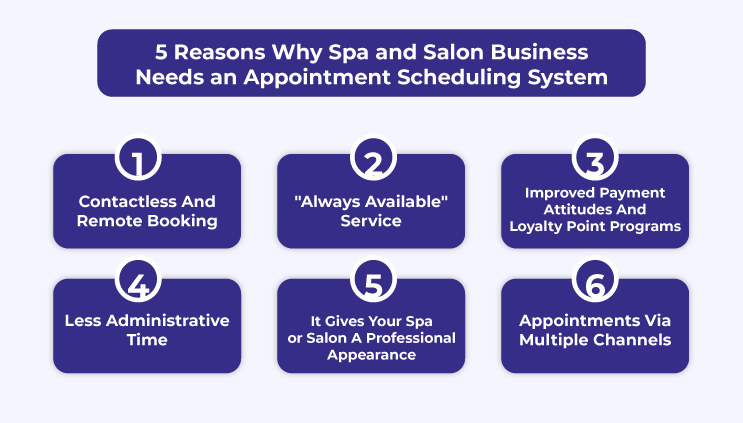 1. Contactless And Remote Booking
One of many organizations' essential values is providing a great client experience. There are several ways for your brand or business to exceed client expectations; one of them is to offer remote appointment booking. This implies that clients may make and cancel appointments online rather than visiting the spa or salon in person. It also frees up your receptionist's time to interact with clients when they arrive, rather than handling appointment-related phone calls. This allows you to deliver a better and more gratifying face-to-face service to your customers while also providing them control over their appointment time.
2. Always Available Service
Clients frequently don't have time to schedule appointments during office hours in today's busy world. Studies reveal that 35% of clients prefer organizing appointments during non-business hours, and 40% of internet bookings occur after hours. These are substantial figures.
Thus, moving your appointment planner online means you'll be more accessible to your clients. Online scheduling software may provide your clients with 24/7 access to your appointment system at a considerably lesser cost than hiring a few extra employees to respond to inquiries after hours.
3. Improved Payment Attitudes And Loyalty Point Programs
Online payments are essential to running a successful salon or spa business. Salon and spa management software enables business owners to provide a variety of payment choices to their clients. This not only makes your clients feel more included, but it also allows you to generate more money. Payments can be made online. You can also set up a deposit scheme in which clients can be charged for missed appointments. As a result of implementing a cancellation fee, you as the business owner save any potential loss if a client does not show up.
Having salon and spa management software also makes implementing a loyalty points program easier. Customers want to feel like they are getting the most out of their money, and a points system may assist you in establishing brand loyalty and a stable customer base while also attracting new business.
4. Less Administrative Time
Internet booking systems are easier to use. They reduce the time your office staff spends on appointment scheduling by providing them with a tool. This frees up time for other duties that require their attention and helps your business's overall efficiency.
Furthermore, when appointment scheduling software is used, there are fewer scheduling problems or miscommunications. Customers enter their information directly into the form, eliminating the need to listen carefully to details over the phone and accurately record them.
5. It Gives Your Spa or Salon A Professional Appearance
The way to distinguish yourself from your rivals is to appear professional. Not only does the program make the procedure easier, but it also makes you look more professional. As a consequence, you will gain more clients. Another major factor is that, following the COVID-19 outbreak, most clients are wary of visiting any spa or salon. However, having a completely automated system gives customers trust in your spa or salon.
Keeps your business organized with centralization of all your appointments Sign Up 14 Day Trial
Features Of Appointment Scheduling System
Here are three key features of any appointment scheduling software: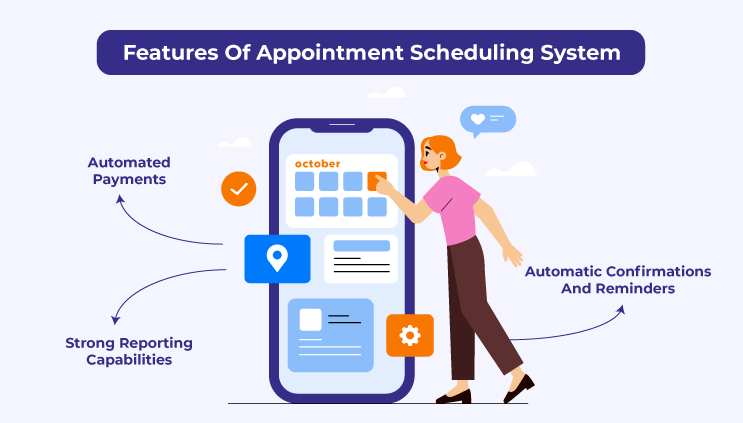 1. Automatic Confirmations And Reminders
Calling each customer after an appointment has been confirmed may be time-consuming. As a result, you can use online scheduling software that automates the booking process.
Once the appointment has been set, you must send a confirmation message to your client. It'salso a good idea to send out reminders on the day of the appointment. This ensures that a client never misses or arrives late for their service. It decreases no-shows and increases your salon's total profitability. Automatic scheduling software can help with all of these tasks.
2. Automated Payments
Online transactions guarantee that your fees are transparent and that your salon and spa business is not penalized for refunds, contested transactions, or double entries. Integrated payment and point of sale systems give your visitors the power of choice while also allowing you to record transactions. Payment and check-out can also be smoothly integrated with the finest software, allowing your guests to pay as they walk out following a service.
3. Strong Reporting Capabilities
The strong reporting tools of appointment scheduling software are the primary reason why many salon owners invest in it. It saves significant time and removes the need to review reports and papers manually. It also gives you a thorough insight into your spa's overall success by generating specific reports on revenue, tax, marketing, sales, and employee performance. Salon operators can make educated business decisions based on these findings.
4. Appointments Via Multiple Channels
Today, it's extremely common for a customer to see your storefront while driving by, research your business on their laptop, and then make an appointment on their phone. Thus, you are missing out on income potential if you do not provide the opportunity to make appointments across all of these channels.
Online scheduling software enables your clients to communicate with your spa or salon across a wide range of devices, including a smartphone. Using smartphones to integrate your appointment system is undoubtedly the most significant channel nowadays. It is where most people keep track of their appointments. Thus it is also where appointment reminders are most successful.
Summing It up
Integrating a Spa and Salon management system into your business is critical in today's fast-paced, tech-driven industry. People feel more at ease with a spa or salon that uses new technologies and tools to improve customer service and operations. If you are at a spa or salon, If you are in a spa or salon business, it's time to converge your businesses from traditional to technology savvy with the help of spa and salon management software.
Schedule.cc by 500apps allows you to automate online booking confirmation emails, modifications, notifications and reminders to keep clients informed. The application ensures that you never miss an appointment again by allowing you to synchronize your calendar with third-party applications and provide them access to it with only a few clicks. You can also integrate Schedule.cc with well-known systems such as CRMs, Gmail, Stripe payments, WordPress, and much more.
So, wait no longer and avail these features on the 500aps website today.
Discover Why Schedule.cc Stands Out
#1
Scale your appointments using online scheduler, email signature and bots
#2
Embed calendar on website, blog, and emails to speed up appointment scheduling
#3
Engage over an HD audio, video calling and through built-in video conferencing tool, 500Conference
#4
Sync Google, Outlook, and iCal calendars & stay up-to-date
#5
Reduce no-shows with automated appointment reminders
#6
Integrate with AI chatbot, BotUp, on website and capture leads faster
#7
Automatically schedule appointments post successful payment confirmation
#8
Share schedule links in your Gmail using powerful extension
#9
Unbelievable pricing - the lowest you will ever find
#10
Everything your business needs - 50 apps, 24/5 support and 99.95% uptime
Join the SaaS Revolution
All-in-One Suite of 50 apps

Unbelievable pricing - $14.99/user

24/5 Chat, Phone and Email Support