How to Make the Most Out of Your Appointment Scheduler Software
Scheduling appointments involves coordinating schedules and making appointments. Using appointment scheduler software, clients can book appointments using a variety of devices, increasing their productivity and efficiency when making appointments.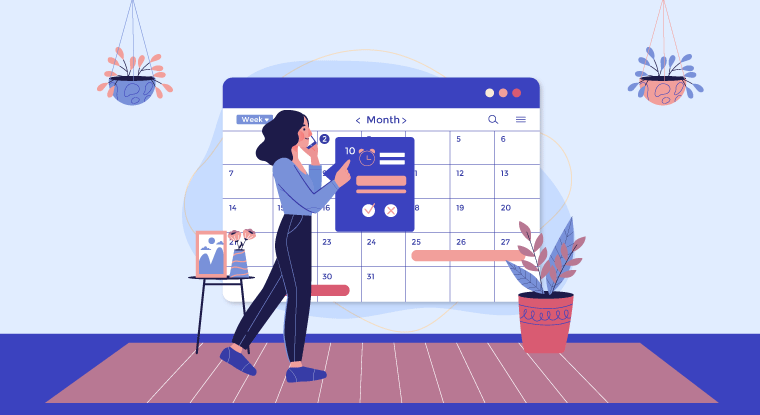 What is Appointment Scheduler Software?
Appointment scheduling software is a sort of software that assists service providers in coordinating their appointments. Customers can self-book, cancel, or reschedule appointments at any time. Appointment scheduling software makes things simpler for service providers to organize business meetings with clients by eliminating paperwork. As scheduling processes are automated, you have complete control over the schedule and don't waste time on administrative activities.
Appointment scheduling is the activity of coordinating schedules and making appointments. Appointment Scheduler Software assists clients in automatically booking appointments using all kinds of devices (mobiles, laptops, iPads, etc.), resulting in increased productivity and efficiency in making appointments.
Which Businesses uses Appointment Schedulers?
A business that requires making appointments before visiting can benefit from appointment scheduler software. Listed below are five organizations that can highly benefit from using scheduling software.
1. Healthcare Clinics
Medical clinics such as hospitals can highly benefit from appointment scheduling system. Making appointments from the comfort of your home can help patients avoid lines at the administration desk. Aside from increasing patient convenience, it allows doctors and healthcare workers to manage their hectic schedules, minimizing burnout and staff turnover.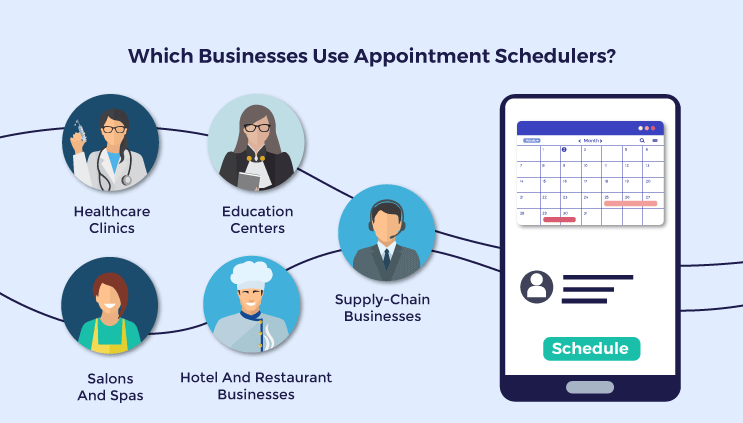 2. Hotel and Restaurant Businesses
Customers like the convenience of online reservations. Hotels and restaurants employ scheduling automation to assist in seating more guests and ensure room availability. Hotels and restaurants use Online Scheduling Software to help their customers avoid long lines and track promotion and membership program eligibility.
3. Salons and Spas
Beauty and wellness salons and spas can reduce missed appointments by sending SMS and email reminders directly to their clients via online scheduling software. This commitment to quality only adds to the perception of luxury connected with these services, allowing these businesses to treat their consumers like VIPs.
4. Education Centers
Even students are benefiting from Online scheduling software. Scheduling automation is for managing work hours, laboratories, library reservations, and more, especially for students and teachers who have busy schedules. Students who use scheduling software gain more out of their education, while professors and assistants can keep track of their teaching obligations in one spot.
5. Supply-chain Businesses
Companies in the B2C or B2B sector can use appointment scheduling app. This software is essential in warehouses, supermarkets, and retailing businesses. They utilize it to automate shipping, receiving, and managing field labor. Scheduling automation tools enable staff to share calendar access across distant locations.
What is the Importance Of An Appointment Scheduler?
Improve scheduling process and generate more revenue with ppointment scheduler Sign Up 14 Day Trial
You can increase brand loyalty by providing clients with a seamless experience through appointment scheduler software. Using this online scheduling software, you can build a financial reporting schedule. In the long run, advanced scheduling tools can help you optimize cash flow by letting you plan out credit terms and financial activities, whether it's bill payments, sales tax, or shipping tax.
Top 5 Appointment Schedulers
Listed below are the top 5 Appointment Scheduler Software.
1. Schedule.cc
Schedule.cc by 500apps is an online appointment scheduler software that provides your business with the most comprehensive scheduling features. This online scheduler's UI is simple to use and saves time. It integrates cutting-edge technologies and offers high-quality services to meet all of your booking and scheduling requirements. It provides an AI-powered tool to optimize the booking experience for customers and sends confirmation through email.
Schedule.cc also automates the company's scheduling system by establishing availability, creating buffers between appointments, sharing calendar links, and planning meetings. This software also provides a broad overview of the booked appointments and meetings.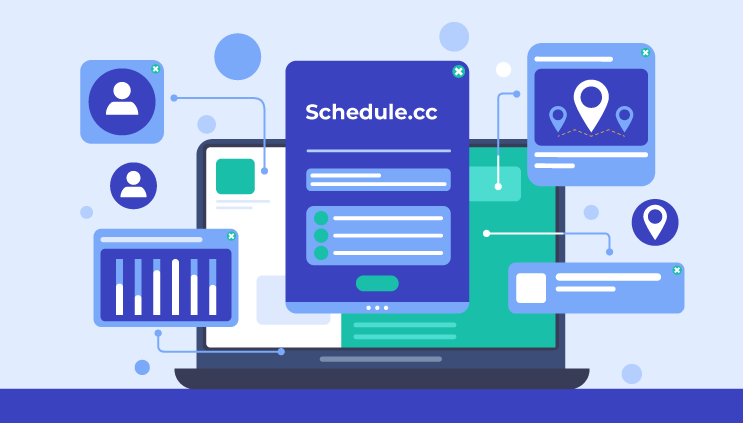 2. Calendly
Calendly is a powerful online planner that connects with your calendar, offers appointment booking services, sends email reminders and notifications, and generates personalized event URLs. It allows you to link one calendar, schedule an infinite number of meetings, customize the Calendly link, and automatically send email alerts and reminders to invitees who book with you. Calendly supports a variety of meeting formats. It is ideal for groups because it includes group sites, statistics and reporting, and administrative options for managing bookings.
3. 10to8
10to8 is a user-friendly appointment booking software that offers a highly efficient schedule for both company and the client. It includes a calendar with a basic navigation panel, customizable features, meeting coordination, unique links, and payment services. It has an automatic SMS and email system, sending reminders to clients and employees, establishing organized communication, and maintaining a database of appointments and clients. 10to8 is an ideal scheduling software for businesses that want to provide their clients with a tailored experience.
4. Calendar
Calendar is an AI-enabled digital calendar and a scheduling tool for Individuals and organizations. This digital calendar syncs across devices and includes a virtual assistant that can study the schedule and begin organizing meetings, invitations, and personalized changes. It also allows sharing your appointment calendar with clients and employees. This digital scheduler can obtain meeting transcripts and information on your company's time management and customer interaction.
5. SimplyBook
SimplyBook is an appointment scheduling software created exclusively for service-based businesses. It is an online scheduler that is ideal for organizations with international clients. It supports a wide range of languages and integrates with numerous foreign payment systems for clients. It has an easy-to-use design and offers a wide range of functionality. SimplyBook can be integrated onto your existing website or used to create a custom scheduling page within the system. It also includes social media integrations and accepts appointments directly from Facebook and Instagram.
Conclusion
Appointment scheduling software syncs your bookings with your calendars to minimize multiple appointments. Reliable software can significantly improve scheduling operations, increase efficiency, and generate more revenue for the company. Appointment confirmations and reminders are easily maintained using appointment scheduler software. This software helps reduce missed appointments and saves a lot of time.
Schedule.cc created by 500 apps can cover all of your demands for appointment scheduling, meeting arrangements, and offering superior service to your clients, regardless of the size or nature of your business. Schedule.cc is part of the 500apps business suite, which includes over 39 other apps and tools for boosting your organization to the next level. The 500apps business suite has innovative business-effective features and is reasonably priced.
Discover Why Schedule.cc Stands Out
#1
Scale your appointments using online scheduler, email signature and bots
#2
Embed calendar on website, blog, and emails to speed up appointment scheduling
#3
Engage over an HD audio, video calling and through built-in video conferencing tool, 500Conference
#4
Sync Google, Outlook, and iCal calendars & stay up-to-date
#5
Reduce no-shows with automated appointment reminders
#6
Integrate with AI chatbot, BotUp, on website and capture leads faster
#7
Automatically schedule appointments post successful payment confirmation
#8
Share schedule links in your Gmail using powerful extension
#9
Unbelievable pricing - the lowest you will ever find
#10
Everything your business needs - 50 apps, 24/5 support and 99.95% uptime
Join the SaaS Revolution
All-in-One Suite of 50 apps

Unbelievable pricing - $14.99/user

24/5 Chat, Phone and Email Support