The Only Event Scheduler Guide You'll Ever Need
This article gives you the complete guide on the event scheduler along with its functions and lists the 5 best event scheduling softwares.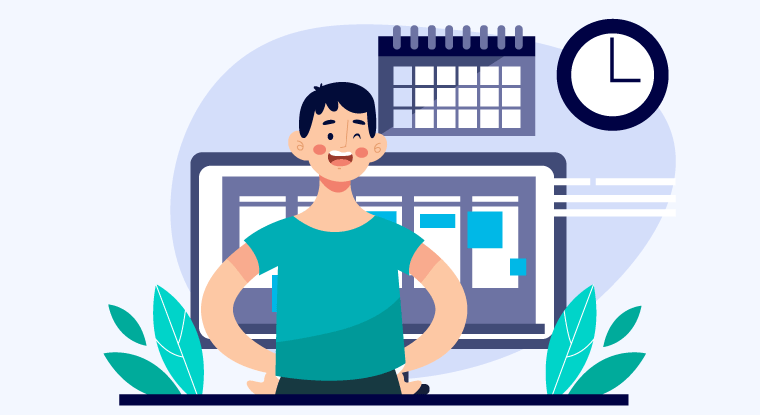 Event scheduling refers to the process of scheduling future events like meetings, trips, etc. It is a vital aspect of event planning that is generally done at the start. Numerous event scheduling software helps make this process easier. They allow you to effortlessly reschedule an event, follow its progress, manage participants, and invite visitors. Simply put, organizing an event is a breeze when you have the correct planning tools.
Functions of Event Scheduler
Here are some of the functions of an event planning tool: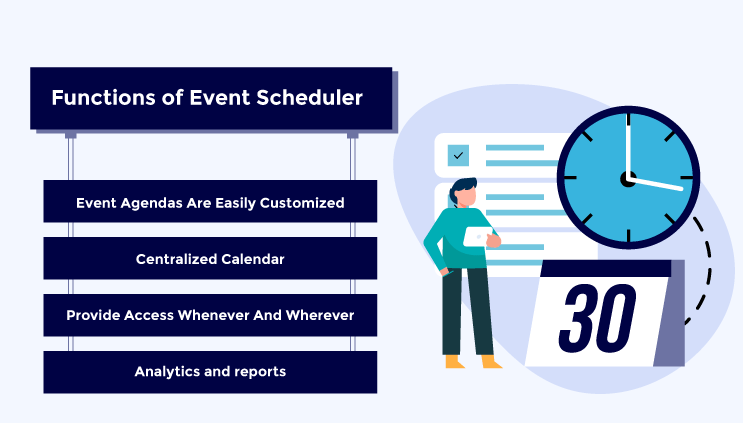 1. Event Agendas are Easily Customized
Your event schedule specifies what time and location an event occurs and when attendees are informed of what is happening. It is easy to use, highly customizable and handles numerous labels and filters for faster search results.
2. Centralized Calendar
With an event scheduler, you can combine your events into a single interactive calendar or event listing that refreshes automatically. This gives all of your website users a consolidated event discovery experience.
3. Provide Access Whenever and Wherever
Since all data is kept in the cloud, your employees and clients can use your online events calendar at any time and from any location with an internet connection.
4. Analytics and reports
An event scheduler provides crucial indicators like qualified sales leads per exhibitor, interaction and contact sharing records, revenue statistics, speaker engagement, top-performing themes, and conversion/response rates. Such event data may be quite useful in assisting event professionals in understanding exactly what occurred at their events and how to improve things in the future. Whether it's calculating event ROI, determining attendance numbers, or just determining which sessions attendees found most interesting, data is becoming increasingly important in events.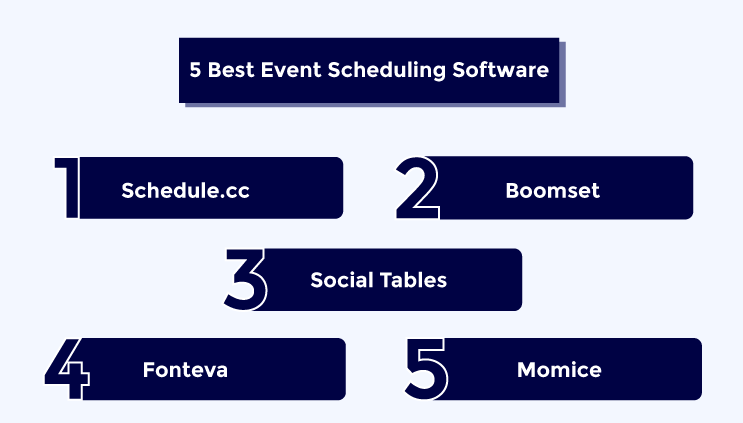 1. Schedule.cc
Schedule.cc, by 500apps, is an online event scheduler that provides your business with the most sophisticated scheduling options. It combines cutting-edge technologies with high-quality services to suit all of your booking and scheduling needs. Schedule.cc employs AI-powered tools to tailor customer booking experience and deliver confirmation through emails. It also provides you with a comprehensive view of your scheduled events and meetings and the ability to build unique URLs for each type of event.
Keeps your business organized with centralization of all your appointments Sign Up 14 Day Trial
2. Boomset
Boomset is a wonderful alternative to explore if you want to add a quick check-in feature to your current event planning software. Its features include check-in, on-demand badge printing, and a guest list management system. Organizers may track participants using RFID-enabled bracelets in addition to offering face recognition check-in.
3. Social Tables
Social Tables provides the best venue sourcing, event planning, guest management, and check-in services. The free appointment scheduling software allow you to quickly build to-scale designs. You may plan out every aspect and share it with venues, clients, and partners. Furthermore, Social Tables assists you in managing guests, from VIPs to particular meal demands, and allows you to create a graphical seating arrangement.
4. Fonteva
Fonteva allows you to manage numerous events simultaneously. Thus, this service is particularly well-liked in the hotel business. The system supports over 100 payment methods, allowing guests to pay for tickets and other things without having to worry about currency changes. Additionally, event planners can create a temporary event webpage to keep people interested. For example, you can share forums, contests, and other online activities through the software.
5. Momice
Momice is an all-in-one event management system that manages everything from registration to website creation to event statistics. The solution is accessible to anybody with an internet connection, regardless of location. Starter packages offer access to the event planning tools for three events, and you can add up to five users at once.
Industry-Specific Uses Of Event Scheduler
Technology plays a significant part in our daily lives. We all utilize technology on a daily basis, whether for personal or professional reasons. People want automation in all processes. As a result, event schedulers have become commonplace in many industries. Let's look at two of them.
1. Hotel Industry
Event schedulers can help you schedule client meetings, phone calls, walkthroughs, and venue tours. You can invite an unlimited number of people to your account and control what they can see and modify. Event schedulers also allow you to create event itineraries based on personnel and vendor assignments. They offer a color-coded event booking calendar that ensures that your event sales and front-of-house staff are up to date when adding or managing bookings.
Whether your venue includes on-site restaurants, a specialized catering kitchen, or contracts with off-site caterers, an online scheduling software allows you to manage all of your event orders and increase profitability. You can also streamline revenue management by easily tracking and billing for food and beverage (F&B) orders and presenting customers with exquisite F&B menus.
Event schedulers also make it easy for you to communicate with team members, clients, and suppliers and exchange information with them. In fact, you can send and track all event-related email communications and messages from a single platform. With online client portals, you may also make it simple for customers to read and sign papers, make payments, complete assignments, and more.
2. Wedding Planning
An event scheduling software can streamline the wedding planning process and save time. These highly adaptable, consistent, and secure tools make event administration a breeze. You can fill up the advanced venue calendar with reservations, guest lists, contact information, and more. Caterers can also be managed using an event scheduler. The tool allows you to assign tasks, book, and track employees with integrated notes, comments, requirements, and prices. Finally, using an event scheduler enables you to create floor plans to ensure that everyone understands what to do and where to go on the wedding day.
Summing It Up
Event planning specialists plan and execute events while keeping timeframes, restrictions, and client needs in mind. Event scheduling is an important component of this process since it helps determine the best time to arrange and execute an event. It is essential to help you attain your targeted objectives and priorities within the timeframe specified and be ahead of everyone else in the industry. An appointment booking app like Schedule.cc can help with this. Regardless of the size or type of your company, Schedule.cc can fulfill all your event scheduling demands, including setting event duration and invitee limit for group events, sharing event booking links with your consumers, creating custom domains, and so on. This, in turn, can allow your business to grow by leaps and bounds.
Discover Why Schedule.cc Stands Out
#1
Scale your appointments using online scheduler, email signature and bots
#2
Embed calendar on website, blog, and emails to speed up appointment scheduling
#3
Engage over an HD audio, video calling and through built-in video conferencing tool, 500Conference
#4
Sync Google, Outlook, and iCal calendars & stay up-to-date
#5
Reduce no-shows with automated appointment reminders
#6
Integrate with AI chatbot, BotUp, on website and capture leads faster
#7
Automatically schedule appointments post successful payment confirmation
#8
Share schedule links in your Gmail using powerful extension
#9
Unbelievable pricing - the lowest you will ever find
#10
Everything your business needs - 50 apps, 24/5 support and 99.95% uptime
Join the SaaS Revolution
All-in-One Suite of 50 apps

Unbelievable pricing - $14.99/user

24/5 Chat, Phone and Email Support