12 Best Web Scheduling Steps in 2023
A top-notch appointment scheduling system can help seal the deal and avoid missed opportunities. It reminds you of important meetings and streamlines the appointment process for remote partners or customers. It is like having a virtual assistant, and an online calendar merged into one useful tool. Starting a business is usually motivated by a passion for the industry or trade, not a love for managing complex schedules. With multiple stakeholders, scheduling can quickly become a daunting task.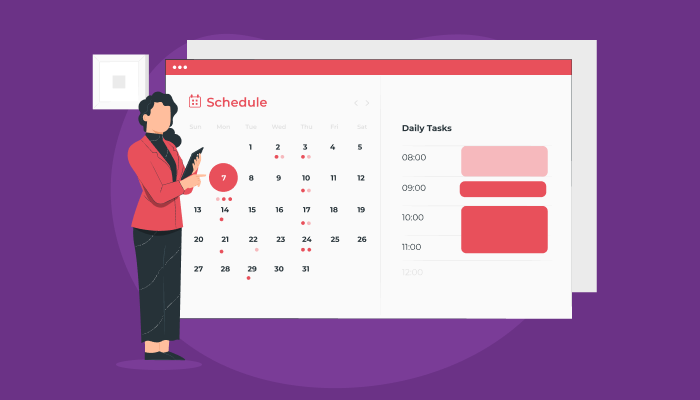 In fact, according to a report by Doodle, on average, people spend around 4.8 hours per week scheduling meetings. This is where scheduling software comes into the picture. They eliminate this time so that you can focus on other essential tasks. However, knowing how to use this software to its full potential is important.
Here's why you need this software and how to use it to enhance your scheduling experience.
Web Scheduling: How Does It Work?
Web scheduling software helps individuals or organizations to schedule appointments, meetings, or events. Here is an insight into how it works:
Scheduling software allows users to set their availability and share it online. Clients or attendees can select a time slot that works for them, and automated reminders can be sent. Integration with other tools, such as calendars and CRM systems, can save time and reduce the risk of double booking. Additional features include setting buffer times, enforcing cancellation policies, or charging for services.
Get started with the leading Web Scheduling today! Sign Up 14 Day Trial
12 Steps for Web Scheduling
Following are the 12 best steps for web-scheduling:
1. Automating a Repetitive and Time-consuming Task
Setting up a single meeting can involve four to ten exchanged emails discussing time zones, availability, and call length. This process becomes frustrating and time-consuming. Scheduling software simplifies the process of scheduling meetings. It eliminates the need for multiple emails discussing availability, time zones, and call length. Users can pass along a link with their pre-filled availability, and clients or attendees can book a time that works for them. Scheduling software also puts users in control of the length of meetings. This eliminates the risk of clients or attendees attempting to schedule a meeting outside the set time frame. To aid you in this process software like Schedule. cc can be very effective. This tool simplifies the scheduling procedure by eliminating the need for multiple emails and putting users in control of meeting length.
2. Use Self-Scheduling
Implement self-scheduling to reduce your staff's workload. Self-scheduling allows customers to access an online booking system to reserve a time slot for their appointment. Customers don't have to call your office to check availability, saving time and reducing workload.
3. Send Reminders and Confirmation
Email customers a confirmation after appointment booking. Send reminders before the appointment to reduce no-shows. Reminders serve as a notification to the client, ensuring that the appointment doesn't slip their mind. Automated reminders prompt customers to cancel or reschedule their appointment if needed. Last-minute changes can disrupt your schedule, so sending reminders helps you adjust accordingly.
4. Set Up Notification for Your Staff as Well
An appointment scheduling app can help both customers and staff remember important bookings. The software can send automatic notifications or alarms before appointments. With this system, you can also remind customers of policies regarding cancellations, refunds, and no-shows.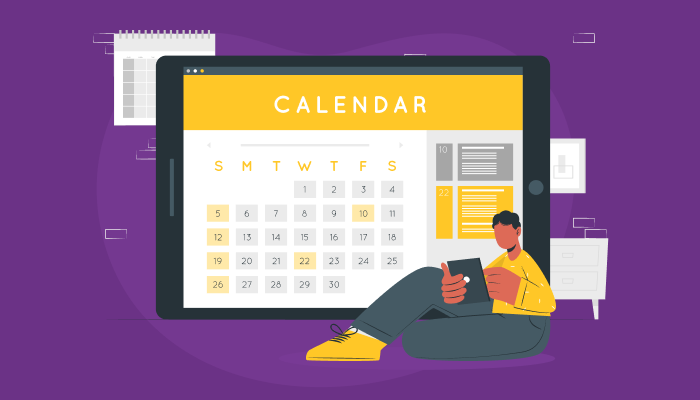 5. Make a Waiting List
Cancellations and no-shows can occur despite reminders and confirmations. A waiting list is a crucial feature of an online appointment scheduler. Waiting lists enable filling unplanned free time with customers who seek earlier appointments. They can serve as a contingency plan for businesses with tight schedules. Waiting lists can also reduce waiting time for customers who must select later appointments.
6. Obtain Feedback and Take Notes
Scheduling software includes a feature that enables the leader and members to type their notes during the meeting. These notes can be accessed anytime after the meeting. Additionally, the software offers a tool for clients to provide feedback immediately after the meeting.
7. Identify the Time Zones of Each of Your Team Members
Businesses often outsource work to other countries to reduce costs. This can result in a workforce spread across various states or even nations. Appointment scheduling software can alert you that remote team members are in different time zones. The software can automatically convert meeting times from one time zone to another. This feature ensures that everyone knows the exact time of meetings regardless of their location.
8. Integrating with Other Software
Integrating your appointment web scheduling software with other solutions can enhance your experience. It provides access to additional features and functions beyond what the software offers. One example of integration is connecting the software with a communication channel like Skype, Zoom, Slack, or Messenger. Integrating the software with communication channels gives direct access to its features while communicating.
9. Synching Other Calendars
Advanced web scheduling tools enable syncing of your online calendar with other calendars you use. When an appointment is booked with you online, it will appear on all synced calendars. Syncing multiple calendars can be challenging, but this feature simplifies the process. All live calendars will show the appointment booking when made online.
10. Enhance Data and Analytics
Leveraging data provides objective insights for developing new appointment-scheduling strategies. Data analysis can identify areas for improvement, common customer behaviors, and optimal scheduling methods. Installing analytics software and integrating it with scheduling software can automate data collection and analysis. Generated reports are easy to understand and provide actionable insights for improving the scheduling process.
11. Book Appointments Starting at Noon
Scheduling appointments from noon can consolidate them in a shorter time frame. This method of appointment management can reduce costs significantly. Adjusting staff shift times based on appointment schedules can reduce overhead expenses. Fewer appointments later in the day can lead to a more efficient use of staff time and resources.
12. Display the Schedule on Your Home Page
Integrating web scheduling software with your homepage makes meeting reminders more visible to your team. Links on the homepage are easier to notice than notifications alone. The software offers options for displaying meeting information, such as a calendar or a list of dates, times, and locations. Team members can input or edit their schedules through the linked listings or calendars.
Importance of Web Scheduling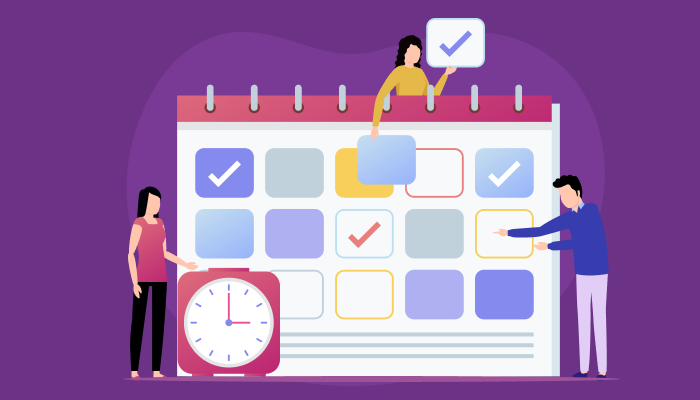 Web scheduling tools offer convenience and accessibility for clients to book appointments anytime, anywhere. Automating the scheduling process can reduce the risk of errors and save time for both clients and staff. Scheduling tools can integrate with other software, such as calendars and communication platforms, to streamline the appointment process. By leveraging data and analytics, these tools can provide insights into appointment trends, customer behaviors, and areas for improvement. These tools can enhance customer satisfaction by providing a seamless and user-friendly appointment-booking experience. Improved event scheduling can lead to better time management, increased productivity, and, ultimately higher revenue.
Conclusion
Efficient scheduling is vital for businesses and organizations, and the appropriate scheduling software can significantly enhance efficiency and productivity. By implementing these 12 tips, businesses can maximize the benefits of their scheduling software and streamline the appointment scheduling process. There are numerous ways to optimize scheduling tools, from syncing calendars and integrating with communication channels to leveraging data and analytics and making schedules visible. Remote work and online services are gaining traction. So, it is important to invest in a reliable web scheduling tool like Schedule. cc.
By using this tips, businesses can:
Save time
Reduce errors
Improve customer satisfaction
It will ultimately lead to increased revenue and success in 2023 and beyond.
Discover Why Schedule.cc Stands Out
#1
Scale your appointments using online scheduler, email signature and bots
#2
Embed calendar on website, blog, and emails to speed up appointment scheduling
#3
Engage over an HD audio, video calling and through built-in video conferencing tool, 500Conference
#4
Sync Google, Outlook, and iCal calendars & stay up-to-date
#5
Reduce no-shows with automated appointment reminders
#6
Integrate with AI chatbot, BotUp, on website and capture leads faster
#7
Automatically schedule appointments post successful payment confirmation
#8
Share schedule links in your Gmail using powerful extension
#9
Unbelievable pricing - the lowest you will ever find
#10
Everything your business needs - 50 apps, 24/5 support and 99.95% uptime
Join the SaaS Revolution
All-in-One Suite of 50 apps

Unbelievable pricing - $14.99/user

24/5 Chat, Phone and Email Support