Invaluable Tips on How to Use Calendar Sharing App
This article shares the importance of calendar sharing app and a few tips for using the app and also lists the top 3 calendar sharing apps.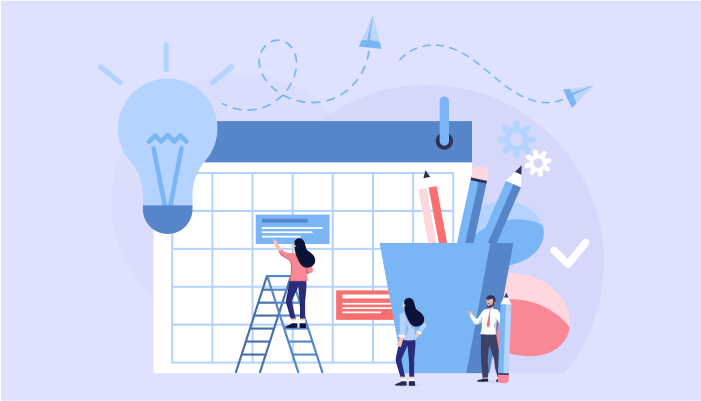 Businesses are constantly on the lookout for new technologies that can boost employee and business efficiency. While PCs and cell phones provide calendars, they may not be the ideal solution for you or your company. Fortunately, there is plenty of calendar sharing app possibilities. That is why it is critical to use a strong yet easy online calendar or calendar software to map out your schedule while optimizing the most impactful chores.
Calendar Sharing is more powerful since it allows users to invite individuals inside the organization to see their calendar and, if appropriate permissions are given, even add or amend events. When users share their calendars through an online scheduling software, they may select how much detail the receivers can view and/or change. Work and teamwork can be facilitated with shared calendar apps. As an owner, you can skip the need to use email threads or text chains to see whether coworkers are available at a specific time – just click, publish, and go back to doing what you do effectively.
Tips on How to Use the Calendar Sharing App
Irrespective of the size of your organization, keeping track of appointments and meeting promises is important to your success. While you may still want to utilize a day planner, nothing beats a calendar sharing app for keeping you and your team in sync, focused, and organized. While it may seem like a lofty goal, your calendar can accomplish exactly that with the newest technologies - just follow a few easy tips:
Tip 1:
Use a calendar that is compatible with multiple platforms. A calendar that can be viewed across different platforms from the start would be a simpler option. You no longer have to be concerned about potential complications with sharing and synchronization.
Tip 2:
Do not disclose too much information. Most online calendar sharing apps allow you to make certain entries private while others are shared. Therefore, people will not be able to view any private or sensitive data that they are not required to know.
Tip 3:
Make use of customization. Whatever calendar sharing apps you choose, it does allow for some amount of personalization. As a result, you may customize it to meet your requirements. For instance, you may change the display to week, month, or agenda. You may also modify the colors, the title, and which things are displayed. The subject lines are one of the most important aspects of Calendar invitations. Make a greater effort to establish a clear topic line.
Tip 4:
Keep your calendar up to date. No matter how prepared you are, your schedule will have to shift at some point. Event scheduler have some amazing tools available that allow you to update your calendar automatically, reschedule canceled meetings for you, etc.
Tip 5:
Make timezones available. Most calendar-sharing apps allow custom settings for timezone. You need not be concerned about organizing events because the calendar will identify time zone variations.
Tip 6:
Add events from other applications. Furthermore, synchronize any events that are booked on Facebook, Eventbrite, Evernote, Slack, or any project management software with your shared calendar. The majority of these calendar-sharing apps interface with popular online calendars. As a consequence, you have all pertinent dates in one place rather than dispersed across many platforms.
Tip 7:
Create calendar reminders for significant events. Unless you can only place an order on a certain day of the month, need to file papers by a certain time and/or date, and so on, set a calendar reminder for it long before the incident arises and at varying intervals up until the event occurs. You won't forget or be unprepared this way.
Tip 8:
Divide large tasks into manageable pieces. If you have a job that will take some time, don't put it off until the last minute or expect to do it all in one session. Set aside time every day to work on different aspects of your project. This way, you'll feel successful every day, notice progress, and be able to meet your goals.
Tip 9:
Enable virtual personal assistant. Certain calendar-sharing apps now interface with your phone's, laptop's, or mobile device's virtual personal assistant (VPA). This streamlines the online appointment scheduling process by letting your VPA perform all of the work, such as scanning your calendar for open hours and proposing and confirming meeting times for folks on your invitation list. In this manner, your inbox will be free of replies, allowing you to focus on other tasks.
Importance of Calendar Sharing App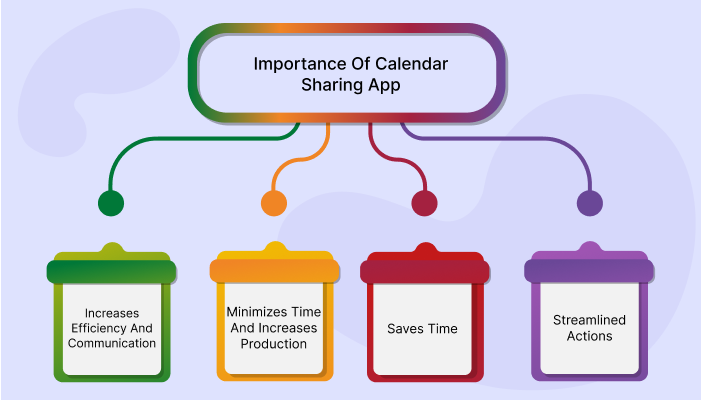 In terms of consolidation, actionable items, communications, and collaboration, smart calendar sharing apps outperform your native calendar. Here are a few of the benefits:
i. Increases Efficiency And Communication
The biggest benefit of using calendar sharing apps with your team is that it makes project planning and meeting scheduling much easier.
ii. Minimizes Time And Increases Production
Scheduling group meetings with your busy staff takes time and is difficult. Utilizing online scheduling app can save time going back and forth with them to find the best day and time. Utilizing calendar sharing apps is like having a personal assistant who handles all of your schedules.
iii. Saves Time
All of the information from your meeting invitations — location, passcodes, contacts — sync up and produce actionable items directly from your calendar. This saves time.
iv. Streamlined Actions
Calendar sharing apps allow you to connect to online meetings with a single tap and contact meeting attendees directly from your calendar. It allows you to text, email, or phone them with the click of a button, or you may utilize a message template to save even more time.
Top 3 Calendar Sharing Apps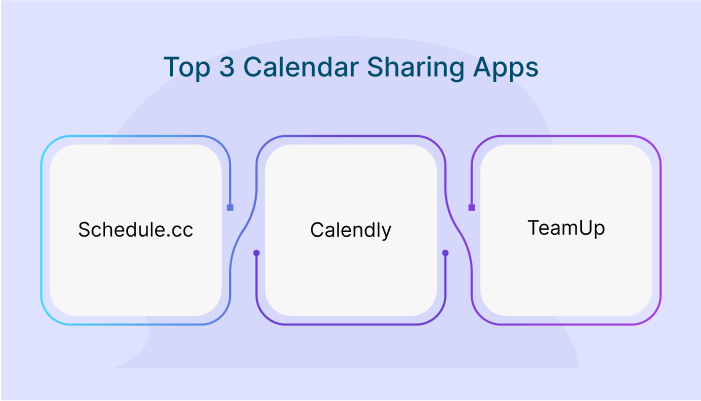 1. Schedule.cc
Schedule.cc by 500apps is an appointment scheduling software that organizes your meetings, appointments, and events throughout your schedule by linking your calendar with your chosen third-party apps and staying on top of all activities throughout the day. It is simple to schedule your appointments and integrate your schedule with your favorite calendar and stay organized. It allows bookings with Google Calendar and vice versa. It automatically allows you to include the GoTo details in the confirmation emails and calendar events issued to your invitees. It organizes your meetings, appointments, and events throughout your schedule by linking your calendar with your chosen third-party apps.
Schedule.cc also allows you to sync bookings with Google Calendar and vice versa. After planning the event, you can automatically include the GoTo details in the confirmation emails and calendar events issued to your invitees. iCal integration feature avoids double appointments as it blocks the time from being booked by a new client. It also syncs your calendar with an Office 365 account to schedule more meetings, appointments, and events professionally. You also get real-time alerts whenever any update to the schedule is made.
39 Apps for a single price of $14.99
Increases customer satisfaction with convenient online booking Sign Up 14 Day Trial
2. Calendly
Calendly is an automated scheduling program that uses your calendar to verify your availability. It facilitates meeting scheduling without the need for a significant amount of communication via email. Other capabilities include the option to plan buffer time between conferences, time zone identification, integration with tools such as Salesforce, GoToMeeting, and Zapier, and the capacity to scale with your staff.
Price
Basic: Free
Essential: $8
Professional:$ 10
Teams: $16
Enterprise: On Request
3. TeamUp
For organizations, Teamup provides shared calendars to help with organization, scheduling, and communication. It allows you to choose between free and premium plans. Furthermore, Teamup provides integration with other calendars and tools like API, iCalendar feeds, Slack, MS Teams, Trello, and Zapier, which is a suitable fit for your team.
Free: $ 0
Plus:$ 8 per month
Premium::$ 20 per month
Enterprise:$ 80 per month
Summing It Up
While utilizing a calendar might help you organize your day, some users may need to manage different calendars while using the same app or online service. The finest calendar sharing apps let you view your work calendar, personal calendar, and shared calendars all in one place. It also helps in switching between applications that may otherwise take up a lot of time. As a result, calendar sharing apps are a must-have in today's forward-thinking workplace culture. If you are unsure of which calendar sharing app to get for your business, we recommend getting Schedule.cc by 500apps. To learn more, visit the website today!
Discover Why Schedule.cc Stands Out
#1
Scale your appointments using online scheduler, email signature and bots
#2
Embed calendar on website, blog, and emails to speed up appointment scheduling
#3
Engage over an HD audio, video calling and through built-in video conferencing tool, 500Conference
#4
Sync Google, Outlook, and iCal calendars & stay up-to-date
#5
Reduce no-shows with automated appointment reminders
#6
Integrate with AI chatbot, BotUp, on website and capture leads faster
#7
Automatically schedule appointments post successful payment confirmation
#8
Share schedule links in your Gmail using powerful extension
#9
Unbelievable pricing - the lowest you will ever find
#10
Everything your business needs - 50 apps, 24/5 support and 99.95% uptime
Join the SaaS Revolution
All-in-One Suite of 50 apps

Unbelievable pricing - $14.99/user

24/5 Chat, Phone and Email Support