Online Appointment Scheduling- Healthcare Sector Benefits
Setting up appointments requires a lot of effort and time. With the help of online appointment scheduling, you may improve operations and expand your company.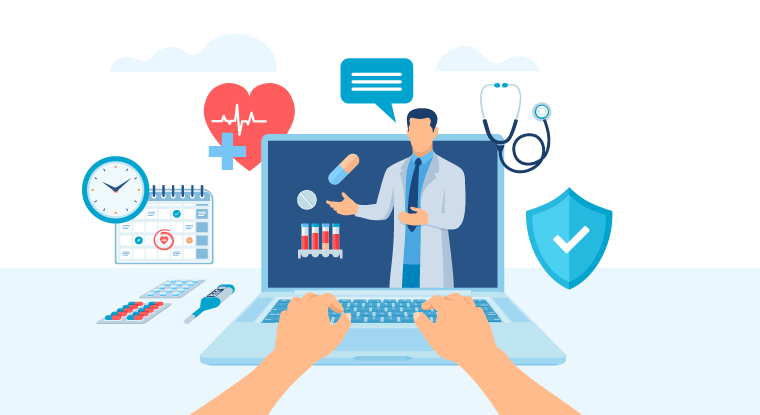 Most teams already use technology to manage some aspects of appointment scheduling. Online booking tools publish your company's calendar online and eliminate the need for receptionists. In short, you need an appointment scheduling tool that is as active and professional as you are when it comes to online appointment scheduling for your business.
The greatest booking applications offer your clients more than a mere list of available hours for a meeting, treatment, or service. They also allow your clients to cancel and reschedule appointments without contacting you. Furthermore, they make it simple for business owners and managers to execute their tasks by streamlining communication and centralizing customer payments. This article looks at some of the benefits of appointment scheduling software in the healthcare sector.
What Is An Online Appointment Scheduling Software?
Scheduling software simplifies the way appointments are scheduled. Customers can arrange appointments online through a gateway provided by online appointment scheduling software, and businesses can track and manage those appointments. Companies can use this software to schedule meetings, browse calendars, print forms, and schedules, alter schedules and enforce scheduling policies.
Built-in, automatic emails (reminders, follow-ups, cancellations, rescheduling, etc.) and/or notifications, online service payment, personalized profiles, and calendar integrations are some additional capabilities that may be available. Many different sectors, including those in the health and wellness industry, salon, beauty industry, professional service providers, and the medical industry, employ these technologies. Online scheduling tools can be integrated with a variety of applications, including content management systems, website builders, email clients, and calendaring tools.
Advantages Of Online Appointment Scheduling Software For the Healthcare Sector
The use of an online doctor appointment scheduler can help organizations streamline their workflow in a variety of ways, including automated email and text message reminders to send out to patients, booking individuals on a specific date before their scheduled appointment, recording and record-keeping capabilities that make it quick and easy to access data associated with a specific appointment and send out patient reminders automatically when a specified date passes.
The following are the advantages of an online doctor appointment system for doctors: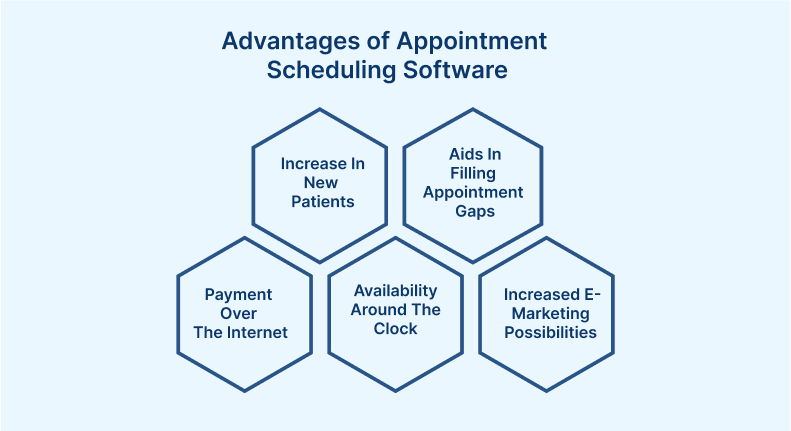 1. Increase In New Patients
Patients are more reluctant to make phone calls as they may be embarrassed to share their condition over the phone in some situations. As a result, prospective patients seeking a new dr or specialist are more likely to be drawn to those that provide online scheduling. This allows people to schedule appointments without having to call someone they don't know.
2. Aids In Filling Appointment Gaps
Successful independent medical offices maintain a full calendar by increasing appointment volume. Unfortunately, no-shows and last-minute cancellations render such appointments ineffective, resulting in wasted income and stifling practice growth. Fortunately, if your clinic offers online scheduling, patients seeking a time-sensitive appointment may quickly check your firm's current availability. Thus, they frequently pick appointment spaces that might otherwise be unfilled or lost due to a no-show.
3. Payment Over The Internet
Every service necessitates the use of a secure payment method. Patients are more comfortable with online payments because an event scheduler is safe and secure. Offering a free consultation or a reduction on consultation fees within a limited time following the initial session motivates individual customers to arrange appointments via the online appointment management system every time.
4. Availability Around The Clock
Patients could previously only book appointments during clinic hours. However, with online scheduling, clients may now access the clinic's website at any time of day, on any day of the week. They may check a doctor's availability and set an appointment at a time that is convenient for them, allowing them to organize their schedules more effectively around their visit.
5. Increased E-Marketing Possibilities
One advantage of online scheduling is that it may contain patients' phone numbers and email addresses. As a consequence, promotional drives may be swiftly sent to patients utilizing information obtained from the online scheduling system. Patients are more likely to keep this information up to date while using the program, which means it has a better chance of reaching the patient. This may result in additional visits from existing patients or the registration of new patients through referrals.
Features Of Online Appointment Scheduler
Online appointment scheduling software is the most convenient way to schedule appointments with customers/clients/patients. It sends out automatic notifications and reminders, allowing professionals to concentrate on the most important aspects of their businesses.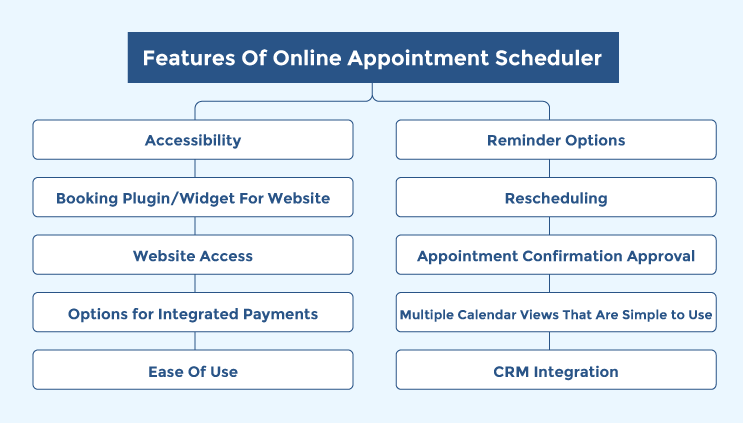 1. Accessibility
Customers should have the same level of experience whether they access the online appointment booking platform via desktop, laptop, tablet, or mobile phone. Furthermore, the appointment application should be compatible with the majority of popular modern browsers.
2. Booking Plugin/Widget For Website
The appointment software should also include a booking widget or JavaScript code that can be embedded on any website, allowing visitors to choose the date and time of their appointment directly from the website.
3. Website Access
The appointment scheduling system should be able to host the customer booking interface on a portal or microsite that is not required to be in the domain. In the absence of a company website, this can be more useful, as it can share the micro-booking site's link with the customers for online appointment booking.
4. Options for Integrated Payments
This can benefit from having appointment booking software that includes a payment option. Visitors can pay for their appointments when they book them. It can also obtain payment information in the backend and integrate it with the accounting software. Having the customer pay in advance for the service is a great way to reduce no-shows for the company.
5. Ease Of Use
Both the client and the business sides of the appointment booking software should have a user-friendly interface. It should be simple to navigate or explore the options. This can reduce personnel costs, as applications can perform much greater tasks with limited resources that can be used right away without much training. Intuitive interfaces also aid in the onboarding of newly hired employees.
6. Reminder Options
Sending automatic email or SMS reminders can help avoid no-shows. Furthermore, having more control over the reminders, such as the frequency and timing of the reminders, is a useful feature.
7. Rescheduling
Rescheduling is a standard feature of any appointment scheduling software, and it may be a common occurrence in daily activities. As a result, it is essential to be able to reschedule appointments quickly and easily through your online appointment scheduling solution.
8. Appointment Confirmation Approval
The online scheduling software should be flexible enough to allow for an additional step of approval before sending the appointment confirmation, allowing the customer to reaffirm their decision.
9. Multiple Calendar Views That Are Simple to Use
Having multiple views of calendar bookings is a very useful feature to have, as it simplifies the booking process. The most popular views are as follows: 1. Weekly calendar view, 2. Monthly aggregated calendar view, and 3. Single Day view.
10. CRM Integration
Since contact information is repeatedly entered into an appointment booking system, integrating the appointment software with proper CRM software may prove to be a worthwhile investment of time. Modern CRM tools provide much more than simply storing customers'/visitors' contact information. Some CRM tools provide digital marketing campaigns or plans for the contacts. For these reasons, having a seamless integration with CRM tools is a great feature to have in online appointment scheduling software.
Top 5 Online Appointment Scheduling Software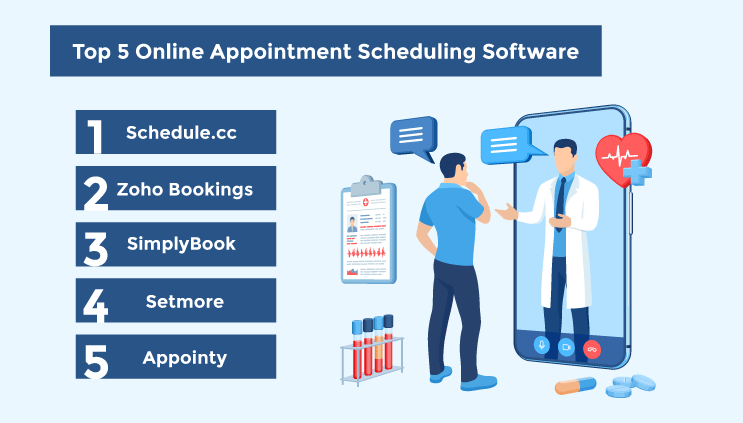 1. Schedule.cc
This appointment scheduling software assists businesses in scheduling online appointments. The built-in AI integration feature handles automated responses for lightning-fast appointment scheduling. Schedule.cc allows customization of event types, such as one-on-one or group meetings. Integrate seamlessly into workflow and activity. The virtual assistant automatically detects specific phrasing in emails from those attempting to book appointments allowing it to determine when a customer or prospect wishes to meet. The tool customizes your calendar based on availability and creates custom events for one-on-one meetings, team meetings, and group events. Individual and group meetings can also be planned with features such as meeting notices, recurring time intervals, business hours, and much more. All in all, it simplifies communication and time management for everyone involved by streamlining the entire online appointment scheduling process.
Increases customer satisfaction with convenient online booking Sign Up 14 Day Trial
2. Zoho Bookings
Zoho Bookings provides the best personalization and branding options on the market without requiring the user to learn HTML and CSS. The product is designed to be suitable for customer-facing teams. The application also integrates well with Zoho apps such as CRM, Meeting, Flow, Sites, and so on. Zoho bookings has many intuitive features that help documentation and other customer support channels. From appointment scheduling to sending notifications & reminders and completing payments, Zoho booking can do it all!
3. SimplyBook
Simply Book uses a usage-based pricing model, which distinguishes it from the other apps reviewed here. Each pricing plan of the app provides a set number of features. They provide customer service via email, chat, and help documentation. The health and wellness industry is the primary target audience.
4. Setmore
Setmore is the result of a design-oriented parent company. They have good mobile apps, and the web app user interface is one of the best on the market. Setmore helps in documentation and email and offers live chat support. Through the platform, you can give your customers a memorable and meaningful experience by allowing them to connect with you via various channels. You can also offer virtual meetings, thus, eliminating the need for your customers to travel to see you.
5. Appointy
Appointy covers a wide range of service industry use cases. Unlike other apps, they include features that allow for at-home/house-call services. They support Square POS, have mobile apps, and provide custom development. Appointy provides customer service through email, chat, and help documentation. They also have numerous options for filtering out unwanted bookings.
Summing It Up
More people will call and stroll in after the medical practice develops a reputation for timeliness and quality service. The sheer number can make scheduling appointments and other medical office activities a headache. It might imply that another doctor or more clinical personnel is required. However, that is not the case. You can use an appointment booking app like Schedule.cc instead. Bookings and scheduling features are some of the positive aspects of a schedule.cc. Its newer UI gives a fresh feel and adheres to the latest UX standards. This app is feature-rich and has gone to great lengths to make scheduling easier. Hence, it is the best option to help you manage your increasing customers and guarantee customer satisfaction.
Discover Why Schedule.cc Stands Out
#1
Scale your appointments using online scheduler, email signature and bots
#2
Embed calendar on website, blog, and emails to speed up appointment scheduling
#3
Engage over an HD audio, video calling and through built-in video conferencing tool, 500Conference
#4
Sync Google, Outlook, and iCal calendars & stay up-to-date
#5
Reduce no-shows with automated appointment reminders
#6
Integrate with AI chatbot, BotUp, on website and capture leads faster
#7
Automatically schedule appointments post successful payment confirmation
#8
Share schedule links in your Gmail using powerful extension
#9
Unbelievable pricing - the lowest you will ever find
#10
Everything your business needs - 50 apps, 24/5 support and 99.95% uptime
Join the SaaS Revolution
All-in-One Suite of 50 apps

Unbelievable pricing - $14.99/user

24/5 Chat, Phone and Email Support