How to Choose the Right Free Scheduling App for You
This article briefs on free scheduling app along with the benefits and features and a few tips to choose the right scheduling app.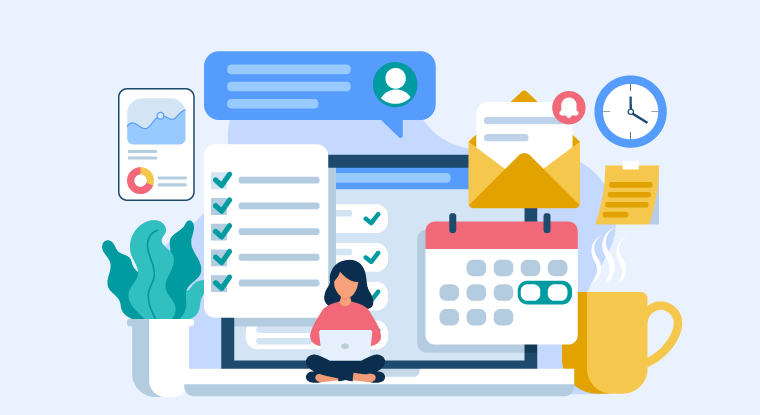 What is Free Scheduling App
A scheduling app refers to a business tool in the form of software that allows its users to book appointments with their clients while keeping track of their schedules. When clients want to schedule an appointment, they simply need to visit the website or online portal and select an available date and time.
As work begins to shift from formal office environments to people working from their own homes, the need for online appointment scheduling apps only seems to increase. The boundaries between work and home are getting blurred, making it harder for people to manage their time. In this article, we will give you some tips on finding a free scheduling app that is best suited for your work and lifestyle.
Tips for Choosing the Right Scheduling App
1. Flexibility
A online scheduler caters to a variety of users and is flexible in nature. They should be able to be specifically customized as per the user's requirements. The user simply needs to enter parameters about the date and time during which their services would be available and any other relevant information like whether a list of options should be displayed or whether a location needs to be specified. If your scheduling app can't be customized to your liking, it may not be suitable for you.
2. Professionality
Appointment scheduling is a part of your business carried out using a tool created on a regular basis. However, it still represents your brand and will showcase the professionality of your brand to its users. This is why you should pick an appointment scheduling app that is simple to use, free of any bugs, and aesthetically represents your brand.
3. Integration with Third-party Tools
If you're using a scheduling app, it is likely that you are using a variety of third-party tech tools to optimize your work. Only by connecting with these other softwares will your scheduling app be of any use to you. Therefore, it is essential to ensure that your scheduling app is able to integrate with whatever software you use for your regular work easily.
Reduces no-shows by sending automatic reminders Sign Up 14 Day Trial
4. Payment Processing
Ensuring you receive your timely payments is integral to the success of your business. A good scheduling app will have an inbuilt payment collection system when scheduling an appointment. This gives you the chance to collect a deposit amount or part of the service fee at the time of booking to protect you in case someone cancels an appointment at the last minute.
Benefits Of A Scheduling App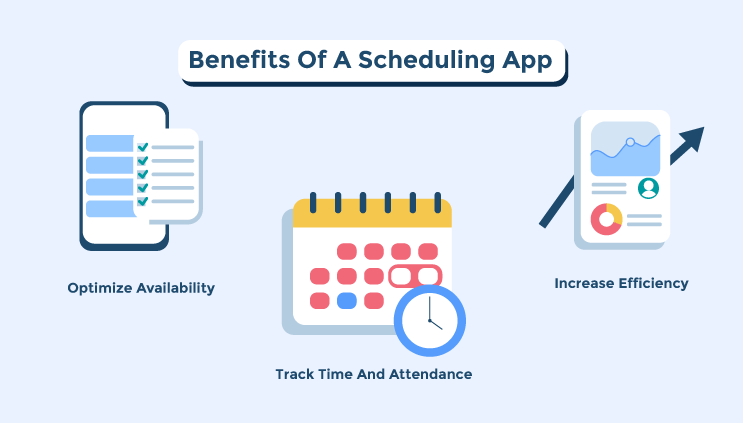 Online scheduling apps allow an organization to divide work among employees promptly. For instance, the right employees can be assigned to the job that best suits them without overlapping responsibilities.
Through scheduling apps, an organization can reduce the amount of time spent on creating teams and setting up meetings. Instead, the entire schedule can be prepared on the online scheduling app and shared with the team so that everyone is aware of their own responsibilities and commitments.
Track Time and Attendance
Scheduling apps make it easier to track employee attendance and time spent by keeping records of their time spent in the office and attending meetings. This is especially useful for remote work since employees can be tracked through their participation in the scheduling app.
Features Of a Scheduling App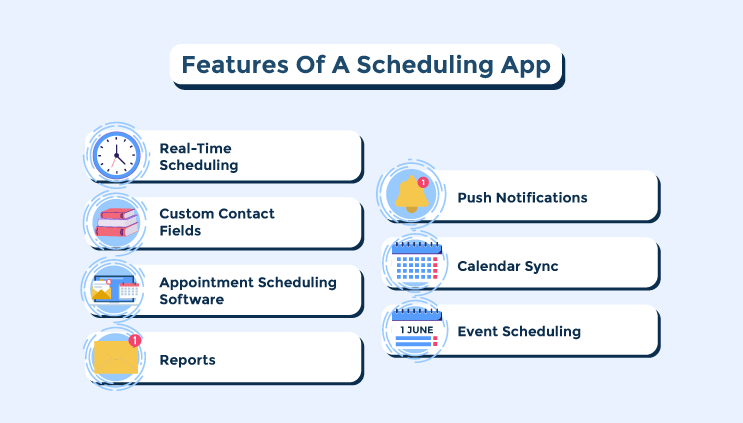 1. Appointment Scheduling Software
A good scheduling app must be able to automate appointment scheduling while being able to accommodate last-minute edits. It can be used to schedule internal meetings, meetings with clients, webinars, as well as any other public events.
2. Calendar Sync
A must-have feature of free scheduling apps is to have a log of all the upcoming events, meetings, and appointments in a single calendar to enable the user to keep track of all their commitments in a single glance.
3. Custom Contact Fields
Custom fields allow users to identify and divide their clients according to their background. This is especially useful when dealing with multiple people from a large organization. The majority of users use tags to divide their contacts, but custom fields are more specific than tags and can be very helpful if used effectively.
4. Event Scheduling
An event scheduler is a feature of a good scheduling app that enables users to plan and schedule events seamlessly. It is useful for businesses that are constantly organizing large events. It allows the organizer to invite guests, manage venues, contact speakers, and track overall progress in one interface.
5. Real-time Scheduling
Any good scheduling app will provide real-time updates about your current schedule. This ensures that in case of any last-minute cancellation or change in plans, an alternate solution can always be found based on the remaining slots.
A reports feature provides the user with the minutes of the meeting or important moments of an event. Appointment reports and meeting reports make it easier for the user to keep track of how the time was spent during their meetings. It can also help distinguish the number of appointments scheduled by clients and those scheduled by the user themselves.
7. Push Notifications
Real-time push notifications are a necessity in scheduling apps since they give users reminders of their scheduled events. In addition, they let users know of any cancellations or rescheduling that may have taken place, allowing them an opportunity to plan something else in the free slot.
Summing It Up
Appointment scheduling is the best way to remain safe from uncertainty and make the best use of your time. By making use of scheduling software, you can increase the productivity of your business and realize tangible benefits from it. As you can see, finding the right free scheduling app can positively affect your organization.
Using an appointment scheduling app or appointment scheduling software like Schedule.cc by 500apps allows you to provide your clients with a remarkable appointment planning experience. Users can seamlessly connect with your brand at all times via emails or live chat support through the minimalistic user interface.
Discover Why Schedule.cc Stands Out
#1
Scale your appointments using online scheduler, email signature and bots
#2
Embed calendar on website, blog, and emails to speed up appointment scheduling
#3
Engage over an HD audio, video calling and through built-in video conferencing tool, 500Conference
#4
Sync Google, Outlook, and iCal calendars & stay up-to-date
#5
Reduce no-shows with automated appointment reminders
#6
Integrate with AI chatbot, BotUp, on website and capture leads faster
#7
Automatically schedule appointments post successful payment confirmation
#8
Share schedule links in your Gmail using powerful extension
#9
Unbelievable pricing - the lowest you will ever find
#10
Everything your business needs - 50 apps, 24/5 support and 99.95% uptime
Join the SaaS Revolution
All-in-One Suite of 50 apps

Unbelievable pricing - $14.99/user

24/5 Chat, Phone and Email Support