Appointment Scheduling System: Which One is Right for You?
Customers may make appointments with an appointment scheduling system, saving time in long queues, and can concentrate on the essential aspects of a company.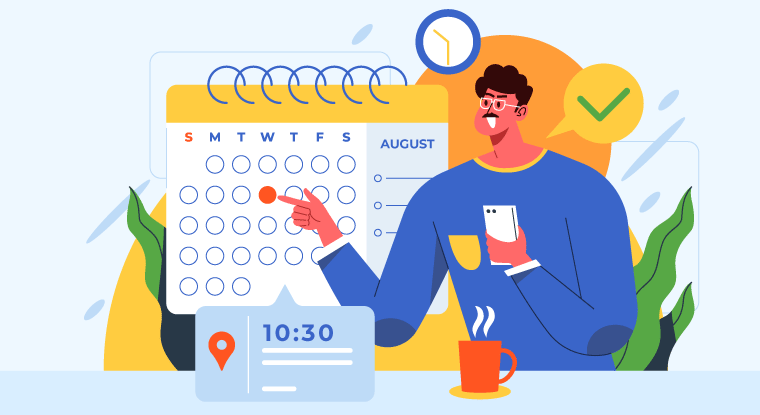 After the COVID 19 pandemic, organizations and service providers are finally prepared to resume their business operations. It is highly likely that customer traffic will increase because their needs have been put on hold for quite some time now. Hence, there is an urgent need to maintain control of the arrival wave of customers. One way to do so is to employ an appointment scheduling system.
What is an Appointment Scheduling System?
An appointment scheduling solution, often known as an appointment booking system or appointment scheduling software, is a solution that simplifies appointment administration for service providers.
Functions of Appointment Scheduling System
Appointment scheduling software provides the five major functions listed below: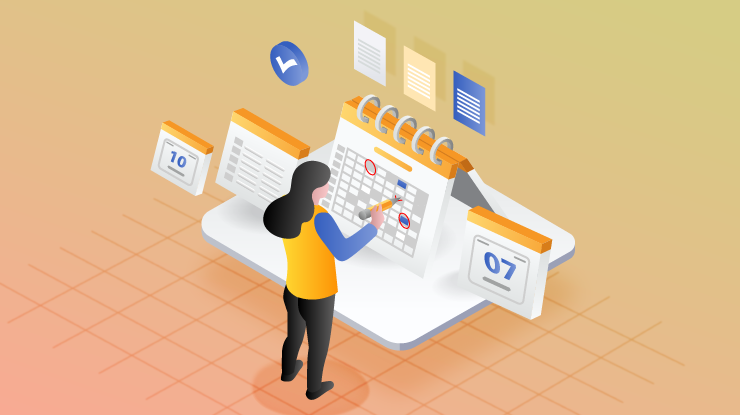 Customer Scheduling: Provides a calendar of the employees in an organization to clients so they may arrange an appointment.

Real-Time Automated Engine: After submitting an appointment request, you may quickly confirm or refuse it.

Automatic Reminders: This allows you to notify clients about upcoming appointments automatically.

Staff Scheduling: This allows company owners to keep track of their staff's calendars in real-time.

Calendar Management: This allows you to make appointments/meetings on your calendar and share them with staff in many locations in real-time.
5 Benefits of Appointment Scheduling System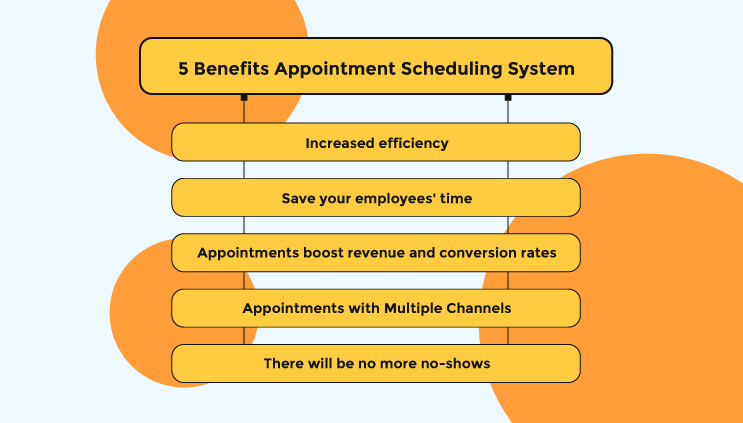 1. Increased efficiency
Increased efficiency is one of the major advantages of adopting online scheduling software for a business. Scheduling software saves you time by helping you maintain your schedule and exchange emails and phone calls with clients. It makes it much easier to keep track of what's on your to-do list and helps you reschedule activities online.
2. Save your employees' time
The customer service representatives spend most of their time on the phone, explaining alternatives to consumers, and organizing schedules, all of which may be automated. Your clients will benefit from the time savings as well. Individuals who wish to schedule an appointment with you do not have to take time out of their hectic schedules to call you.
If there is availability for a specific day, your customer may select their alternatives and select a date and time that suits them, all on a single online platform. Once the appointment is booked, the system will send them an email confirmation without your need for human interaction. This frees up your employees' time to accomplish more useful tasks. That is a big advantage of online booking systems and may help your organization.
3. Appointments boost revenue and conversion rates
Many businesses notice rapid increases in conversions and revenue after installing appointment scheduling software. Firstly, scheduling software creates the groundwork for workers to develop deeper, more consultative connections, which leads to larger transaction volumes.
Furthermore, you should consider the upsell and cross-sell chances for your employees once they have access to purchase history, past interactions, and other data. Thus, whether you're a merchant giving personal shopping sessions or a bank offering mortgage consultations, the data collected from an appointment scheduling software may surely be beneficial.
4. Appointments with Multiple Channels
Online appointment scheduling offer another significant advantage: they enable your clients to communicate with your company across a wide range of devices. Today, this is extremely useful as customers research your company on their laptops or make an appointment on their phones. If you do not provide the opportunity to make appointments across all of these channels, you are missing out on potential leads.
5. There will be no more no-shows
Customers that routinely cancel or try to rebook their appointments at the last minute exist in every business. You can measure how frequently a client cancels by using automatic email and SMS reminders. Email and SMS reminders are crucial for saving money and avoiding missed appointments because customers forget their appointments. A booking app may be of great assistance here. It allows your clients to change their reservations online, which simplifies the process.
Keeps your business organized with centralization of all your appointments Sign Up 14 Day Trial
Importance of Appointment Scheduling System in 2022
When it comes to business appointment scheduling app, the old saying "time is money" has never been more true. Whether you have group or one-on-one bookings, you want to spend quality time with your clients and deliver exceptional service. This can help you create important client connections and recurring business. However, the COVID 19 pandemic has severely impacted how you spend time with your clients.
Let's take hospitals, for example. COVID-19 patients overrun many hospitals throughout the world. Thus, people suffering from diseases other than COVID-19 are finding it difficult to enter the hospital as medical personnel are preoccupied with treating Coronavirus patients. This is when appointment scheduling software enters the picture. This tool can help people to make an appointment with the doctor at their convenience. Furthermore, because each patient's record is maintained in the software, clinicians no longer need to go through stacks of paper to get the patient's history or check the appointment calendar.
Moreover, appointment scheduling software allows your employees to access all of the vital customer information they require while also allowing you to manage your team's calendar and operate your business on any device, from anywhere, and at any time. This is especially useful in today's world, where more companies are encouraging remote or work-from-home options.
Summing it Up
Online appointment solutions enable you to achieve a higher rate of successful appointments, which leads to happier clients and more earnings for you. As a result, online appointment systems are simply a must-have for any businesses that take internet marketing seriously.
Schedule.cc by 500apps is one of the best appointment scheduling software in the market. Not only does it allow clients to book appointments online, but it also enables you to send notifications and reminders on the day of and hours before their appointment. You can also reduce appointment no-shows by making cancellations and rescheduling simple for your consumers. You can organize your workforce by language, region, and area of expertise to make it easier to manage and comprehend for consumers. The software can set your availability, share the meeting link with your team members, and allow them to attend the meeting easily. You can also set up numerous booking pages on the same schedule.cc account for each team member.
All in all, an appointment scheduling software is essential for a company for both internal and external use. So, do not hesitate and avail the exciting features of Schedule.cc today!
Discover Why Schedule.cc Stands Out
#1
Scale your appointments using online scheduler, email signature and bots
#2
Embed calendar on website, blog, and emails to speed up appointment scheduling
#3
Engage over an HD audio, video calling and through built-in video conferencing tool, 500Conference
#4
Sync Google, Outlook, and iCal calendars & stay up-to-date
#5
Reduce no-shows with automated appointment reminders
#6
Integrate with AI chatbot, BotUp, on website and capture leads faster
#7
Automatically schedule appointments post successful payment confirmation
#8
Share schedule links in your Gmail using powerful extension
#9
Unbelievable pricing - the lowest you will ever find
#10
Everything your business needs - 50 apps, 24/5 support and 99.95% uptime
Join the SaaS Revolution
All-in-One Suite of 50 apps

Unbelievable pricing - $14.99/user

24/5 Chat, Phone and Email Support