10 Types of AI Assistants that Help Your Business
Artificial Intelligence Assistants (AI Assistants) are a digital version of virtual human assistants that assist with administrative chores.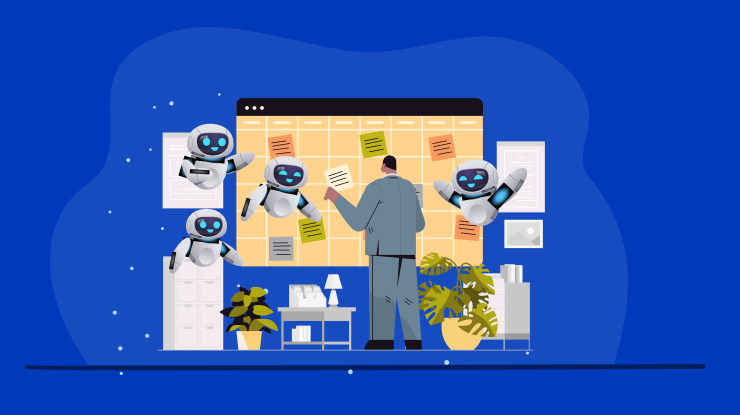 What are the Types of AI Assistants?
Artificial intelligence is becoming an integrated part of our society today. It makes life more efficient by replacing traditional ways of doing things by oneself with simple commands and preprogrammed preferences.
Artificial Intelligence Assistants (AI Assistants) are a digital version of virtual human assistants that assist with administrative chores. It is a software program that recognizes natural language voice commands and does things on the user's behalf. AI assistants can accept voice commands or button inputs. Many of them are continually listening for a trigger phrase, allowing for hands-free operation. If that isn't feasible, tap an icon to express yourself. Smartphones, smart speakers, smart TVs, and other smart" internet-connected gadgets all have them.
There has been an impactful rise in the usage of these scheduling software assistants for online scheduling purposes over time. These assistants can perform the functions of an online scheduler and appointment scheduling tool. When synced with the calendar application on the device, these assistants can easily make appointments and remind the user of existing appointments through its online scheduler features. Popular AI assistants like; Alexa, Siri, and Google efficiently carry out scheduling software functions when integrated into online calendars. This further aids in them becoming online schedulers.
The most appealing aspect of an AI Assistant is that it develops with time and with each interaction. It can even recall specifics about your preferences for certain actions; therefore, making it a great appointment scheduling app.
Automate the process of Scheduling to eliminate manual effort Sign Up 14 Day Trial
What do people utilize them for? The actual features differ. Internet searches, video playing, message dictation, scheduling, and alarms are all available in most. Depending on how effectively they are integrated with the gear in use, you can even regulate things like loudness, Bluetooth, and WiFi.
AI assistants are also great for managing your hourly or even yearly schedules. Seamlessly monitoring and providing solutions on the go and ensuring you avoid over-booking your free time or underbooking them.
How AI Assistants Help Businesses?
AI assistants can be integrated into leisure life and professional life. In both aspects, it enhances appointment scheduling and event scheduling. It improves efficiency in businesses mainly by handling tasks which will help the business focus more on other important and pressing matters.
Automation of Certain Aspects of the Business
The potential of AI technology to simplify operations is one of the primary advantages of AI technology for small enterprises. According to McKinsey research, 60 percent of all jobs have at least 30% automatable tasks.
In the office, such activities might include:
Taking Notes and Making Lists

Emailing and Texting

Appointment scheduling

Finding Facts and Information

Making Travel Arrangements

Making and managing calendar appointments
Employees may successfully simplify processes by using AI personal assistants to automate such activities and perform scheduling software functions, focusing on other things. The greatest solutions, in essence, do tasks that people find difficult or wasteful. The goal is for AI to assist workers rather than replace them.
Routine office activities may be time-consuming. What's the good news? There are several ready-to-use options for small enterprises, like online schedulers, appointment scheduling software, and appointment scheduling tools to ease the tedious and time-consuming operations.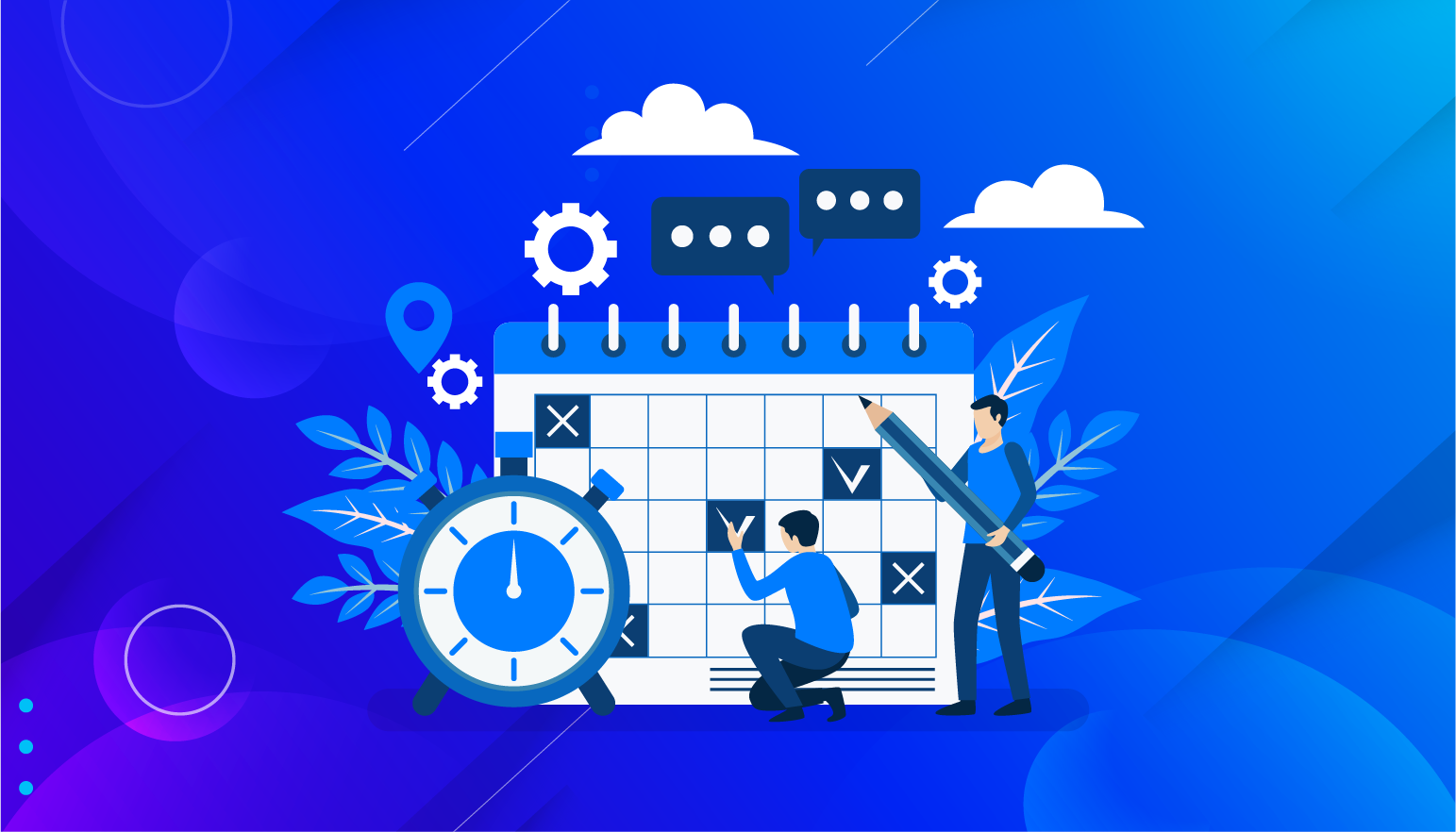 Improvement of Sales and Customer Service
So you're using the online scheduler feature with AI personal assistants. You've chosen to use a chatbot to automate your recruitment process. Is there any other way AI helpers may help your company?
Yes, of course! The deployment of AI personal assistants can enhance both sales and customer support procedures. Let's take a look at sales for a moment.
If your company has to process a large number of leads, AI is the way to go. According to a Gartner estimate, by 2020, 30% of all B2B firms will utilize AI to improve one of their key sales processes. Because AI boosts conversion rates by 30%, it's a win-win situation.
Do you have a handle on your sales leads? Is it possible that you require a more effective customer service solution? AI personal assistants can aid once again.
More consumers are contacting firms via texting first, and businesses are responding. To better serve consumers, many firms are integrating with an AI customer assistant or chatbot.
Chatbots are valuable because they can provide 24/7, real-time customer support, something humans cannot. Furthermore, by delegating time-consuming activities to chatbots, time and money are saved. When integrated with your calendar, they can help as an appointment scheduler.
We can all come to an agreement that it is critical for businesses to minimize their time to acquire new employees. That's because hiring a new employee costs an average of $4,000 and takes 24 days. Reducing that time saves money and enhances your chances of hiring top personnel. Employee turnover is costly, costing you 33 percent of a worker's yearly compensation. It's also critical to hire well. Introduce AI personal assistants or chatbots to your recruiting process to minimize time to hire. There are numerous smart methods to integrate AI now, but one of the simplest is to use chatbots to communicate with potential recruits.
Dan Miller, the Founder of Opus Research said this about AI assistants.
"The future of personalized customer experience is inevitably tied to artificial intelligence assistance."
Let's take a look at some real-life assistants and see what they have to offer.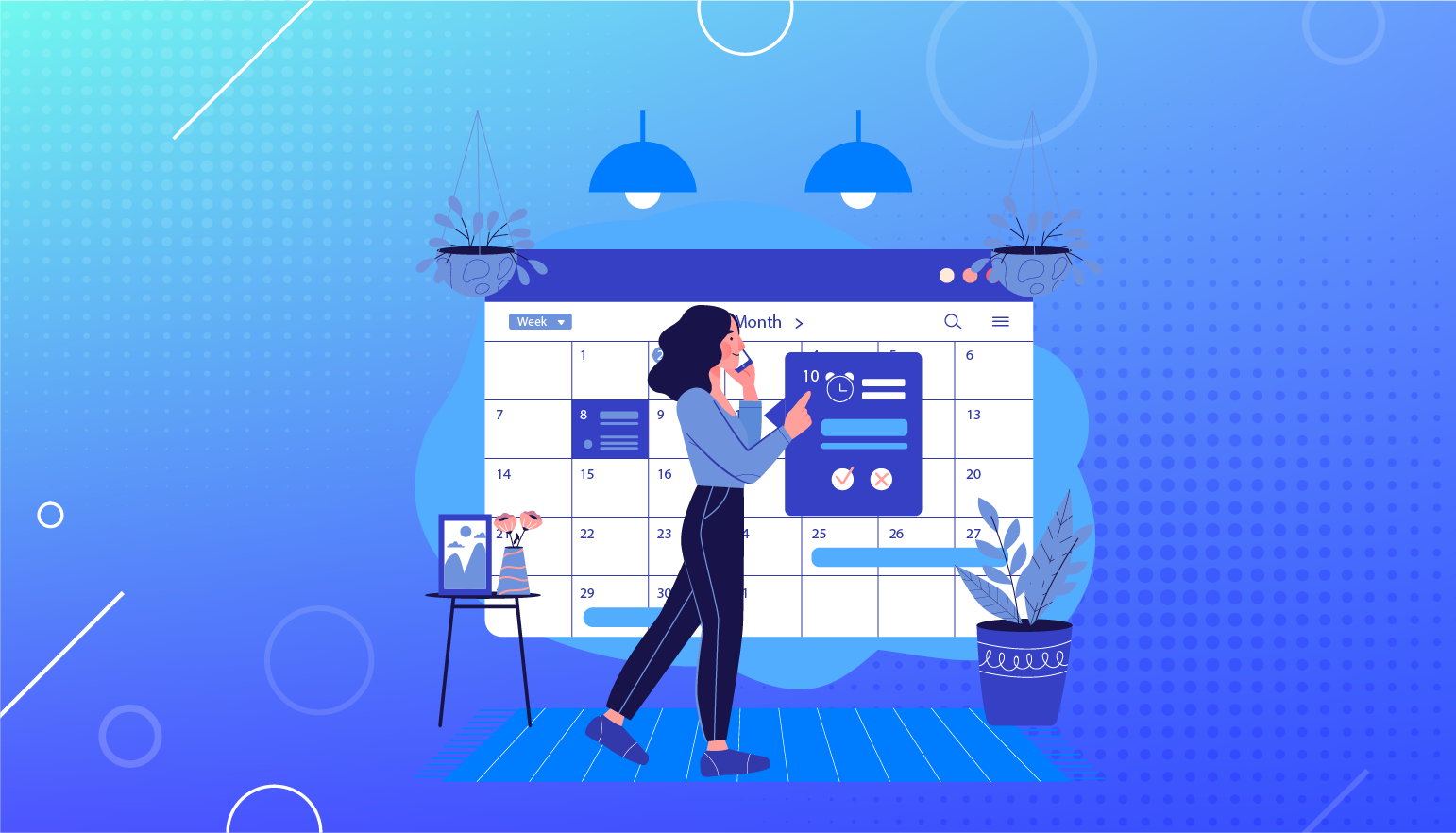 10 Types of AI Assistants(That You Need to Know)
There are several AI assistants today as they are continuously being integrated into everyday life and professional life. These assistants vary based on functions and manufacturers, but all have strong appointment scheduling system capabilities as online schedulers and appointment scheduling tools. Some of them are;
1. Schedule.cc
Some meeting scheduling software is more about keeping your calendar organized, ensuring you don't double-book or, worse, spread yourself too thin. Schedule.cc is on our list of top appointment scheduling software for 2021 because it's a simple and user-friendly way to give others a glimpse into your schedule. People can book an appointment with you using a personalized URL that connects to your Google or Office 365 calendar. It sends out automatic reminders before the appointment, which helps to reduce no-shows, making it a useful tool for sales and HR. It also allows for group scheduling, and these are some of the features that make it well suited as an appointment scheduling tool.
2. Cortana
Microsoft's virtual assistant, Cortana, is accessible on Microsoft platforms. She's available on Windows Phone, Windows 10, the Microsoft Band, Xbox, and Windows Mixed Reality (MR). This AI assistant program sends out reminders, answers queries, organizes calendars, automates activities, keeps track of notes, and provides hands-free help, making it a good appointment scheduling tool.
Cortana plans meetings, sends out invitations, reschedules appointments, identifies focus time, schedules across time zones, and can even add an online meeting.
Cortana can learn and manage complicated tasks via natural language processing. And can makes recommendations that are tailored to the individual. Cortana isn't only a Windows AI; it also has an API that can be used by other programs, which allows access to appointment scheduling tools.
3. Alexa
In 2014, Amazon Alexa, often known as Alexa, made its debut. She began by powering the Alexa-enabled Amazon Echo Dot speaker's ecosystem. Today, thousands of 'skills,' or pre-set functions, power user communication with this AI assistant tool. As a result, Alexa is the helpful roommate that remembers all of your key appointments and dates without stealing your ketchup.
Alexa provides features such as an online scheduler, music playback, voice interaction, podcast streaming, to-do list creation, and audiobook playback using natural language processing and speech inquiries. Alexa can assist you in avoiding traffic jams by recommending the quickest route to your workplace.
4. Bixby
Bixby is a Samsung-exclusive AI assistant for Android devices. It's a decent personal assistant that handles online searches and app downloads from Google Play. Bixby will assist your smart technology if you have Samsung proprietary hub products. Make appointments, send emails, and SMS using its voice command features. One of the most thrilling elements of this personal AI helper is Bixby Voice.
It can adapt to your speaking manner so that you may deliver orders in various ways, and Bixby will respond without fail. Bixby Home also has a tailored current activities reminder, as well as a social stream with all of your social media updates, reminders, and other pertinent information. Combining the functions and the voice control makes it a very good appointment scheduling system, scheduling software, and online scheduler.
5. Siri
Siri is the first voice assistant in the world and is still a force to be reckoned with in AI assistants. Apple's voice command features include the 'Raise to Speak' function, which automatically enables the iPhone's call feature. Siri can act as a scheduling software and has the ability to:
Make reservations
Save your notes to Evernote
Convert measurements for you
6. Lyra
Lyra is a personal assistant AI formerly known as Indigo until 2017 when it was given its current name. Lyra employs Material Design, which gives her an appealing appearance and feels for a simplified AI assistant tool.
Lyra can: - Set alarms - Tell jokes - Find directions - Manage your diary
Lyra performs great as scheduling software, appointment scheduling tool, and online scheduler in her ability to perform managerial functions. She operates on iOS and Android devices and has a unique cross-platform feature that allows her to converse with you on many devices. She's a talking, intelligent assistant that can translate over 70 languages and be created as Android's ecosystem's answer to Siri.
7. Hound
Hound is a voice assistant app powered by AI created by the SoundHound creators. It's available as an iOS or Android app, and you can use it to search for information using your natural voice. Hound is driven by Houndify's Speech-to-Meaning™ and Deep Meaning Understanding™ technologies, ensuring that users receive accurate responses to their questions.
Hound may be used to make hands-free phone calls, send messages, and search the internet for weather and news. This AI assistant tool works with several different apps. You may use it to order an Uber, buy a trip, travel to a location, or look for a hotel and also avoid booking conflicting events on the same day by connecting it to your calendar. The ability to sync it with your calendar facilitates it to perform scheduling software, online scheduler, and appointment scheduling tool.
8. Edison Assistant
Edison Assistant is a multi-purpose AI assistant with various automation features that will help you organize your chores and notifications. Edison includes over 43 automation whose capabilities allow you to combine all of your daily activities, actions, and reminders into a single app. It will also delete any duplicate or obsolete contacts and send you birthday reminders through Facebook. You can also use Edison to manage your email inbox, set up tailored notifications, and for online scheduling of events and as an appointment scheduling tool.
9. Calendar
Integrating with Apple, Google, and Outlook Calendars. This online meeting scheduling application offers more than just book appointments, as it includes a variety of sales and productivity capabilities. The Calendar makes use of artificial intelligence to automatically schedule meetings based on your and everyone else's availability, as well as transcriptions and analytics that show you where you spend the majority of your time, and this makes it excellent as an appointment boking app.
10. Google Assistant
In the 2000s, Google began developing mobile voice search technology, but it wasn't until 2011 that it made a breakthrough. Google Assistant was only a little microphone button at the time. This basic function has evolved into a powerful voice technology assistant over time. Google Assistant debuted in 2016 and is now a major participant in the field of sophisticated virtual assistants. Artificial intelligence (AI) technology has found its way into many household appliances, cellphones, automobiles, and headphones. Voice searches, instructions, device control, task aid, real-time translation, and much more are all possible with the natural language processing tool.
Using the OK Google command, you may make reservations and other appointments using Google Duplex, which is part of Google Assistant. This is a great appointment scheduling tool in performing the function of scheduling software. After you submit a request, the Google Duplex artificial intelligence (AI) program phones the business, such as a restaurant, and sets and confirms the request using a human-like voice. This online scheduler can also assist you to speed up the checkout procedure for your online orders.
Conclusion
Human personal assistants are becoming a luxury for the wealthy. Therefore digital assistants are here to stay. With their help, you may now automate your duties and better manage your time and act as appointment scheduling solution with ease. Although technology is still in its infancy, it has a lot to offer as it matures. Many businesses now employ these AI assistants majorly for the scheduling software functions they perform.
There are a plethora of AI-powered tools available. However, this list includes the finest of them. Choose your AI digital assistant from our list, and get automatic and unparalleled intelligent help.
Discover Why Schedule.cc Stands Out
#1
Scale your appointments using online scheduler, email signature and bots
#2
Embed calendar on website, blog, and emails to speed up appointment scheduling
#3
Engage over an HD audio, video calling and through built-in video conferencing tool, 500Conference
#4
Sync Google, Outlook, and iCal calendars & stay up-to-date
#5
Reduce no-shows with automated appointment reminders
#6
Integrate with AI chatbot, BotUp, on website and capture leads faster
#7
Automatically schedule appointments post successful payment confirmation
#8
Share schedule links in your Gmail using powerful extension
#9
Unbelievable pricing - the lowest you will ever find
#10
Everything your business needs - 50 apps, 24/5 support and 99.95% uptime
Join the SaaS Revolution
All-in-One Suite of 50 apps

Unbelievable pricing - $14.99/user

24/5 Chat, Phone and Email Support