Why Appointment Scheduling System is Essential for a Business?
Scheduling systems allow clients to view available appointments and book them right away.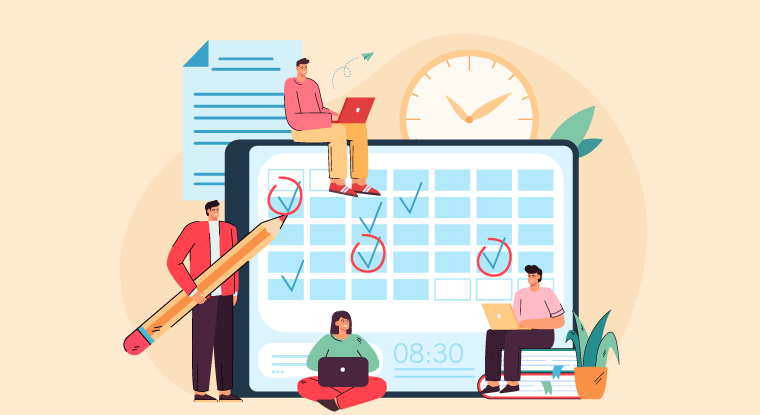 If your company relies on customer and client appointments, you must make them conveniently available. Using an appointment scheduling system is a terrific method to accomplish this. Scheduling systems let your clients see which appointments are available and book them immediately.
As a result, an appointment scheduling system is one of the most crucial business tools you should have on hand for your firm, regardless of what sector you cater to.
Brief On Appointment Scheduling System
An appointment scheduling system is a commercial tool that helps professionals and companies schedule and book appointments more efficiently. Often known as online booking software or appointment booking software, the software provides five major features as listed below:
Customer Scheduling: Provides a calendar of professionals in an organization to clients so they may arrange an appointment. Staff Scheduling: Allows company owners to keep track of their staff's calendars in real-time. Automatic Reminders: Allows you to automatically notify clients about forthcoming appointments through email or text message. Calendar Management: Allows you to make appointments/meetings on your calendar and share them with staff in real-time. Real-Time Automated Engine: After submitting an appointment request, you may quickly confirm or refuse it.
3 Reasons Why Appointment Scheduling System is Essential
1. Aids in Customer Acquisition and Retention
Appointment scheduling software makes it simple for users to arrange appointments. Clients can check your availability anytime and set appointments with just a few clicks. This significantly improves the user experience. Furthermore, users do not need to wait for normal business hours to arrange an appointment when using an appointment scheduling application. These benefits automatically guarantee increased retention and acquisition.
2. It Increases Revenue
With the scheduling work totally automated, your personnel are less likely to be disrupted and can focus on serving more clients, increasing daily income. Furthermore, because it is easier for your consumers to schedule appointments in the manner they want, they can be more inclined to buy your services and products, resulting in about 37 percent more sales and leads for your company.
3. It Boosts Staff Efficiency
During peak hours, service personnel is frequently swamped with several customer appointments. Double-booking appointments are nearly unavoidable without appointment scheduling software, resulting in dissatisfied clients and decreased productivity. However, an automated method makes scheduling and rescheduling smooth, with no double booking.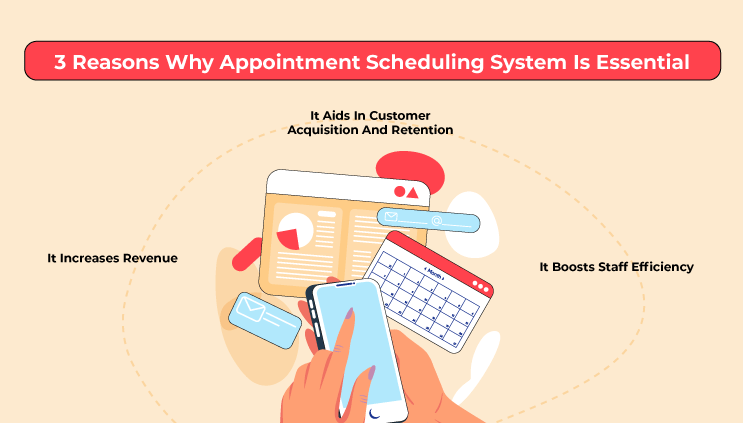 Advantages Of Appointment Scheduling Software
Here are four key benefits of an appointment scheduling app:
The most significant advantage of using an appointment scheduling system over traditional methods is that the 'conventional' method of booking appointments is extremely sluggish. Normally, a consumer or client must phone your company to schedule an appointment. This typically demands the contribution of more employees, which increases costs. In addition, making appointments the "traditional" way raises the possibility of miscommunications and mistakes during the process. Taking phone numbers and email addresses by hand is time-consuming, and if you make a mistake, your can not reach your customer if you need to modify or discuss the appointment. Appointment scheduling solutions help book appointments swiftly with negligible chances of error at a lower price.
Service that is Always Available
Clients frequently don't have time to schedule appointments during office hours in today's connected and busy world. In fact, research reveals that 35% of clients prefer organizing appointments during non-business hours, and 40% of internet bookings occur after work. These are substantial figures.
An appointment planner may provide your clients with 24/7 access to your appointment system at a considerably lesser cost than hiring a few extra employees to respond to inquiries after hours.
Defining and Expanding Your Customer Base
Few online appointment booking plugins feature functionality that stores the client's information as they interact with the company. This information is saved for long periods of time and acts as a repository of all the information on the client, like their preferences and behavior, which can be used for marketing purposes.
Customers must pre-pay for appointments using an online scheduling system, enhancing your income and relieving you of the burden of collecting payments when they arrive.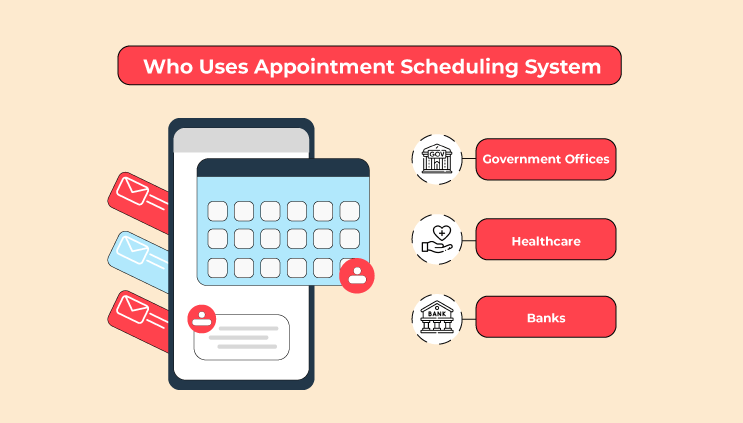 Uses Appointment Scheduling System
Here are three sectors or organizations that use an appointment scheduling system:
1. Government Offices
In the typical structure, appointments are established by phone calls and emails, which can consume a significant amount of time on both sides. By enabling its employees to book appointments manually, government departments waste resources. Given that government offices get hundreds of visits per day, it is worrisome to imagine how much time staff spends manually planning out the logistics of phone, text message, and email reservations.
Appointment scheduling app consolidate the booking process into a single, streamlined management solution, limiting the possibility of repeat bookings and allowing personnel to serve customers more effectively.
2. Healthcare
People are reluctant to make phone calls. Patients would rather use a website or an app to arrange an appointment than phone the office. This could be because they may be embarrassed to share their condition over the phone in some situations.
Increases customer satisfaction with convenient online booking Sign Up 14 Day Trial
As a result, prospective patients seeking a new doctor or specialist are more likely to be drawn to those that provide online scheduling.
In addition, healthcare practices that use online scheduling are substantially more likely to fill open appointment slots. This is a significant benefit for the practice, as vacant appointment spaces result in lost income.
3. Banks
Banks can increase client pleasure and experience through simple self-service scheduling that matches agent availability and expertise with desired service type.
Summing It Up
All in all, successful firms are those that make their customers happy. Online appointment scheduling software enable you to achieve a better rate of successful appointments, which leads to happy clients and more earnings for you.
As a result, appointment scheduling software are simply a must-have for any business that takes internet marketing seriously. You require the best appointment scheduling system to fulfill your needs. Therefore, we recommend getting Schedule.cc by 500apps.
Using Schedule.cc, you can easily increase the number of appointments generated by your website and emails. In addition, you can reduce no-shows by making appointment cancellations and rescheduling simple. This application can integrate with well-known systems such as CRMs, Gmail, Stripe payments, WordPress, etc. With the application's advanced AI system, ensuring customer satisfaction, retention and onboarding become a piece of cake.
Discover Why Schedule.cc Stands Out
#1
Scale your appointments using online scheduler, email signature and bots
#2
Embed calendar on website, blog, and emails to speed up appointment scheduling
#3
Engage over an HD audio, video calling and through built-in video conferencing tool, 500Conference
#4
Sync Google, Outlook, and iCal calendars & stay up-to-date
#5
Reduce no-shows with automated appointment reminders
#6
Integrate with AI chatbot, BotUp, on website and capture leads faster
#7
Automatically schedule appointments post successful payment confirmation
#8
Share schedule links in your Gmail using powerful extension
#9
Unbelievable pricing - the lowest you will ever find
#10
Everything your business needs - 50 apps, 24/5 support and 99.95% uptime
Join the SaaS Revolution
All-in-One Suite of 50 apps

Unbelievable pricing - $14.99/user

24/5 Chat, Phone and Email Support