Reasons why you Need Online Appointment Scheduling Software
Appointment scheduling software helps consumers schedule appointments so that they don't have to wait in long lines, and they can focus on their business.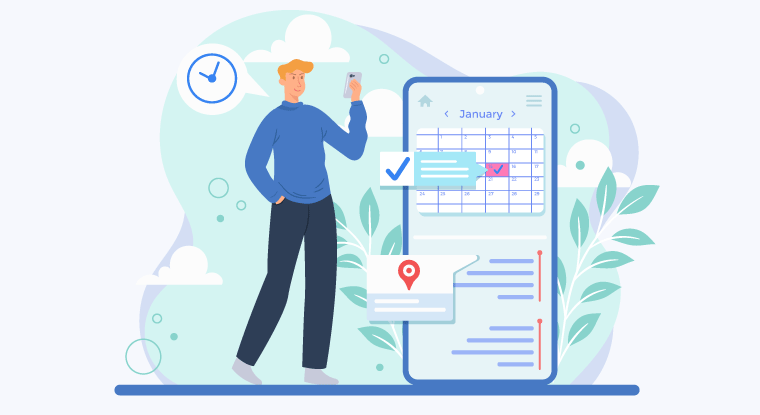 Online appointment scheduling software has caused a stir among the community, and it is easy to see why. For example, government offices have long been associated with long lines and delayed service. People sometimes have to free their entire day simply to get services, which can be aggravating.
Appointment scheduling app is the way to go to avoid these consumer grievances. While you focus on the key elements of your business, it sends out automatic notifications and reminders, which helps consumers schedule appointments, so they do not have to wait in long lines.
Brief of Online Appointment Scheduling Software
Appointment scheduling system are tools that help professionals and enterprises manage appointment booking more efficiently. This program is often called online appointment scheduling or booking software. Businesses can use this program to make appointments, send reminders, browse calendars, adjust schedules, print schedules, and enforce scheduling regulations. Other features of the application include notifications for online payment for services, bespoke profiles, and calendar connections.
This software is used by individuals in all fields, from salons and medical professionals to large enterprises.
10 Reasons why Businesses Need Online Appointment Scheduling Software
1. Error Elimination
A pen and paper appointment calendar can cause many human errors. For example, it just takes one employee to neglect recording one appointment for duplicate reservations to occur. Scheduling errors are inconvenient for clients and expensive to rectify for the company. These kinds of situations can be avoided by booking customer appointments online in real-time.
2. Increased Security
Prior to the introduction of online appointment systems, administrators kept track of appointments in a centralized database, which was not effectively safeguarded and exposed data to hackers with access to a company's network.
Appointment scheduling solutions are considerably more secure than self-managed systems since they leverage cloud storage. A virtual private network (VPN) provides you with an extra layer of security that masks your IP address and encrypts data, making it harder for hackers to find.
3. Simple and Convenient Scheduling Process
Given how busy people are, they tend not to schedule appointments during their work hours. Therefore, an appointment scheduling system is essential. The software is available 24 hours a day, seven days a week, allowing customers to schedule appointments anytime they want. Furthermore, scheduling software creates an appointment immediately, eliminating the need to wait for an email response or a callback. This is a big benefit for busy business owners as well because they don't need to spend time answering calls and manually scheduling appointments. Customers can select one of the meeting times and receive a booking confirmation email.
4. Gather Consumer Information to Foster Stronger Relationships
The aggregate data that businesses derive from a scheduling software enables them to gain deeper insights into their customers and consistently create great consumer experiences. Furthermore, employees can make extra remarks and track business outcomes after an appointment. Businesses also utilize this data to continually create and deepen client connections and allow you to tailor experiences and interact with your clients in novel ways.
5. Increase Sales and Expand Your Business
Customers are charged for late cancellations or no-shows. Therefore, your company doesn't lose money due to a lack of productivity. Furthermore, you may mix and match services or allow consumers to select their own. This increases the popularity of your brand and leads to a growth in your consumer base.
Keeps your business organized with centralization of all your appointments Sign Up 14 Day Trial
6. Boost Client Satisfaction
The ease with which your clients may schedule an appointment with you and how difficult or easy you make that procedure is a significant aspect in achieving consumer expectations. Hence, a user-friendly interface as well as the opportunity for customers to make appointments at their leisure results in improved customer satisfaction and, in turn, increased brand loyalty.
7. Self-Scheduling Will Eliminate Communication Errors
In case of cancellation, you have to contact the customer to inform them, which can lead to errors in case you forget. However, an online appointment scheduling software prevents this communication error. Before making a selection, customers may utilize the self-scheduling booking board to verify the availability of programs and plans. In addition, the appointment booking app sends consumers reminders and other notifications via email and text. Not only does this prevent double booking, but it also allows you to track down any missed appointments.
8. Multi-Channel Appointments
The contemporary client alternates between channels and gadgets on a regular basis. Therefore, staying competitive in the tech-driven business environment of today means having an appointment scheduler that works online and on mobile. If your appointment scheduling software works well on desktop and mobile screens, your customers can book an appointment, regardless of their device.
9. Save Time and Boot Productivity
Hiring the top personnel in the market won't help your company if they have to accept calls and schedule appointments. These are routine duties. They can even prohibit your greatest performers from demonstrating their abilities.
10. Centralized Information
Customer data storage is an important feature of online appointment scheduling software. Clients' data can be recorded, maintained, and analyzed in a centralized location created by the company. This reduces the quantity of documentation required and the time required to obtain tangible evidence. Furthermore, it provides easy access to vital market data to assist the organization in making daily and long-term strategic decisions.
Features of Online Appointment Scheduling Software
Calendar scheduler software allows you to sync an appointment with your calendar once it is set. This allows the appointment planner to search for other appointments, preventing repeated bookings for you or your team.
Employees can access one other's schedules via an appointment scheduling software to arrange team conference calls and meetings so that they do not clash with other activities. This encourages better group collaboration.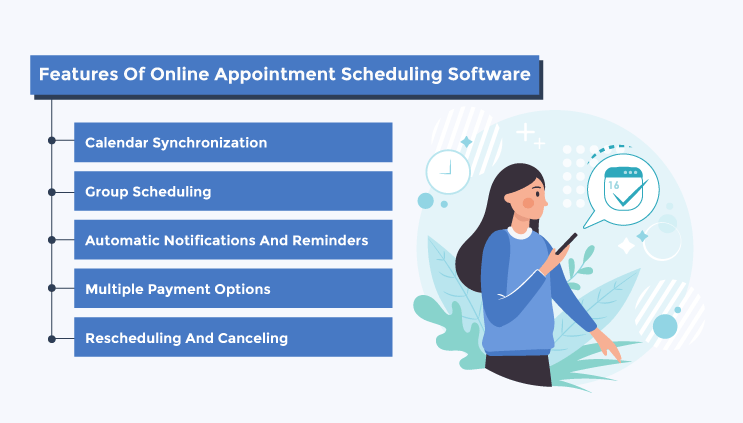 When a consumer sets an appointment, the scheduling software should automatically send an email confirmation. Ideally, it also sends SMS/email reminders. This service saves businesses time and decreases no-shows.
Suppose your company allows customers to pay for their appointments online. In that case, you should look into online appointment scheduling solutions with payment choices across several platforms like debit, credit card, and PayPal.
Rescheduling and Canceling
Through scheduling software, customers can cancel or reschedule appointments with ease. In fact, this process can be as simple as making them in the first place.
Benefits of Online Appointment Scheduling
Grow Your Brand Awareness
An online appointment scheduling system can be used in your marketing plan. You can inform your consumers about this on your social media, on your email lists, and in-person that they can now book an appointment easier than ever through simple meeting links. People seeking a service provider who provides an excellent customer experience can find you easily and become loyal clients as a result.
You can also utilize the data collected via your appointment scheduler to create advertisements to attract even more customers.
You can make informed decisions about strategy when you have the right data regarding your business. For example, if you know your busiest business hours, you can design employee schedules accordingly. When you're aware of your most popular services, you can offer them more often and market them better. Extracting the same insights from a manual booking system is possible but a challenging task that requires you to pour over several physical calendars and appointment books. However, appropriate software can help you streamline the process.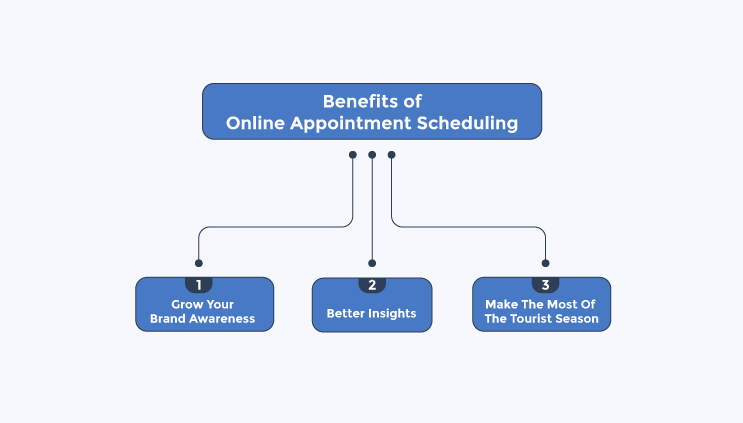 Make the Most of the Tourist Season
If you live in a place that is a tourist hotspot, you might want to expand your client pool to include them. Not all visitors speak the same language as you. They may be unable to make a reservation over the phone, especially if you have a bespoke pricing scheme. Hence, an online booking system is essential for your business. Seeing how this is an industry standard for so many countries, tourists can easily search for your company if they are interested in your services.
Summing It Up
Automating your scheduling process can increase your sales, free your employees' daily schedule, provide data, cut down on back-and-forth emails, etc. Therefore, when searching for the right tool, it is essential to ensure it has all the advanced features you need and is easy to use.
Schedule.cc by 500apps is one such software. It is an online appointment scheduling solution that provides your business with the most sophisticated scheduling features. It integrates cutting-edge technologies and offers high-quality services to meet all of your scheduling requirements. Using an AI-powered appointment scheduling software, you may customize the customer's booking experience and delivery confirmation through email. It also automates the company's scheduling system by establishing the company's availability, creating buffers between appointments, exchanging calendar links, and planning meetings, thus streamlining your company's online appointment scheduling process.
Discover Why Schedule.cc Stands Out
#1
Scale your appointments using online scheduler, email signature and bots
#2
Embed calendar on website, blog, and emails to speed up appointment scheduling
#3
Engage over an HD audio, video calling and through built-in video conferencing tool, 500Conference
#4
Sync Google, Outlook, and iCal calendars & stay up-to-date
#5
Reduce no-shows with automated appointment reminders
#6
Integrate with AI chatbot, BotUp, on website and capture leads faster
#7
Automatically schedule appointments post successful payment confirmation
#8
Share schedule links in your Gmail using powerful extension
#9
Unbelievable pricing - the lowest you will ever find
#10
Everything your business needs - 50 apps, 24/5 support and 99.95% uptime