8 Best Strategies to Use Online Scheduling to Manage Meetings
In this blog, we will discuss strategies to use online scheduling to manage meetings. We would also be discussing the definition of these online scheduling tools and the advantages of using them.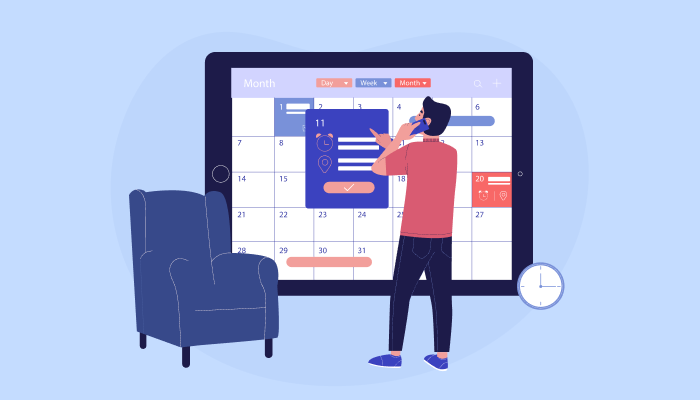 In today's fast-paced world, managing meetings is essential for effective communication and teamwork. With people's busy schedules, it is not always easy to find a suitable time for everyone to meet. Online scheduling tools have emerged as a boon for professionals and businesses looking to simplify their meeting management process. Let's look at its definition and examples.
Online Scheduling App: Definition and Examples
An online scheduling app is a tool or an application that helps you in scheduling your appointments and managing them. They are crucial in automating certain scheduling processes for your employees such as schedule management, communication between your employee and the client, and tracking of time. There are various scheduling tools available in the market, for example Schedule.cc, Calendly, Doodle, Google Calendar, and more. Some tools are free, while others require a subscription fee.
Now let's move on to the strategies to use these online scheduling tools.
Best Strategies to Use Online Scheduling
Adhere to the following strategies to ensure optimal online scheduling:
1. Choose the Right Online Scheduling Tool
Choosing the right online scheduling tool is the first and most important step in managing meetings with great efficiency. There are a lot of scheduling tools available in the market, such as Schedule.cc. This appointment scheduling software is an extremely powerful app with a load of features like buffer time, custom fields, multi-channel support, management of your calendar and many others. It syncs all of your calendars and can be integrated with a lot of apps. You can also share the links for scheduling your appointments with gmail with a great extension. It is a part of the 500apps ecosystem which means you get all of their 50 apps at just $14.99 per month.
Get started with the leading Online Scheduling Tool today! Sign Up 14 Day Trial
2. Create a Standard Process for Scheduling Meetings
Creating a standard process for scheduling meetings can help in streamlining the process and avoid any confusion. The process should include guidelines for setting up meetings, selecting the appropriate scheduling tool, inviting the attendees, and setting reminders. This process should be documented and shared with all team members to ensure consistency and efficiency.
3. Set Clear Objectives and Agendas for Each Meeting
Setting clear objectives and agendas for each meeting can help attendees prepare beforehand and ensure that the meeting stays on track. When sending invitations to attendees, include the meeting's objectives and agenda in the email. This will help attendees understand the purpose of the meeting and prepare accordingly. During the meeting, it is essential to stick to the agenda and avoid going off topic. This will help ensure that the meeting stays focused and productive. If necessary, allocate a specific amount of time for each agenda item to ensure that all topics are covered within the given time frame.
4. Use Automated Reminders
Using automated reminders can help reduce the likelihood of attendees forgetting about the meeting. Most scheduling tools offer automated reminder features that send reminders to attendees a day or two before the meeting. This will help ensure that attendees are well prepared and attend the meeting on time.
5. Use Time Zone Conversion Tools
When scheduling meetings with attendees from different parts of the world, it is essential to use time zone conversion tools. Most online scheduling tools offer this feature, allowing users to set the meeting time in their local time zone and convert it to the attendees' time zone automatically. This will help avoid confusion and ensure that all attendees attend the meeting at the same time.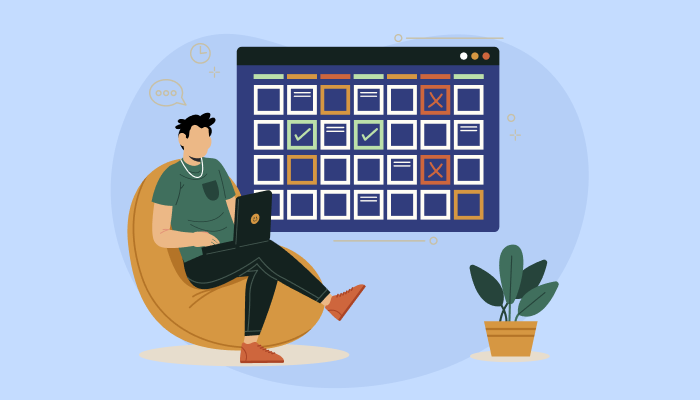 6. Use Meeting Templates
Using meeting templates can help save time and ensure consistency across meetings. Most online scheduling apps offer meeting templates that users can customize to suit their specific needs. This can include setting up the meeting duration, objectives, agenda, and attendees. Using templates can help avoid the need to create a new meeting from scratch each time, saving time and ensuring consistency across meetings.
7. Share Meeting Notes and Action Items
Sharing meeting notes and action items with attendees after the meeting can help ensure that everyone is on the same page and understands what needs to be done. The meeting notes should include a summary of the meeting's key points, decisions made, and action items. Action items should be assigned to specific individuals, with deadlines for completion. Sharing meeting notes and action items can be done via email or a shared document, such as Google Docs. This will help ensure that everyone has access to the same information and can refer to it when needed.
8. Consider Different Meeting Formats
Online scheduling tools can also support different meeting formats, such as one on one meetings, team meetings, and client meetings. It is important to choose the right format for the meeting based on its purpose and the attendees involved. For example, a team meeting may require a longer duration and a more detailed agenda, while a client meeting may need a more formal approach and a specific focus on business outcomes.
So now that we have understood these strategies, let's move on to the advantages of using online scheduling.
Advantages of Using Online Scheduling
There are a lot of benefits of scheduling appointments online. Let's go through some of them.
It gives you access to features like calendar scheduling, which are extremely helpful in making the job of both your clients and your employees extremely easy. The features they offer are built on the philosophy of empowering the clients and the employees and thus consequently your business too.
It plays a great and a pivotal role in providing a seamless and smooth experience to your customers.
It lets businesses take appointments from a lot of different channels like social media and emails.
It creates the scope for growth seamlessly. Many organizations and businesses have seen a growth in their revenue and their conversions owing to infalliable online scheduling.
It is also known to increase the satisfaction and the loyalty a customer has towards your business.
It casts a positive effect on the efficiency in the working of an organization.
It creates a repository of returning customers, thereby increasing profits.
It goes the extra mile so that the efficiency of the workflows increase and provide new and innovative features for the same.
It increases the productivity of your employees and is helpful in reducing or totally eliminating no shows and canceling of appointments.
It helps businesses to standup to their customers' expectations.
Final Thoughts
Managing meetings can be a challenging task, especially when attendees have busy schedules and are located in different parts of the world. However, with the right online scheduling tools and strategies, managing meetings can be streamlined and made efficient. By choosing the right scheduling tool, creating a standard process, setting clear objectives and agendas, using automated reminders, using time zone conversion tools, using meeting templates, sharing meeting notes and action items, and considering different meeting formats, businesses and professionals can manage meetings effectively and ensure productivity and success.
Discover Why Schedule.cc Stands Out
#1
Scale your appointments using online scheduler, email signature and bots
#2
Embed calendar on website, blog, and emails to speed up appointment scheduling
#3
Engage over an HD audio, video calling and through built-in video conferencing tool, 500Conference
#4
Sync Google, Outlook, and iCal calendars & stay up-to-date
#5
Reduce no-shows with automated appointment reminders
#6
Integrate with AI chatbot, BotUp, on website and capture leads faster
#7
Automatically schedule appointments post successful payment confirmation
#8
Share schedule links in your Gmail using powerful extension
#9
Unbelievable pricing - the lowest you will ever find
#10
Everything your business needs - 50 apps, 24/5 support and 99.95% uptime
Join the SaaS Revolution
All-in-One Suite of 50 apps

Unbelievable pricing - $14.99/user

24/5 Chat, Phone and Email Support