12 Ways Covid-19 Changed Online Scheduling Software Industry
A helpful article on the benefits of online scheduling and how covid-19 changed the online scheduling software industries.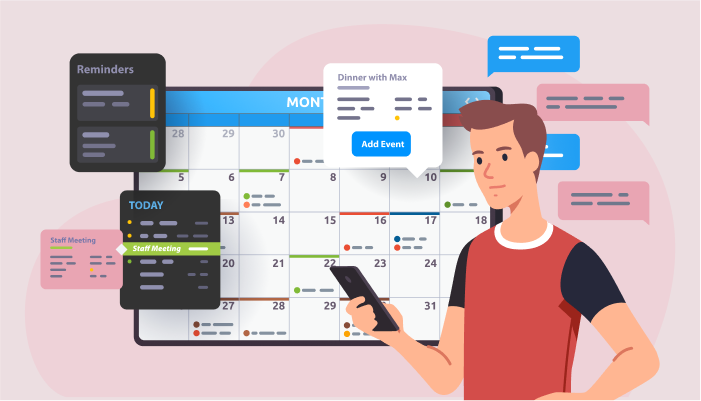 Many companies rely on appointments and bookings to bring in clients and income. However, in today's technologically advanced world, you can't rely on phone calls to schedule appointments, meetings, or consultations. Therefore, companies must harness the power of technology in order to flourish and compete with others in the market. This is even more important during the prevailing pandemic situation as most employees are working from home, without access to company phones.
One of the most important technological tools entails organizing appointments and managing business calendars using online booking and scheduling software. These tools provide several advantages, some of which are listed below.
What Is an Online Scheduling Tool?
Online scheduling software is a computer program or application that is cloud-based and automates various employee scheduling tasks such as work schedule management, employee communication, and time tracking.
This essential feature enables managers to design a work plan for a specific time (weekly, bimonthly, monthly, etc.) that includes work hours, shifts, and jobs for each of their employees, all from a remote location. Employees may then use a web browser or their mobile phones or laptops to obtain the most recent version of their schedule.
Importance of Online Scheduling Tool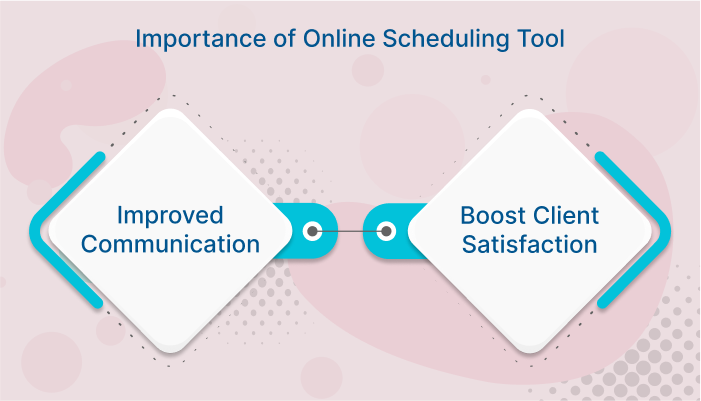 Improved Communication Text messages, phone conversations, emails, and Facebook messages are no longer acceptable methods of communicating with remote employees. Communication now takes place entirely in a professional atmosphere on an online scheduling tool.

Boost Client Satisfaction Customers may quickly reach you and your services thanks to real-time online scheduling. It is an excellent approach, especially in the healthcare industry, to provide quality service while also giving clients control over their appointments. They may search for and make appointments at their leisure, resulting in improved customer satisfaction and less crowd in clinics, thus protecting people from the spread of COVID 19.
12 Ways COVID-19 Changed the Online Scheduling
COVID 19 and the resulting work-from-home culture made it clear how important online or cloud-based software is. Tools like appointment booking software are becoming more robust, and companies in all sectors have begun integrating the software into their business processes. We will discuss the many ways the online scheduling tool improved during the pandemic.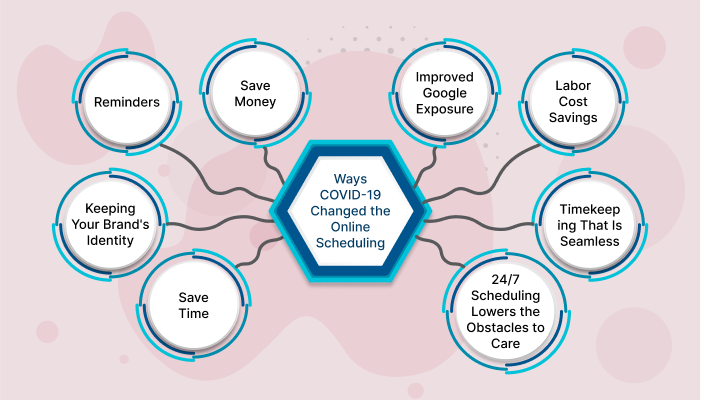 1. Save Money
The online scheduling mechanism helps save administrative costs. It can manage all parts of the booking process, allowing you and your team to focus on more productive tasks. This was important during the pandemic as revenue was down, and companies had to do what they could to save money.
2. 24/7 Scheduling Lowers the Obstacles to Care
24/7 scheduling assists healthcare providers in overcoming several new and existing consumer difficulties in the aftermath of the epidemic. Online scheduling systems provide a more flexible option to book and cancel appointments and engage with their physician. Long waits in crowded hospitals for available appointments become less of an issue. Thus, the patients are safe from the spread of the disease.
3. Reminders
With automated patient outreach, clinicians may streamline the process by sending text or email reminders to particular groups of patients to ensure they receive the care they require. This also helps prevent patients from arriving for their appointments late, which in turn reduces long waits in hospitals.
4. Call Center Bottlenecks Are Alleviated via Digital Self-Scheduling
Allowing patients to arrange their own appointments online reduces the pressure on contact center workers. Managing an inflow of patients trying to book COVID-19 testing and immunizations while setting up personnel to operate remotely produced multiple pain points during the epidemic. First come, first served scheduling choices cause call volume bottlenecks, and when patients are unable to cancel appointments they can no longer attend, those slots go unused, wasting physician time.
24/7 self-scheduling can alleviate bottlenecks by alleviating strain on contact center workers because agents will have integrated access to heterogeneous electronic health data and project management systems. Therefore, customers can handle the booking and cancel by themselves.
5. During Patient Scheduling, Create Screening Questions
The patient is prompted to answer a few brief questions regarding their symptoms as soon as they log on to arrange an appointment. A screening questionnaire can help prioritize persons who wish to be tested, while the responses advise clinicians about the possibility of a patient having COVID-19 and whether or not that person has to be quarantined. Based on the information supplied, the system may route patients to the appropriate channel of care after they have been screened.
Providers may also designate certain days and times for patients to receive flu vaccines, making it simple for patients to arrange their own appointments, further reducing risk.
6. Offer a User-Friendly, Straightforward Consumer Interface
Online scheduling tool has become more user-friendly as not only employees but even customers with no in-depth knowledge of your company may access your scheduling system.
7. Integrate With Your Current Business Software
Scheduling software can now be integrated with other tools so that they can be used from personal systems while working remotely. This includes connecting with your preferred online calendars, your payment processor, and your staff scheduler. You may also consider integrating your scheduling tool with your customer relationship management (CRM) solution so that booking information may be utilized for marketing purposes.
8. Keeping Your Brand's Identity
Recent innovations in event scheduler allow companies to customize their tools so that they can maintain their company brand identity. This is essential as you may not be able to book appointments or schedule meetings with clients over phone calls anymore. Now, sceduling software can reflect the brand's website design, fonts, and other elements, enabling your customers to easily identify the platform.
9. Creating a Self-Scheduling Environment That Is Future-Ready
Implemented during the epidemic, digital self-scheduling technologies should become a permanent element of patient access. Providers that want to provide an appealing patient experience should go beyond merely arranging appointments through digital self-scheduling. For example, to simplify referrals, many specialty services can be incorporated into the scheduling system. Digital payment and coverage features can also be coupled to scheduling platforms to provide a unified end-to-end digital patient experience.
10. Online Patient Scheduling Aids in Filling Appointment Gaps
Successful independent medical offices maintain a full calendar by increasing appointment volume. Unfortunately, no-shows and last-minute cancellations render such appointments ineffective, resulting in wasted income and stifling practice growth. Fortunately, if your clinic offers online scheduling, patients seeking a time-sensitive appointment may quickly check your firm's current availability, frequently picking appointment spaces that might otherwise be unfilled or lost due to a no-show.
11. Save Time
Front desk personnel at clinics that do not offer online scheduling are executing an impossible balancing act. The burden is excessive between making appointments, answering incoming phone calls and queries, and satisfying the requirements of patients during their visits. With countless patients visiting clinics for COVID tests and treatment, there is a large burden on front desk employees. Appointment scheduling app can fulfill patients' convenience preferences while also saving up front desk staff time.
12. Steer Patients to Appropriate Virtual Services
During the present epidemic, virtual treatment has shown to be both essential and helpful. It has kept patients in constant contact with physicians and specialists, frequently directing patients to the available right specialist depending on their list of symptoms.
Benefits of Online Scheduling in Business
1. Improved Google Exposure
Online scheduling allows you to capitalize on local search traffic. It optimizes your business for Google "near me" searches, allowing customers to look for businesses nearby that can arrange online appointments. In fact, customers may arrange an appointment without leaving the Google search page if your appointment booking software is part of the Reserve with Google program.
2. Labor Cost Savings
Scheduling software allows you to produce a variety of reports to track labor expenditures, absenteeism, and other important data. This allows you to immediately see how your schedules affect labor expenditures, which is especially crucial to keep track of in businesses with thin profit margins.
3. Timekeeping That Is Seamless
Many employee scheduling software packages include a punch clock mechanism that allows you to track your employees' working hours. During work from home, most employees do not work the standard 9 to 5. Thus, a punch clock system that is linked to the scheduling software will make it easy to track how long an employee works at home.
Top 3 Tools for Scheduling Online Meetings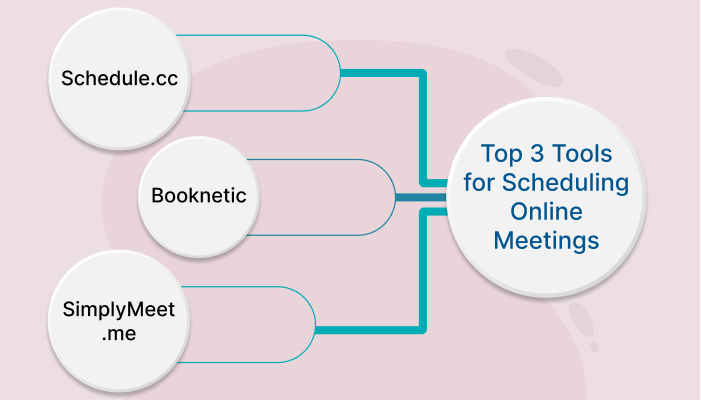 " class="w-100 img-fluid rounded">
1. Schedule.cc
Schedule.cc by 500apps, an appointment scheduling software allows you to choose the event time and invitee restriction for organizing solo or group activities by simply clicking on one link. Furthermore, you may never miss an appointment again by synchronizing your calendar with third-party applications and providing them access to it with only a few clicks. Schedule.cc also integrates with any other third-party application your organization uses.
Increases customer satisfaction with convenient online booking Sign Up 14 Day Trial
2. Booknetic
Booknetic is simple to use and assists you in staying organized. You may build a booking form that includes all of the necessary information, such as the meeting's date, time, venue, and duration. You may also provide meeting information such as the agenda and attendance. Booknetic automatically sends reminders to attendees to ensure they do not miss the meeting.
3. SimplyMeet.me
SimplyMeet. me enables users to quickly link their personal and business calendars and organize one-on-one and team meetings. It integrates with a variety of external calendars and is compatible with CalDAV calendars. Furthermore, the amount of video conferencing systems that smoothly interact with the meeting planner makes it a great contender for remote sales consultations and collaborations.
Summing It Up
Your online scheduling system will not only improve the efficiency of remote work but also help keep you and your clients on the same page at all times. Your calendars will be synchronized, and clients will be reminded to be on time for their appointments. With every minute of your workday planned out, you will have time to focus on numerous overlooked but critical business activities.
All in all, an online scheduling tool can help you become more streamlined and deliver exceptional experiences remotely.
Discover Why Schedule.cc Stands Out
#1
Scale your appointments using online scheduler, email signature and bots
#2
Embed calendar on website, blog, and emails to speed up appointment scheduling
#3
Engage over an HD audio, video calling and through built-in video conferencing tool, 500Conference
#4
Sync Google, Outlook, and iCal calendars & stay up-to-date
#5
Reduce no-shows with automated appointment reminders
#6
Integrate with AI chatbot, BotUp, on website and capture leads faster
#7
Automatically schedule appointments post successful payment confirmation
#8
Share schedule links in your Gmail using powerful extension
#9
Unbelievable pricing - the lowest you will ever find
#10
Everything your business needs - 50 apps, 24/5 support and 99.95% uptime
Join the SaaS Revolution
All-in-One Suite of 50 apps

Unbelievable pricing - $14.99/user

24/5 Chat, Phone and Email Support