Why do you Need Appointment Scheduling Software?
Learn why businesses need appointment scheduling software to accelerate business growth
Appointment Scheduling Software - An Overview
The consolidation of any business lies in Time management. Most business organizations spend time planning and scheduling their events. If any startup becomes disoriented in a few years of commencing is because of ineffective time management. 90% of the success rate in any business solely relies on planning their meetings, scheduling their days, and going organized.
Most of the individuals aren't experts in managing their time. This in turn creates an adverse effect on revenue and growth. These two aspects are frontline driving forces for any business to get on. Indeed, handling clients and meeting their expectations is another challenge that decides the fate of organizations. So, to knock in the right opportunities and lock-in effective time management, all you need is an Appointment Scheduling Software.
An appointments scheduling software is an embodiment of Artificial Intelligence and Voice assistant-driven software that serves the purpose of organizing your hours and days. An enterprise solution to handle every clock tick for you. As quoted by William Penn, a famous English Writer - "Time is what we want most but what we use worst". So, to determine the pacing hours, all you need is Scheduling because most of the things happen if you have a scheduled calendar with you.
Perceiving the importance of time management and scheduling, organizations have started to integrate appointment scheduling software. Replacing the need of manual diaries and date highlighting markers, appointment scheduling app are today's most preferred choice by the titans of the industry. Let's deconstruct why every business needs scheduling and understand the value of it.
Need of an Appointment Scheduling System
You've more time than you think. Most of the business organizations spend restless hours and end up staying busy being busy. The need for Appointment scheduling system makes it easier and simpler by adding advantages to your business hours. Be it a meeting with a client or an event taking place at your office - create a reminder prior to the date using scheduling software.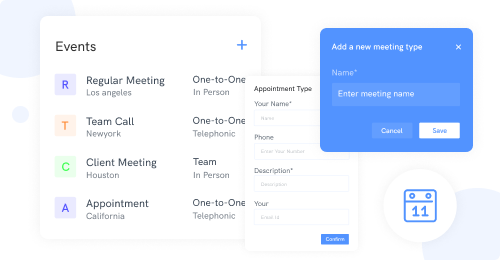 This way you can ensure that you attend the meetings on time, pre planning allows your mind to stay focused, and avoid last-minute cancellations. Here are the aspects that might help you with your own scheduling software.
1. Accelerate Business Growth
Incline to the voice of customers; that's where business growth lies. The prospects of your business and customer expectations drift rapidly. The artificial intelligence integration to the scheduling systems favors you and your customers to connect from any location at any time. Schedule on calendars and send or receive reminders and responses to know their changing expectations on your solutions. This is the way that you can create to optimize your business solutions as per customer needs thereby advancing your business.
2. Fast & Personalized Connection with People
Most of the buyers, almost 94% show an enthusiasm to buy a solution from you based on the live interaction they make with you. And 75% of the individuals frustrate by having inactive conversations or receiving odd responses from the business. Whereas scheduling tools have made it easier to get a personal touch with people through any channel. Whoever the potential customers or target audience are, an interaction from your end could lead to high conversion rates. Scheduling meetings or calls through AI-assisted Scheduling software excites your customers to pick up a solution that you're offering.
3. Optimized Conversions
The sales teams always had the challenge of waiting for the customers for a longer time. This was a hard play for them and a frustrating choice for your business enthusiasts. It is reported that 60% of the sales go wasted because of long queue customer waiting and response time. Plan the calls managing your time and reach everyone by answering their queries. This is the advantageous and benefitting approach to boost sales and increase conversion rates.
Accelerate your business growth with appointment scheduling system Sign Up 14-day Trial
4. Establish Strong Client Relationships
A client who is at your desk right now is a valuable client. Read it again, because most of the businesses fail in managing their clients by ignoring them. In search of an average client, you might lose a potential client. So, to build stronger relationships with your clients, have a meet either online or offline. Forget once and your value consistently drops. Mark the days of the meeting on your online calendar. You'll receive notifications via email or phone to officially have a meet and decide on what exactly your client needs. As the most crucial aspect must be met, scheduling software must be integrated.
5. Planned Meetings & Events
Run your meetings and schedule your events on time. You can also record the responses of your mates through an online scheduling system. Be it an appointment or a massive event taking place within an organization – plan them prior so that no one creates a scene of missing it.
6. Organized Way of Doing Business
If you look at any Fortune-500 business, they run their days organized. So, if you want to become one, organize the way of doing your business through effective appointment scheduling software.
Accurately, you have known the absolute need for a scheduling software tool. Stick with your core values and never miss the opportunity to grow because the same opportunity never strikes twice. You have the opportunity to choose an amazing appointment scheduling software while we have an expert solution to meet your needs.