The millennial generation is all about touch. As smartphones these days can literally do whatever they want them to, people have started preferring button clicks and taps over conventional calls and meets.
According to recent statistics, 2019 was apparently the first year where it was found that consumers in the US spent more time on their mobile phones than on watching TV.
This proves how increasingly engrossed on their smartphones the current generation is. Thanks to the pandemic this year, meeting people was completely taken out of the picture as well. Hence, post lockdown, people today prefer less talking and meeting. Convenience has found new meaning where, the more people get what they want at their fingertips, the more they seek the same.
That's just how the current generation is. They have a lot to do and they are busy with their work, and they like products and services to be available on touch, on the go.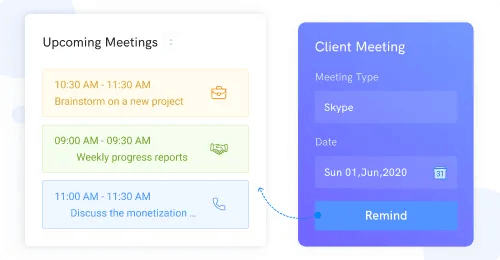 That is exactly why companies need to make it easier for their clients to book appointments with them and get in touch with them, at the click of a button. In order to capture clients on the go, companies also need to be available for them 24 hours a day, 7 days a week on their smartphones as well.
This is where an automated appointment scheduling system can help.
Increasing client appointments is the way to go in order to increase conversions
In marketing, more so in the B2B industry, it is very important to establish a close and personal relationship with the client to excel in service. And for that, one on one client meetings and virtual appointments are vital, because they act as windows for you to implement your marketing strategies fully and effectively. It is through these meetings that you can establish yourself as the trustworthy and reliable service provider that you are and effectively lead your prospect into conversions.
Hence it is inevitable for businesses like yours to deploy an automated appointment scheduling system, where clients can directly get in touch with you and schedule meetings with you, without going through any redundant tasks or irrelevant admin staff, so that you can close the deal.
Schedule.cc is one such efficient appointment scheduling software that offers useful features like 24-hour scheduling assistance and automatic time zone detection that ensures that you don't miss a single opportunity to make a sale. It also comes with email alerts and pre-designed templates using which your clients can book appointments directly via email.
Automated appointment scheduling systems like these have immensely helped small businesses increase their revenue. According to a recent study, small businesses that made use of local SEO strategies were able to gain a 37% increase in revenue by adding an automated appointment scheduling system to their website meant to convert traffic.
What is an Appointment Scheduling System?
An Appointment scheduling system is an automated mechanism by which clients and customers can directly schedule appointments with your team through an online portal, which can be in the form of an app or a website.
These systems typically have features to link emails and manage calendars that make it easy for your clients to see available time slots, and at the same time help you manage client meetings in a more effective way.
Schedule.cc, for example, comes with calendar management capabilities along with an AI-based assistant that allows you to send direct links to meetings for clients to click into. The assistant also links the event to the client's calendar and sends a reminder a day prior to the appointment and confirms their availability. This primarily helps in reducing no-shows.
Similarly, appointment scheduling solutions come with a number of useful features that help schedule and confirm appointments with clients and make sure that it is executed. This organized way of handling appointments alone plays an important role in getting people to convert.
Here are 10 more ways in which appointment scheduling helps business owners increase conversions.
A more straightforward and quick marketing funnel for the modern client
As mentioned earlier, the modern client does not have the time or the patience to sit through a waiting queue to be able to book a meeting with a company. The National Council says that the avg relevant team spends only 12.5 mins on the phone with the client and that this is one of the primary reasons for a 40% no-show rate.
Having an automated appointment scheduling solution linked to your website will allow you to provide a more straightforward and quick Call to Action for your clients to take advantage. People will be more inclined to book meetings with you if they know it is available at the click of a button. In the same way, you can integrate bookings through email and SMS as well, where your clients will have direct links to schedule appointments.
Eliminate the hassle of manual work with automation Sign Up 14-day Trial
This entire automated process eliminates the need for your sales team reps to follow up with clients every two days, to check on their availability, or to see where they are in terms of their purchase decision. In some cases, such repetitive follow-ups can irritate clients and even reduce the chances of sustained business.
More importantly, a booked appointment CTA induces customers to click and take action themselves, thereby improving chances for conversion.
Schedule.cc provides email, SMS, Google Meet, and calendar integration features that allow clients to easily book virtual meetings through email or SMS as well, on top of the website. It effectively makes it possible for your clients to get in touch with you and schedule a confirmed meeting with you, wherever they are, and whatever device they are using.
Less resources spent on admin work
Automating the appointment scheduling process allows companies to spend fewer resources on admin jobs like taking customer inquiry calls, collecting data, entering the data into the database etc. It effectively provides a more cost-effective way to manage clients and relieves more resources to be used on improving the core product or service. It also removes the need for admin staff, on the whole, freeing up more resources to be employed on product development or service.
Schedule.cc features an AI-based 24-hour booking system, where clients can schedule an appointment with you at any time they feel convenient, whether or not it is during business hours. It automates the process of customer booking, time slot selection, and data collection, thereby incorporating all of the admin work into a single button. Moreover, it also sends alerts through email and SMS to confirm meetings automatically – a job otherwise done by admin personnel.
Makes clients feel more valued and empowered
A direct appointment scheduling button induces the psychological effect of empowerment in clients, as they feel more valued and important. By leaving the meeting scheduling initiative in their hands they feel more in control of the meeting, as they can set it up at a time they are comfortable with. This immensely reduces no-show rates and last minute cancellations, which in turn facilitates productive and effective meetings, leading to more conversions.
Improves chances to get personal and establish deeper relationships
One-on-one meetings or virtual meetings on Google meet etc. increase the opportunities for you to make use of the gift of the gab – that is, your ability to talk to your clients and convince them that they need your product. It gives you the chance to get personal with your clients, establish trust, and implement your personalized marketing strategies. And there is nothing more important in business than to make personal connections with clients.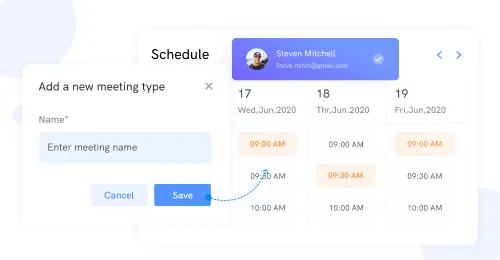 An Appointment scheduling system helps easily plan and schedule such meetings and increases your window for personal marketing efforts. In effect, it strengthens the core of any business – personal relations.
"Relationships are the only thing that matters in business and in life." - Jerry Weintraub
Round the clock availability for clients in different zones and conveniences
Studies have shown that a good margin of appointment scheduling happens outside of office hours. A manual appointment scheduling system will make you lose all of this business.
An automated scheduling system on the other hand comes with 24 hour assistance, which facilitates booking round the clock. This allows clients to get in touch with you with an assured response of being able to talk to you, as and when they feel convenient. This makes sure that you never miss a prospective client and improves your chances for conversion.
Schedule.cc AI-based 24-hour assistance features and time zone detection features ensure that any client from anywhere in the world can get to book a meeting with you whenever they want.
Competitive advantage
Statistics suggest that only 23% of local businesses have an automated appointment scheduling system in place. Considering the fact that a majority of customers these days prefer booking an appointment online, rather than over the phone, there is a major gap in the industry that businesses can leverage with the help of an appointment scheduling system. It will give you the competitive edge over all your counterparts in capturing leads generated online, and in turn improve your chances to convert them into sales.
Generation of more marketing qualified leads open for lead nurturing
Once an appointment is booked online, it opens a chance for lead nurturing. It gives you more opportunities to strengthen your relationship with the client and gradually bring them to the point of purchase. In other words, marketing qualified leads can be converted into sales qualified leads easily. All they need is a push and you can do that with your personalized marketing efforts. An appointment scheduling system enables you to do this in an effective way.
Analytics to improve marketing approaches
Appointment scheduling systems come with a load of analytical features that help gauge your marketing efforts. They allow you to see how effective your appointment features are and make improvements wherever needed to improve conversions.
Schedule.cc features an AI assistant that not only provides insights on how your appointment scheduling system is working but is also smart enough to detect related words in client emails. It automatically identifies clients that want to speak with you or are likely to book a meeting with you through email, and books meetings and conference rooms based on the client's responses.
Properly planned meetings and business hours to increase credibility
Automated Appointment scheduling software help make your client relationships more organized and streamlined. Systems like Schedule.cc allow you to properly plan your meetings around your other activities and your business hours. Since it is connected with your calendar, it clearly identifies your available slots and books meetings without overlaps. It also allows you to take systematic intervals in between.
AI-powered Scheduler for automating the scheduling process Sign Up FREE for 10 users
A well-organized meeting system improves credibility in the eyes of the client. It makes clients feel that the company is reliable and professional which induces the psychological effect of satisfaction and in turn conversion.
Reminders to prevent no-shows and ensure availability
An automated scheduling system features reminders and alerts that effectively confirm meetings and prevent cancellations or no-shows resulting from forgetfulness. This helps ensure that your efforts are not wasted and that you indeed get a chance to establish trust.
Schedule.cc features an alert system that helps remind clients about meetings through a multi-channel approach, which reduces forgetfulness on the part of clients and no-shows.
Bottom Line
Clearly, an appointment scheduling software is essential in today's business. It helps you streamline the entire process of lead generation and sales, by carefully following up with leads, nurturing them and converting them. In the light of the fast paced business world, by all means you need to make it easier for leads to contact you, and gain the competitive edge.