An Overview of Online Appointment Scheduling System
In this article, you will find a brief introduction to the online appointment scheduling system, its benefits, and its functions.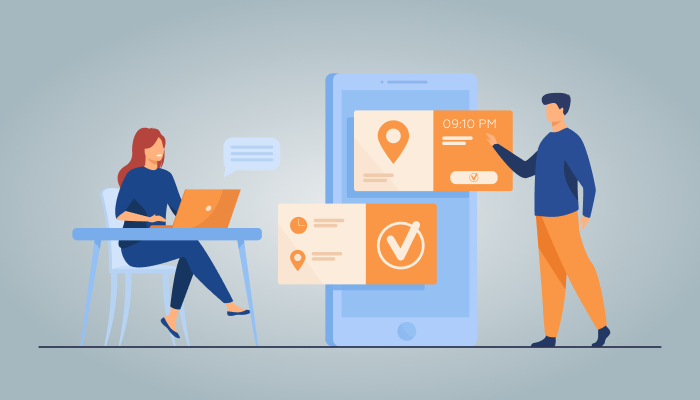 An online appointment scheduling system is a tool or software that allows businesses and professionals to manage bookings, meetings, and appointments. Organizations can use the scheduling system to automate scheduling tasks and arrange meetings and appointments at their convenience. The greatest benefit is that the system is that it allows users to book, schedule, and cancel appointments and meetings at their convenience.
You can also integrate the scheduling system with other customer relationship management tools. Moreover, the system is available 24x7, which helps enhance customer experiences and improves business processes.
6 Features of Online Appointment Scheduling System
An online appointment scheduling system is the best way to schedule appointments. The system sends automatic reminders and notifications to users while they focus on other significant aspects of businesses.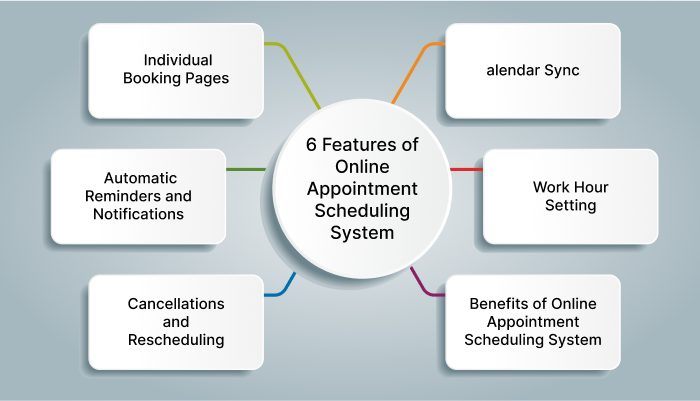 1. Individual Booking Pages
Most online scheduling systems provide booking pages where users can schedule appointments or meetings with team members depending on availability. The system also allows you to customize the texts, images, and colors of the booking page. with the help of free online image editor you can customize images. The process lets you match the scheduling page to your brand presence and the client's preferences. If you create a customized schedule, the clients or customers will get attracted to it, which will prompt them to open it and not miss the meeting or appointment.
2. Calendar Sync
Online scheduling systems allow you to sync your schedule with the calendar after the appointment gets fixed. If you sync your calendar to a schedule, it allows the system to check for other appointments and meetings to eliminate the issue of double bookings by you and your team members. Businesses and professionals have multiple meetings to cater to in a day. So, the scheduling system ensures that no one misses out on any schedule by preventing time overlapping.
3. Automatic Reminders and Notifications
The best part about an online scheduling software is that it reminds users of schedules and appointments by sending out automatic reminders, notifications, and email confirmations. The system sends reminders via SMS or emails to clients and customers so they do not miss out on meetings or appointments. The feature helps reduce no-shows and saves time for businesses.
4. Work Hour Setting
Earlier, customers had to call or email a business to confirm availability and make appointments or meetings. Now, the appointment scheduling software allows users to set available working hours and block the days off when they are not available. So, the system shows the available appointments on the booking pages.
5. Cancellations and Rescheduling
The online scheduling system is flexible and allows team members or customers to cancel or reschedule appointments and meetings at any time of the day. Users get comfortable working with the system because rescheduling and canceling appointments become as easy as creating them in the first place.
6. Team Scheduling
The online appointment scheduling automatically assign appointments to team members depending on equal opportunities and availability. The process helps free the users' time and energy from manually assigning appointments to team members or customers. So, a scheduling system works best for businesses and professionals who want to schedule meetings and appointments in teams.
Increases customer satisfaction with convenient online booking Sign Up 14 Day Trial
6 Benefits of Online Appointment Scheduling System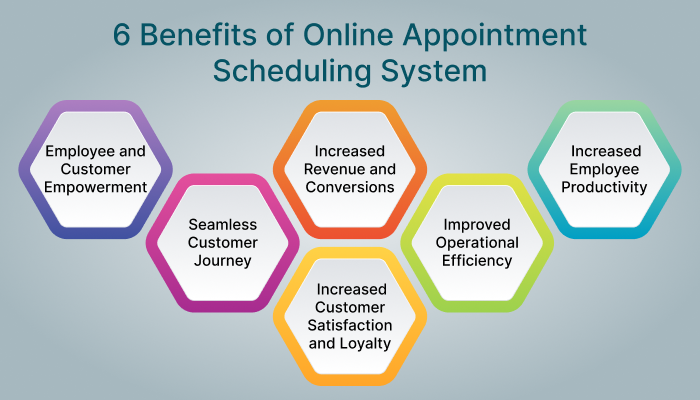 Appointment scheduling is a significant part of multiple business strategies. The online appointment scheduling system provides numerous benefits, from loyalty and increased revenue to improved operational efficiencies. So, the system has a positive impact on business outcomes.
We will discuss the benefits of an online appointment scheduling system below.
1. Employee and Customer Empowerment
The scheduling system allows customers and employees to schedule and update appointments through web-based systems. Moreover, the customers and employees can book appointments 24x7 at their convenience. The process gives the users control of the appointment booking process and allows them to meet whenever they want.
The employees can get in-depth customer details from appointment booking software and prepare for upcoming appointments. The process allows them to understand unique customer preferences and build stronger relationships in businesses.
2. Seamless Customer Journey
The online scheduling system allows remote and in-person appointments that help organizations to exceed customer expectations. The process also enables customers to interact with businesses and professionals on their terms and at their convenience. In fact, studies show that 40% of customers book appointments after business hours. The system provides a blend of offline and online channels so that the customers can schedule appointments as they please and get customized experiences.
3. Increased Revenue and Conversions
Most organizations can witness immediate results of increased revenue and conversion shortly after implementing online appointment scheduling systems. The systems provide responsiveness and attentiveness to customers who look for human interactions even after technological improvements. The process lays a foundation for employees to build deeper and more consultive relationships resulting in higher transactions.
4. Increased Customer Satisfaction and Loyalty
The scheduling systems build customer experiences depending on individual needs and preferences. Moreover, the employees of an organization can connect with customers in a personalized and customizable way using the systems. The process makes the customers feel they are doing business with an organization that knows them as an individual and offers unique experiences. This leads to greater customer loyalty and satisfaction with the organization.
5. Improved Operational Efficiency
Businesses operate across multiple locations, employees, and time zones. An appointment scheduling app helps manage all appointments and meetings across an entire organization. You can also scale your appointment strategies depending on business needs using the online appointment system. The process means the employees can spend less time managing appointments and focus on other priority tasks, which results in improved operational efficiency.
6. Increased Employee Productivity
The appointment scheduling system enables users to book appointments and meetings with the right individuals and at the right time. So, the system saves time for employees and eliminates their efforts of trying to schedule or reschedule customer appointments. The process helps them prepare better for upcoming appointments and meetings and serve customers effectively.
Summing It Up
An online appointment scheduling system improves customer experiences and reduces no-shows and cancellations. The system allows businesses and professionals to manage the scheduling process at their convenience. The users can also cancel or reschedule meetings and appointments in real-time. The appointment scheduling system sends automated reminders and notifications to ensure a clear communication path between businesses and their clients. The process is crucial in minimizing missed appointments and cancellations.
Are you looking for efficient appointment scheduling software for your business? If yes, then look no more because Schedule.cc by 500apps is your answer. The software helps you generate multiple appointments from your emails and websites. You can also enjoy uninterrupted scheduling by integrating the software with other customer relationship management apps. Schedule.cc is the best way to eliminate no-shows after booking appointments and meetings. To learn more about the app, visit the 500apps website today!
Discover Why Schedule.cc Stands Out
#1
Scale your appointments using online scheduler, email signature and bots
#2
Embed calendar on website, blog, and emails to speed up appointment scheduling
#3
Engage over an HD audio, video calling and through built-in video conferencing tool, 500Conference
#4
Sync Google, Outlook, and iCal calendars & stay up-to-date
#5
Reduce no-shows with automated appointment reminders
#6
Integrate with AI chatbot, BotUp, on website and capture leads faster
#7
Automatically schedule appointments post successful payment confirmation
#8
Share schedule links in your Gmail using powerful extension
#9
Unbelievable pricing - the lowest you will ever find
#10
Everything your business needs - 50 apps, 24/5 support and 99.95% uptime
Join the SaaS Revolution
All-in-One Suite of 50 apps

Unbelievable pricing - $14.99/user

24/5 Chat, Phone and Email Support