10 Tips for Remote Meetings and Best Practices
Remote meetings are the new normal due to the Covid 19 pandemic and the physical constraints it brought with it. Hence, one must be able to effectively schedule and handle productive remote meetings with companies and employees. This article explores how to handle remote scheduling and meetings.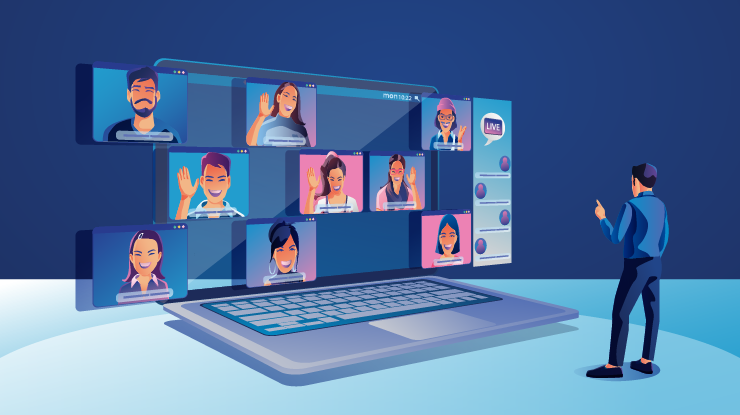 In recent times, there has been a great shift in the manner of business operations. The COVID-19 Global pandemic has opened our eyes to the desperate need for remote dealings due to the physical constraints we have had to face as a result of the virus. Working remotely is now regarded as the new normal. Although many of us have had no choice but to adjust to working remotely as the new normal, there are still some issues that we face. One of these issues regarding remote work is remote scheduling of meetings and how to handle meetings. A lot of us are so used to physical meetings and the feeling that comes with being in a place with several people, seeming all business-like and discussing. Transitioning from that to having a virtual meeting from the comfort of our home might be challenging.
But before delving into the great tips on managing virtual meetings I have for you, let us talk briefly on remote scheduling of meetings and how that can be done.
Remote scheduling of meetings can be a lot of work. This is because employees and clients may have different schedules and you need to put that into consideration.
Due to everything being digital as said earlier, remote scheduling of meetings is the new normal as there is no need for clients to call to set up a meeting appointment. Remote scheduling is best done via an appointment booking app. An appointment booking app saves you a lot of money and time that would have been spent on manually booking appointments.
Appointment Booking App – A Revised Definition
An appointment booking app is a web-based tool that allows clients to self-book, cancel, and reschedule appointments. This eliminates the repetitive back and forth calls and emailing process involved with physical bookings. With the appointment booking app, your business calendar is put online and you can set the business hours and days you and your staff are available. This means your clients are shown your availability in real-time and they can choose whatever option best suits them. Hence, with an appointment booking app, clients can book appointments, reschedule and even cancel without needing to talk to anyone from your team. The appointment booking app not only provides for the option to book but also gets reminders when it's closer to the date. This adds to the customer experience.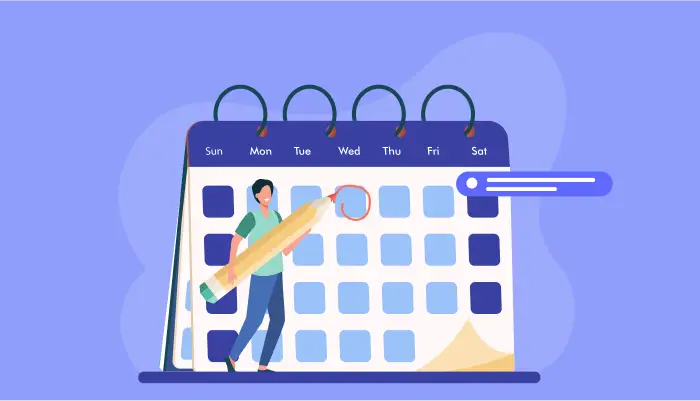 A good appointment booking app for remote scheduling should have several features such as:
1. Flexibility: A good appointment recognizes that there are several kinds of businesses and each business may need a certain feature that another doesn't. A good appointment booking app will have several features that can serve whatever kind of business is there.
2. Calendar Syncing: This is one of the most important features of a good appointment booking app for remote scheduling. An appointment booking app should allow for calendar syncing. This allows you to see your business scheduled appointments alongside other important days like holidays and off days due to renovations or sort.
3. Online Payment: Several businesses require payment for booking an appointment. If your business falls among that kind, then your appointment booking app must allow for payment services.
4. Multiple Points of Access: You need your client to be able to access your appointment schedule. Your appointment booking app should provide options for that such as, via a code put on your website that allows it display or a custom URL with the booking tools in one place which you can post on big platforms such as your Facebook business page. Having established that remote meeting is the new normal and explaining the best way to handle remote scheduling via appointment booking app, below are some tips to help manage remote meetings you have with clients and employees.
Tips for Managing Remote Meetings:
The tweet above highlights some of the best tips for managing remote meetings according to Erin Balskie, a popular marketing consultant. These tips are explored below alongside other greats tips for remote scheduling and handling of meetings:
1. Choose the Right Meeting Tool: One of the most important things that can either make your remote meeting successful or not is the kind of online meeting tool you use. As the new normal, the internet is full of a lot of virtual meeting software options. You can test your hands on as many of them as you want to. However, the main thing on your mind when remote scheduling a meeting is to pick the one that best fits your team. How do you know the one that fits your team? Here are some things to keep in mind to help guide you: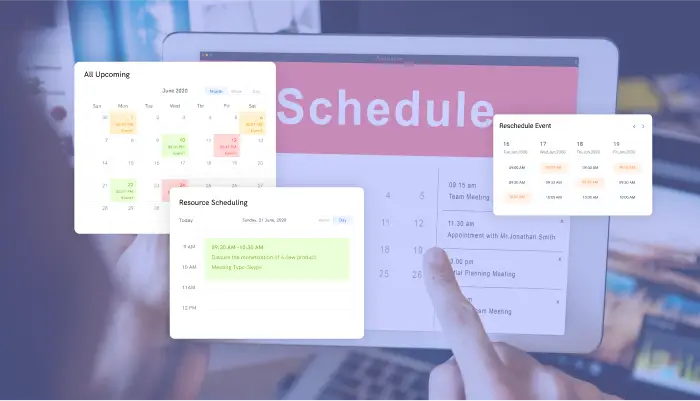 - What is the main functionality I need from this software? Answering this question will help you in making your choice. If you must see the faces and reactions of your members in addition to their voices during this meeting, it is only logical to look for a tool that provides both video and audio options. If you need to include a presentation or demo during your meeting, you must get software that allows for screen sharing. All you just need to know is what exactly you need during the meeting and what kind of software would provide for it.
- How many people will be attending? The number of your team members should be put into consideration when picking virtual meeting software as you need to make sure whatever tool you end up with can accommodate all your members with no hassle. The kind of virtual software that will work for a one-on-one chat may not be suitable for a meeting with 30 members.
2. Add Extra Time to the Normal Time you would Schedule for the Meeting: During remote scheduling of a meeting, make sure to add extra time to the meeting time. The reason for this is simple. As the meetings are now virtual, it is best to leave time for team members to battle logging in, bad connections, or any technical problem they might face. In doing so, you won't be taking time out of the meeting to battle all this as you've had the foresight and made provisions.
3. Encourage Virtual Cool Waters at Some Point: As the new normal, it's only right that you look for ways to make your team members ease into virtual meetings. A great way to do so is by leaving a few minutes for casual conversations. This can be done before or after the meeting. It could even be during a well-deserved break during the meeting. This helps create a comfortable and friendly environment and gives room for members to do some socializing and catching up before the meeting. Another great benefit is that, when your team members are comfortable, they can voice their opinions and give critical feedbacks with no fear.
4. Be Time Zone Sensitive: For remote scheduling of meetings, you must consider the fact that your attendees may be scattered across different time zones. This means that you need to pick a time that is comfortable for everyone and will not put any member at an inconvenience. A great way is to pick a timeframe that works for everyone's time zone. There are plenty of tools that can help you with that such as World clock meetings scheduler, Worldtimebuddy, Every Time Zone, etc.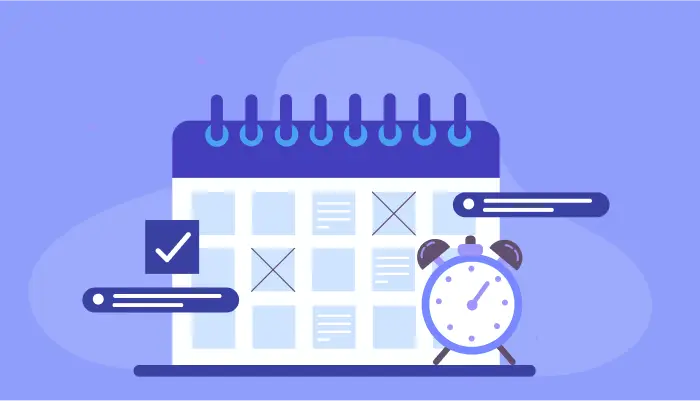 5. Share the Agenda Before the Meeting: "The best remote meetings have a session agenda set beforehand so that people come in knowing what it is they will be talking about. If the meeting doesn't have that, then you spend 15 to 20 minutes just figuring out what it is you are even trying to do." -Bryant Galindo, Co-Founder, and CEO of CollabsHQ.
The quote above sums up the need for a set agenda before the meeting. Having a set agenda helps your meeting have a defined structure and lets you stay on course. The agenda should be shared with all members before the meeting so that they have a clear understanding of what the meeting is about and they can prepare.
6. Formulate Rules: For an effective and smooth remote meeting, it is advised that you set down rules to govern the meeting. This helps keep everyone in check and on their best behavior. As the new normal, everyone should get accustomed to virtual meetings, and the best way to ensure that is with laid down rules to govern the meeting. Some of these rules are asking members to keep all phones off and free from distraction, no interruptions, mute themselves when not talking, etc.
7. Avoid Side Conversations: Just like in physical meetings, conversations may start to tilt towards unnecessary side conversations which aren't exactly in line with the set agenda and may leave a few members out. Hence, preparations for this sort of thing should be made by appointing a facilitator who will keep an eye on the agenda and intervene whenever side conversations have seemed to take over the relevant issues needed to be discussed.
8. Keep Every Member Engaged: It is very easy to lose the attention of your attendees during a remote meeting. This is because they are not physically present and are prone to several distractions. The best way to ensure engagement is by giving everyone a job if possible. You can make one person take down questions while another takes down options, another person could be in control of the slides. It is just coming up with tasks that will keep everyone engaged. Another way is to ask questions at intervals, make it show that you are interested in hearing their thoughts and opinions.
9. Make Time for Questions and Comments: There is some kind of team members who do not like to interrupt the meeting with questions, thoughts, and comments. Hence, a time should be created to simply deal with questions and comments. It's a great way to receive valuable feedback and ensure that your meeting ends with everyone understanding all that was discussed. That's a successful meeting.
10. Have Online Follow-ups: The best way to conclude an online meeting is having everyone leave with a clear objective. Things like who is responsible for following up on each task, when those deliverables are due when the next meeting will be, etc., should be discussed and made known clearly. This ultimately leaves a feeling of accomplishment on the minds of every member. In addition, follow-ups include reaching out to your members to ask how each meeting went and if there are any suggestions on how to improve the meetings. Feedbacks are extremely necessary as it will help you adjust to the new normal.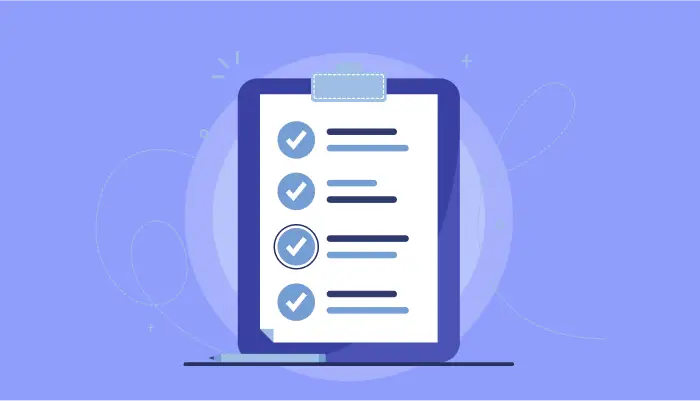 The concept of working remotely and remote meetings although hesitantly received at first is the new normal as it is here to stay. Perhaps, it can even be said that it is now more preferred to physical meetings as it allows for things to be done conveniently from home as said by Galindo
'Remote meetings allow everyone to be where they need to be in their context.'
Hence, Remote scheduling of meetings has then become an extremely important task.
For remote scheduling of meetings, the use of an online appointment booking app makes everything easier and convenient. Therefore, you must pick a good appointment booking app and that's why schedule.cc by 500apps is the best appointment booking app you can have. It's easy to use and very trustworthy and effective. Use Appointment Scheduling Software and see the difference.
Discover Why Schedule.cc Stands Out
#1
Scale your appointments using online scheduler, email signature and bots
#2
Embed calendar on website, blog, and emails to speed up appointment scheduling
#3
Engage over an HD audio, video calling and through built-in video conferencing tool, 500Conference
#4
Sync Google, Outlook, and iCal calendars & stay up-to-date
#5
Reduce no-shows with automated appointment reminders
#6
Integrate with AI chatbot, BotUp, on website and capture leads faster
#7
Automatically schedule appointments post successful payment confirmation
#8
Share schedule links in your Gmail using powerful extension
#9
Unbelievable pricing - the lowest you will ever find
#10
Everything your business needs - 50 apps, 24/5 support and 99.95% uptime
Join the SaaS Revolution
All-in-One Suite of 50 apps

Unbelievable pricing - $14.99/user

24/5 Chat, Phone and Email Support