How to Plan and Coordinate Upcoming Meetings Using Software?
There are several countries where business meets are conducted every week. Therefore, considering the number of business meetings in such countries annually will surpass the billion meetings mark.
There are several countries where business meets are conducted every week. Therefore, considering the number of business meetings in such countries annually will surpass the billion meetings mark. In other words, any person working in such a country will spend a quarter of their time attending meetings.
Although most meetings are conducted without a proper schedule, it is critical to organize planned meetings and manage them well. After all, ill-planned business meets will lead to ill-achieved results. Apart from planning and executing business meetings, meeting management also involves achieving a good result from a meeting. This is possible through strategically conducting meetings.
What Is A Meeting Management Software?
A meeting management software is an essential tool to let two or more parties schedule business meetings. It also helps organize video and audio conversations between the attendees and correctly records the meetings.
Meeting management tools have always proved to be helpful in any multinational company. In addition, any company with many employees with a similar area of expertise spread in different corners of the globe will use meeting management software.
Benefits of Using a Meeting Management Software
You can make your life easier by using meeting management software. Technology indeed makes life much more straightforward. Whether it is a significant job or a minor task, technology is always there to help you. With the help of meeting management software, you can automate the way meetings are run. Here are some of the benefits of using such software.
Paperless Meetings If a business meeting is scheduled at your office, you will have to keep several papers available. Paper is always used during a meeting. At the same time, many pieces of paper are wasted as well. If you use a meeting management tool, you can easily avoid wasting paper to such a large extent. You can take notes on dashboards, tabs, and any other given fields. You can also give or get access to the tool if you wish to share your notes.

Enhanced Security Cybersecurity has become a severe matter in most multinational companies. It is very common to misplace or send any confidential and sensitive document to an incorrect person. Using meeting management software will help you choose the people who will have access to specific data within the cloud. You can also opt for additional security elements to avoid critical data falling into the wrong hands.
Schedule.cc to Plan Events Ahead Of Time
Several meeting management tools in the market only help you organize business meetings. However, there may be times when you may require the same software to manage other types of events. This is where Schedule.cc comes into play. It is an all-in-one event management software.
You can conduct group events and webinars and organize online classes with the help of this tool. You may also share the event link with other members instantly while keeping an eye on the various confirmations.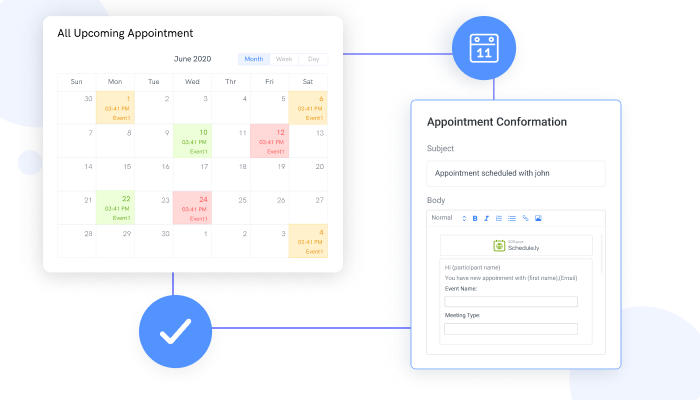 Features of Schedule.cc
Schedule.cc lets you schedule events without any major headache. You can instantly allow your prospects to book events with just a few clicks. The tool also helps you plan different events in a calendar view to improve client experience. Here are some of the features of the software.
1. Real-Time Scheduling The Schedule.cc software features help you with instantaneous event planning. You can easily book your meetings and keep all your clients informed with the help of this feature. In other words, real-time scheduling helps you make the client experience flawless. You can easily schedule and manage different appointments and sync your schedule to your desired calendar to help you operate efficiently.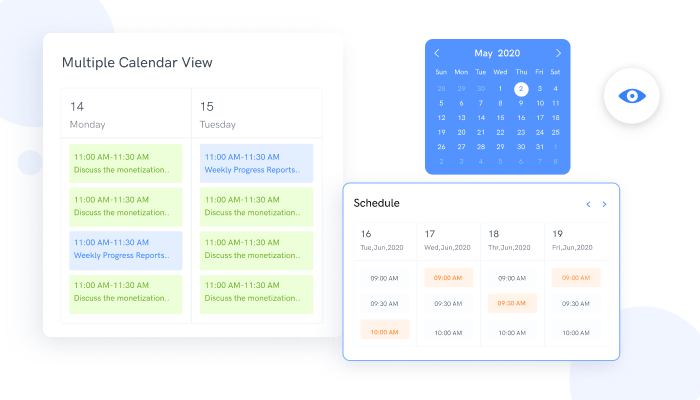 2. Appointment Scheduling Enhance your customer experience with the appointment scheduling software. It lets your consumers experience the convenience of canceling and scheduling appointments with a few clicks. In addition, this feature of the Schedule.cc software enables you to ease the process of your clients' meeting scheduling. As a result, you can efficiently manage events, client meetings, and appointments.
3. Detailed Report Business meetings mean several reports. You can easily create various reports and get essential insights using this feature. For example, you can get category-wise, date-wise, and day-wise meeting reports and appointments. You may also opt for insights about which day you booked scheduled meetings or events.